DENNIS HALLUM

SEND THIS TO A FRIEND!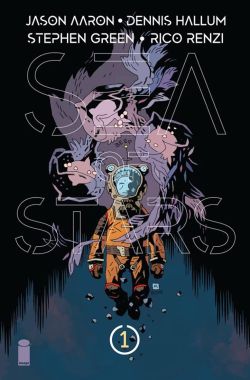 DF Interview: Dennis Hallum helps you get lost in a 'Sea of Stars'
By Byron Brewer
Being a space trucker sounds like a cool job, but in reality, it can be boring as hell. So when recently widowed Gil gets a long-haul gig across the universe, he figures it's safe enough to bring his young son Kadyn along for the ride – that is, until their "big rig" gets bitten in half by a gigantic Space Leviathan! Now separated from his son with a breached suit that's venting oxygen at an alarming rate, Gil must defy the odds and stay alive long enough to rescue Kadyn. Meanwhile, Kadyn seems to be getting all the help he needs from a talking Space Monkey riding a Space Dolphin... or maybe it's the strange powers he's suddenly manifesting?
From the writing duo of Dennis Hallum (Cloak & Dagger, Vader: Dark Visions) and Jason Aaron (Southern Bastards, Thor, War of the Realms), with dazzling art by Stephen Green (Hellboy and the B.P.R.D.) and cosmic colors by Rico Renzi (Spider-Gwen) comes a brand-new science fiction series with all the scope and heart of the The Neverending Story crossed with the imaginative weirdness of Miyazaki-an intense, galaxy-spanning adventure that's suitable for fans of all ages! DF sat down with Dennis Hallum to chat about the book.
Dynamic Forces: Dennis, tell us how this team-up with the WAR-mongering Jason Aaron and artist Stephen Green came about to produce your latest book from Image Comics, Sea of Stars.
David Hallum: Jason and I had been good friends for years and always talked about co-writing something. Our writer brains work so differently, we could just never settle on what. Then Stephen Green came to Kansas City for a comic convention and told us he was about to be available. We had an opportunity to work with a genius artist on the cusp of blowing up and knew we needed to take advantage. Jason loved Stephen's monster designs and wanted him to draw this big crazy space ocean story. I couldn't get enough of Stephen's facial expressions, emotion and acting. I had in mind this grizzled trucker dragging himself across the ice road searching for his lost son. Eventually we realized Stephen could do both at the same time and smashed our two ideas together. Sea of Stars is what came out the other side.
DF: What can you tell readers about the world that you are building for this epic adventure?
David Hallum: SOS is very much a space story, but this is gonzo Jack Kirby on his weirdest day space. It's an intergalactic ocean teaming with quark sharks and man-eating sea monkeys. This is the cosmos a five-year-old might imagine lying on a trampoline and staring up into the sky. Thanks to the unique story structure, we get to see all of that weird from two wildly different perspectives.
DF: Introduce us to Gil and his young son, Kadyn.
David Hallum: Gil is a world-weary space trucker who just lived through the worst year of his life. He's near broke from medical bills. He's just lost the love of his life to cancer. He's fighting to make ends meet and can't stop trucking even to take a breath, but now he has his young son in tow… and doesn't have any idea how to replace the boy's mother. Space to Gil is anything but fun, especially right now. It's work. It's danger. It's endless.
Kayden is an eight-year-old boy who spent his whole life begging to go to space with Dad. Now he finally got his wish and it sucks. Mom dies. Dad's weird and quiet all the time. Kayden wants to get out and explore. He wants to experience everything the big crazy space ocean has to offer. He wants to take his mind off of all the sad and Dad won't let him do anything.
DF: A talking Space Monkey riding a Space Dolphin …?!
David Hallum: Kayden gets his wish in a big way and heads out alone to explore. From his perspective, the universe is an expanse of awesome teaming with life. He makes friends with talking space animals and swims through the cosmos like the luckiest little space god.
Meanwhile, Gil is stranded in a black hell, desperately searching for his missing son who couldn't possibly survive any of this. All of Kayden's intergalactic wonder looks like death to Gil. The POV shift is wild and my favorite thing about making this book.
DF: Dennis, you and Jason are co-writing this new series. Describe the routine, how you break down your work. Writing teams do it differently.
David Hallum: Jason and I plotted the story together. We sat in a room and talked the whole thing out beginning to end, then broke the plot into issues. From there it's split down the middle based on character perspective. Jason scripts all of the Kayden space adventure scenes. I write all of the Gil space terror scenes. It's unlike any co-writing I've ever done but makes so much sense for the story. Imagine Finding Nemo and The Revenant taking place at the same time. Jason sends us these scenes full of wide-eyed wonder… and I grind it all up into a scared father's survival story.
DF: I really appreciate that this is an all-ages book. That does not necessarily mean a "kid's book" these days, since with its proliferation the young and the old can enjoy the same book at the same time. What does the seeming return of all-age books – and writing same – mean to you as an author?
David Hallum: My favorite thing about this project is how it walks the line between kid and adult. We're telling the same story from two different angles. One side is dark and creepy; the other, bold and colorful. The best all-ages stories challenge young readers while reminding older ones what it means to be a kid. I think it's really powerful when you bridge that gap, which is probably why great YA books become such juggernauts. I really hope we hit the mark.
DF: How about that art from Stephen? Outta da ballpark!
David Hallum: I can't brag enough about Stephen Green. He's relatively new to comics but came out absolutely crushing it. His Sea of Stars pages are so full bombast. Stephen's designs don't look like anything you've ever seen before and his characters have such life. Every Kayden smile. Every Gil grimace. It all lands perfectly. The man blows me away. And combined with Rico Renzi's gorgeous colors… it's embarrassing how pretty these pages are. Two obnoxiously talented artists making each other look good. We couldn't be any luckier.
DF: Dennis, what other projects are out there that you can tell readers about?
David Hallum: I've been writing the Vader: Dark Visions miniseries over at Marvel. That's about to wrap up with issue #5 coming out soon. I'm also writing the Gamerverse Spider-Man comics. Spider-Man: City at War is coming out now and Spider-Man: Velocity launches soon. Then over at Valiant we just announced I'll be writing the new X-O Manowar series. All while cooking up new creator-owned projects. Keep those eyes peeled.
Dynamic Forces would like to thank Dennis Hallum for taking time out of his busy schedule to answer our questions. Sea of Stars #1 from Image Comics hits stores on July 3rd!
For more news and up-to-date announcements, join us here at Dynamic Forces, www.dynamicforces.com/htmlfiles/, "LIKE" us on Facebook, www.facebook.com/dynamicforcesinc, and follow us on Twitter, www.twitter.com/dynamicforces.
WWE #1 ULTRA-LIMITED SILVER SIGNATURE SERIES SETH ROLLINS ACTION FIGURE VARIANT EDITION SIGNED BY DENNIS HOPELESS!
WWE #1 RARE FIRST PRINTING ULTRA-LIMITED BIG GREEN EDITION SIGNED BY DENNIS HOPELESS!
SPIDER-WOMAN #1 SIGNED BY DENNIS HOPELESS!
AVENGERS ARENA #1 SIGNED BY DENNIS HOPELESS
CABLE & X-FORCE #1 SIGNED BY DENNIS HOPELESS
AVENGERS ARENA #1 SIGNED IN BLOOD RED BY DENNIS HOPELESS!
---
NEW! 1. 11/25/2020 - STEVE SKROCE
4. 11/16/2020 - RYAN O'SULLIVAN
5. 11/16/2020 - RYAN O'SULLIVAN