WWE #1 RARE FIRST PRINTING ULTRA-LIMITED BIG GREEN EDITION SIGNED BY DENNIS HOPELESS!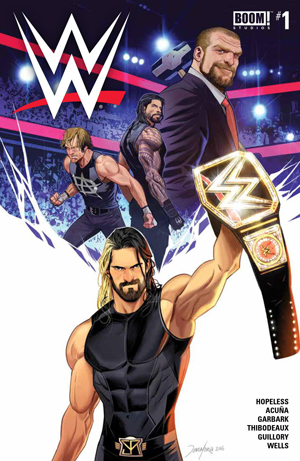 PRICE:
$19.85 MSRP: $69.99 YOU SAVE 71%
Offered at the dynamic price of $19.85 for a limited time!!! Returns to regular MSRP of $69.99 after March 1st!!!!! GROUND FLOOR EVENT PRICED FOR A LIMITED TIME IN HONOR OF THE FIRST WRESTLEMANIA IN 1985!!! BOOM! Studios is proud to present the most authentic line of ongoing WWE comics. Each issue will feature your favorite Superstars in stories that go beyond what you've ever seen on TV. The first story arcs detail the "Breaking of The Shield." Seth Rollins. Roman Reigns. Dean Ambrose. Together they formed The Shield, one of the most dominant factions in WWE history-until the ultimate opportunist Seth chose to betray the group at the behest of Triple H, the "King of Kings" who has cemented himself as the authority in control of WWE. Now, eager to prove himself, Seth is on the hunt for the WWE Championship, a journey that will send him on a collision course with his former brothers... Includes a backup story starring The New Day by Ross Thibodeaux (Mighty Morphin Power Rangers 2016 Annual) and Rob Guillory (Chew). FINAL COVER MAY VARY. ALLOCATIONS MAY OCCUR.