STEVE NILES

SEND THIS TO A FRIEND!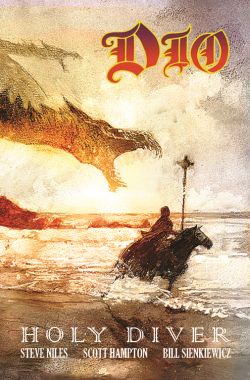 DF Interview: Steve Niles unravels a decades-long metal mystery in the 'Dio: Holy Diver' graphic novel
By Byron Brewer
Behold: the Holy Diver graphic novel, an original storyline inspired by one of heavy metal's most iconic album covers. Penned by acclaimed horror comics writer Steve Niles (30 Days of Night) with art by Scott Hampton, the book tells the tale behind the events leading to the powerful moment captured on the cover of Dio's debut album, definitively addressing 30 years of fan speculation. Why is the priest being thrown into the ocean? Who is truly the villain in this scenario?
I doubted I would get the answer to either question in this interview, but seeking to learn more about the graphic novel itself I sat down with scribe Steve Niles.
Byron Brewer: Steve, tell readers how you became a part of this coming graphic novel that takes on the herculean task of both honoring one of heavy metal's most iconic figures in Ronnie James Dio as well as telling the story of one of his iconic albums, Holy Diver?
Steve Niles: They emailed me with the concept and asked if I'd like to do it. I wasn't sure, as I didn't think this was a horror story, but after going back and forth, I understood it was a perfect monster story, so I went for it.
BB: Are you yourself a fan of Dio, the heavy metal band Ronnie formed in 1982 after leaving Black Sabbath?
Steve Niles: I was a punk rock kid at that time. I knew metal music back then, but it wasn't my preferred genre. But we were all rebelling the system, the status quo back then, just in different ways.
BB: For the uninitiated, talk a little about all the questions that have always surrounded the iconic cover to the album Holy Diver (priest being thrown in the ocean, etc.).
Steve Niles: Well, it's a 'demonic' monster on the shore of a turbulent sea, with a priest in chains drowning below him. At the time, it was very "inappropriate" in society to put down a priest. I think Dio got a lot of flack for it. He said in numerous interviews when asked about the monster drowning the priest, "How do you know that the priest isn't the monster?". Things are not always what they appear to be, you have to look deeper…"
BB: What can you tell us about the storyline of this new graphic novel?
Steve Niles: All throughout Holy Diver, we're asked to identify with the lost, the outcast, the underdogs. So with these broad strokes, and the answers to question 3, I built the story.
BB: Will Ronnie James Dio and/or other members of Dio be characters in the book? Can you tell us about some of its protagonists here?
Steve Niles: No, this is its own story.
BB: Will the OGN contain any "Easter eggs"; that is, any hidden refs to other Dio songs, albums or members? That would be so much fun for metalheads!
Steve Niles: There just might be some things in there, but that will be for people to search out. I don't want to give too much away but I have plans.
BB: Talk about the art of Scott Hampton.
Steve Niles: I've worked with Scott for many years. We did Simon Dark and Batman: Gotham County Line together, and I've always loved his work. He isn't just a comic artist, he's a painter, and works in mixed-media. He's incredibly diverse. He's going to really bring some passion and depth to this book.
Dynamic Forces would like to thank Steve Niles for taking time out of his busy schedule to answer our questions. The Dio: Holy Diver graphic novel from Z2 Comics is slated to be on sale June 16th!
For more news and up-to-date announcements, join us here at Dynamic Forces, www.dynamicforces.com/htmlfiles/, "LIKE" us on Facebook, www.facebook.com/dynamicforcesinc, and follow us on Twitter, www.twitter.com/dynamicforces.
LOT 13 #1 FIRST PRINTING CGC GRADED 9.8!
ARMY OF DARKNESS: ASH GETS HITCHED #1 (OF 4) EXCLUSIVE SUBSCRIPTION VARIANT
ASH AND THE ARMY OF DARKNESS #1 EXCLUSIVE SUBSCRIPTION VARIANT
ARMY OF DARKNESS: ASH GETS HITCHED TRADE PAPERBACK
ASH AND THE ARMY OF DARKNESS TPB
---
NEW! 1. 07/26/2021 - JIM ZUB
2. 07/22/2021 - PETER MILLIGAN
4. 07/15/2021 - SKOTTIE YOUNG AND JORGE CORONA
5. 07/12/2021 - JOHN ZUUR PLATTEN