CULLEN BUNN

SEND THIS TO A FRIEND!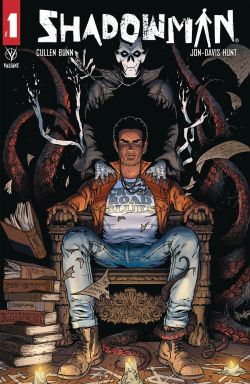 v
DF Interview: Cullen Bunn brings a new Deadside manner to 'Shadowman'
By Byron Brewer
The forces of darkness are awakening and they are hungry for life. Will Jack Boniface, feared by the forces of evil as the protector Shadowman, be able to save us all?
From the bestselling master of horror Cullen Bunn (Venom) and bone-chilling artist Jon Davis-Hunt (Clean Room) comes a shocking supernatural odyssey, Shadowman! DF delved into this very different take on the titular character with scribe supreme of this material universe, Cullen Bunn.
Dynamic Forces: Cullen, terrors are tearing at the fabric of humanity's world in your new iteration of Shadowman. What new does that bring to the life of Jack Boniface?
Cullen Bunn: Jack is already experiencing some changes. He's become more closely bound to his Shadow Loa than ever before, and this has granted him a host of new powers. But it has also come with complications. A surprising new ally has called upon Jack. "Ally" might be the wrong term. "Frenemy" might be better. This frenemy has come calling because the supernatural side of the Valiant Universe is heading toward disaster. Only Shadowman can turn the tide. This is going to mean he faces challenges unlike any he has faced before. And he can't get too comfortable. While he's always been a bit of a New Orleans homebody, now Jack is going to be globe-hopping as he stands against darkness.
DF: Before we go forward, give us your take on Shadowman.
Cullen Bunn: Shadowman is the guy that stands between our world and the Deadside. In a lot of ways, he's an ordinary guy. He just happens to be bound to the Shadow Loa, a powerful spirit that grants him a number of supernatural powers. He's strong and fast. He can control the shadows. He can pass freely between the Deadside and the world of the living. He does not experience fear. These powers serve him well, because when the forces of darkness try to shoulder their way into our world, he's the guy who drives them back.
DF: You are now indisputably a master of comics terror. How horrific will your tales be for Jack?
Cullen Bunn: Every issue of Shadowman will present a new tale of terror. We're diving into many different horror ideas and themes here. This is still a superhero comic, but we wanted these stories to be scary, too. This will be a different approach to Shadowman than you might have seen in the past.
DF: What is the Blight?
Cullen Bunn: The Blight is a "thinning" of the barrier between our world and the Deadside, and it is spreading. Violence or hatred or sadness scrape at the veil between worlds. In those places, entities from the other side spill into our realm. The Blight has always been around, but it is worsening.
DF: Risking getting a "Buy the book" response, what non-spoilery hints CAN you give readers about "a new threat that will have a major impact beyond this series"?
Cullen Bunn: Remember how I said that the Blight was worsening? Well, that situation isn't a random act of supernatural catastrophe. It's orchestrated by... something.
DF: Very interesting the way your Shadowman stories will unfold: every chapter a standalone descent into horror while something far more sinister emerges from the shadows. It certainly plays the long-story, preserving ultimate horror and building suspense. You have written so much comics horror at this point, how did this method of presentation come to you for Shadowman?
Cullen Bunn: I wanted to do something really different with Shadowman. I wanted to tell a tale unlike anything else I've done. I've always loved one-and-done stories, though they can be challenging. I think they work really well with short bursts of horror. When I first started talking to Heather about Shadowman, I started thinking about the old Spectre stories I used to love from DC. Here were these single issue epics, many of which could be read as straightforward horror stories, and the Spectre would just show up, popping into the tale for good or ill. I thought it might be interesting to do something similar with Shadowman. But I wanted to create a bigger story and mythology at the same time. Fusing those two ideas together gave way to something that I believe will be really unique when it comes to horror super-heroics.
DF: Talk about your collaboration here with artist Jon Davis-Hunt.
Cullen Bunn: Jon is in a class all his own. He just brings so much energy and horror to every page. He's one of those artists who really wants to be challenged, and I try to deliver with the scripts. But you can just see him pushing himself further and further with every page he draws. It's beautiful horror.
Dynamic Forces would like to thank Cullen Bunn for taking time out of his busy schedule to answer our questions. Shadowman #1 from Valiant Comics was slated to hit stores on May 20th. Due to ramifications of the coronavirus pandemic, this date may have been changed. Keep watching DF News and comics-related social media for more information.
For more news and up-to-date announcements, join us here at Dynamic Forces, www.dynamicforces.com/htmlfiles/, "LIKE" us on Facebook, www.facebook.com/dynamicforcesinc, and follow us on Twitter, www.twitter.com/dynamicforces.
ABSOLUTE CARNAGE: SCREAM #1 SIGNED BY CULLEN BUNN DUAL PACK!
MOON KNIGHT ANNUAL #1 SIGNED BY CULLEN BUNN DUAL PACK!
DEADPOOL: SPECIAL MISSIONS #1 SIGNED BY CULLEN BUNN
VENOMVERSE #1 ULTRA-LIMITED SYMBIOTE SILVER EDITION - SIGNED BY CULLEN BUNN
X-MEN: BLUE #1 SKOTTIE YOUNG VARIANT ULTRA-LIMITED BLUE SIGNATURE SERIES SIGNED BY CULLEN BUNN
DARTH MAUL #1 ULTRA-LIMITED CRIMSON RED SIGNATURE SERIES EDITION SIGNED BY CULLEN BUNN
MONSTERS UNLEASHED #1 SIGNED BY WRITER EXTRAORDINARE CULLEN BUNN
DEADPOOL BACK IN BLACK #1 SIGNED IN BLOOD RED BY CULLEN BUNN
DEADPOOL BACK IN BLACK #2 RARE FIRST PRINTING CGC GRADED!
DEADPOOL BACK IN BLACK #2 RARE FIRST PRINTING CGC GRADED!
MICRONAUTS REVOLUTION #1 SIGNED BY CULLEN BUNN
IDW'S REVOLUTION #1 SIGNED BY CULLEN BUNN
VAMPIRELLA VS. REANIMATOR TRADE PAPERBACK
PUMPKINHEAD VOL. 1: SINS REVISITED TRADE PAPERBACK
BATTLESTAR GALACTICA: FOLLY OF THE GODS TRADE PAPERBACK
---
NEW! 1. 11/25/2020 - STEVE SKROCE
4. 11/16/2020 - RYAN O'SULLIVAN
5. 11/16/2020 - RYAN O'SULLIVAN