MICHAEL WALSH

SEND THIS TO A FRIEND!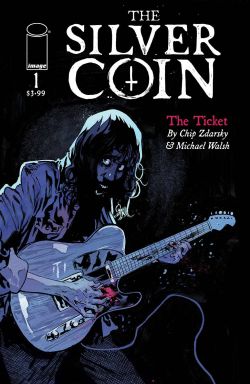 DF Interview: Michael Walsh unites top comics talent to launch horror anthology series 'The Silver Coin'
By Byron Brewer
Eisner-winning artist Michael Walsh (Star Wars, Black Hammer/Justice League) teams with an all-star lineup of collaborators – Chip Zdarsky, Kelly Thompson, Ed Brisson and Jeff Lemire – on a new horror anthology miniseries for mature readers. Each issue will tell a tale of terror in a shared supernatural world.
The story starts in 1978 with a failing rock band whose fortune suddenly changes when they find the mysterious Silver Coin. Little do they know that fame comes with a cost, and a curse is always hungry.
DF caught up to the linchpin around which this new anthology will revolve: Michael Walsh.
Dynamic Forces: Michael, as a longtime comics reader, I always welcome the coming of anthology books. Tell me how your latest, The Silver Coin from Image Comics, came to be. And I understand the book as a whole will comprise a shared world of its component stories and characters?
Michael Walsh: After I finished art on Black Hammer/Justice League, I had a great desire to get back into the creator-owned landscape. I was also aiming to start writing more of my own work but wanted to start small. I conceptualized the Silver Coin world and origins and then reached out to a bunch of my favorite collaborators to help build and implement on that world. I let them know the origins of the coin and said do your thing. Each script that came in was surprising in the best ways and as the project grew, scripts and characters started crossing over and the world became more dense and connected.
DF: You will certainly be working with the cream of the crop in writing talent for this mag. Did you get to pick your co-creators?
Michael Walsh: I did. I'd worked with each of these creators previously, already had relationships with them, and loved all of their work. They were the first people I thought of when I had the idea to do an anthology style with a new writer on every issue.
DF: Let's talk your first-up: Tell us about what you and writer Chip Zdarsky have in store for us. And how exactly does the collaboration work on these? I know Chip said it was "incredibly creepy," so even the writer was a bit surprised!
Michael Walsh: Chip is one of the most versatile writers working in comics and I was thrilled he said yes to this strange book. I was really excited to see what he'd do on a horror book and he did not disappoint. As scripts come in, I've been adding in easter eggs from other issues and trying to add to the connected visual atmosphere of the world. There is a bit of back and forth as I connect everything together. It's been a fun way of working.
DF: Let's hear a little more about issue #1. Without spoilers, what can you relate about the 1978 failing rock band. Can you introduce us to some of the characters in the story.
Michael Walsh: The Ticket features Ryan and his failing rock band as the 70's move into the Disco phase of pop music. The story is about ambition and the ugliness that can result when the only thing that matters is success.
DF: Will any of the characters from #1 be seen in coming issues?
Michael Walsh: Yes!
DF: Aside from Chip, talk about some of the other writing talent you will be working with. Can you give a kind of thumbnail of the stories of each please?
Michael Walsh: Girls of Summer (Thompson ) – 90's … summer camp + Mean Girls + MURDER!
Death Rattle (Brisson) – 80's … Home invasion gone wrong, the coin speaks.
2467 (Lemire) – 24xx – What has become of us? Violence is a circle of pain.
Covenant (Walsh) – The beginning of everything.
DF: Is horror a favorite genre of yours? How will you utilize your artist's toolbox to make each issue similar (shared world) and yet distinctive? Any favorite characters or set pieces thus far?
Michael Walsh: Yes! I've been a horror fan since high school. I've been wanting to dabble in horror comics since I got my start so I'm excited to be drawing more of the genre. I think because each issue of the first arc takes place during a different decade it's been pretty easy to differentiate the worlds with fashion, environments and palettes. I don't want to spoil too much about what is visually tying everything together so I will leave that to the reader to figure out. I think each issue has a scene that I've been particularly happy with. That said, there is a page in the first issue that is one of the most metal, fun pages I've ever drawn.
DF: Michael, as if this book weren't challenge enough, can you tell readers of any other projects current or near-future you have coming out?
Michael Walsh: Ha! Well, I've got a lot on the docket. Most of 2020 was spent working my butt off but those projects will all be coming in 2021 or '22. Right now I've got another horror creator-owned in development (art), I've also got an all ages escapist fantasy graphic novel that is moving along (writing/drawing), I'm writing two creator-owned books for other artists, I've got some freelance illustration stuff coming out (Magic: The Gathering cards, assorted comic covers and work for the Utah Jazz) and then I've got my ongoing webcomic, thesleepstories.com . It's a visual journal detailing the nightmares I've had since childhood. Needless to say, I'm very busy.
Dynamic Forces would like to thank Michael Walsh for taking time out of his very busy schedule to answer our questions. The Silver Coin #1 from Image Comics is slated to be on sale April 7th!
For more news and up-to-date announcements, join us here at Dynamic Forces, www.dynamicforces.com/htmlfiles/, "LIKE" us on Facebook, www.facebook.com/dynamicforcesinc, and follow us on Twitter, www.twitter.com/dynamicforces.
SECRET WARS #1 PARTY RETAILER VARIANT BY CHIP ZDARSKY!
HOWARD THE DUCK #1 - ONE OF A KIND EVOLUTION OF HOWARD RETAILER VARIANT BY CHIP ZDARSKY!
HOWARD THE DUCK #1 - 1:25 RETAILER VARIANT BY CHIP ZDARSKY!
HOWARD THE DUCK #1 FIRST PRINTING!
SPIDER-MAN: SPIDER'S SHADOW #1 CGC GRADED
DAREDEVIL #25 SECOND PRINTING VARIANT CGC GRADED
---
NEW! 1. 05/09/2021 - JOE HENDERSON
3. 05/03/2021 - DECLAN SHALVEY
5. 04/26/2021 - PORNSAK PICHETSHOTE