GERRY DUGGAN

SEND THIS TO A FRIEND!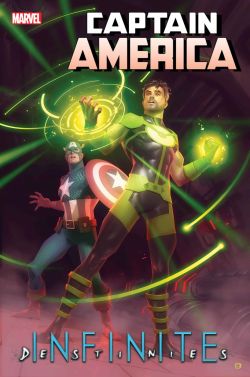 DF Interview: Gerry Duggan continues the Infinity Stones saga as part of the "Infinite Destinies" event in 'Captain America Annual'
By Byron Brewer
The Infinity Stones have played a key role in some of the Marvel Universe's most defining moments, and now they've returned in the hands of Marvel's most popular new characters. The chase for the powerful Infinity Stones will play out in "Infinite Destinies", launching this summer!
In a series of eight annuals, each installment will pair Marvel's biggest heroes like Captain America and Iron Man with some of Marvel's newest heroes and villains including Star, Amulet and more. These exciting new additions to the Marvel mythos may or may not possess one of the sought-after stones — but the real question will be who will be holding them in the end, and what will it mean for the future of the Marvel Universe?
Writer Gerry Duggan (Marauders, Cable) and artist Marco Castiello (Doom 2099) will turn the focus on the fugitive known as Overtime in Captain America Annual #1. After breaking out of death row when the Time Stone chose to bond with his soul, Overtime was gifted powers he barely understood. Now, thanks to Captain America... his time is up.
DF wanted to get answers on the coming summer sizzler, so we started our inquiry of this House of Ideas cosmic event with the progenitor of 2018's "Infinity Wars" storyline and scribe of Cap Annual #1, Gerry Duggan.
Dynamic Forces: Gerry, you yourself resurrected the Infinity Stones not TOO long ago during your run on Guardians of the Galaxy, which led to a huge cosmic event. With Al Ewing's new Guardians run as well as Dan Slott and Ewing's Empyre, what led to a decision to bring this part of the Starlin MU cosmic mythos back now?
Gerry Duggan: Well, by themselves the stones are powerful MacGuffins -- and fun ones at that -- but we decided to make new toys in Infinity Wars, and the stones each getting a soul to bond with was my parting gift to the cosmic corner of the universe: lots of new toys.
DF: This is a very unique tale, playing over eight annuals during the summer. Tell us a little about the overall plot of what is being called "Infinite Destinies" and the connective tissue between the books.
Gerry Duggan: That's a Nick Lowe question. You should ask him.
DF: Okay. Nick?
Nick Lowe, Editor: Hi! Nick Lowe here! How is everyone's social distancing? Ever since Gerry was writing Infinity Wars, we've been strategizing what we wanted to do next with the Infinity Stones. There have been SO MANY AMAZING Infinity Stone stories through the years (in comics, film, animation, etc.) and we're always trying to do new and novel takes on classic ideas. SO, someone (and I can't remember who) suggested we basically turn the stones into PEOPLE! You've seen the start of it with characters like Overtime (in Infinity Wars) and Star (in Captain Marvel). But we've been secretly planting more of them throughout Marvel. Some of them have already shown up! And we wanted to take this uber-story to the next level and decided to marry this stone story with all kinds of awesome new characters in the Marvel U, and "Infinite Destinies" was born! So each annual stars one of these newer characters. Some are Infinity Stone Hosts and some aren't, but they're all important to the ongoing Marvel Universe story. And people are starting to LOOK for these Stone Hosts, including Nick Fury and Phil Coulson. So each annual has a story with newer characters and classic Marvel characters and a backup with Fury and Coulson
DF: Thanks, Nick! Gerry, how does Cap get involved?
Gerry Duggan: I like writing the Black Widow, and she likes tracking down escaped murderers, especially ones that present a unique challenge. And when she started to see the bigger implications of Overtime, she called in some help of the Stars-and-Stripes variety!
DF: What more can you tell us about Overtime?
Gerry Duggan: Well, he's an unreliable narrator, and this will be his seventh or maybe eighth comic. Check out Infinity Wars and the epilogue to Wolverine: Infinity Watch. He's a guy with deep regrets and now a lot of power.
DF: The Guardians of the Galaxy will, rightly, be involved in "Infinite Destinies". Will either you or Ewing be writing that annual?
Gerry Duggan: I chat up Al a lot. I am so excited for his cosmic comics. The things that we're discussing will be drawn in the coming months. Cosmic fans are in for a treat.
DF: Talk about your collaboration with artist Marco Castiello – who was awesome on Doom 2099, by the way.
Gerry Duggan: He's wonderful -- I'm telling him my story and he's telling you THE story. This is some of my favorite action in a long time. He's perfect for it.
Nick Lowe: This is such a great way to state how comics are made.
DF: Gerry, what's cooking in the Duggan dungeon for your fans?
Gerry Duggan: I'm washing my hands a lot, and writing my face off, and just seeing the coolest art back for future issues of Marauders, Savage Avengers and Cable. Getting to slot in this Cap annual with Marco is a special treat -- hope readers will dig it!
Dynamic Forces would like to thank Gerry Duggan for taking time out of his busy schedule to answer our questions. Captain America Annual #1 from Marvel Comics hits stores in June! "Infinite Destinies" runs in eight summer annuals from June through September!
For more news and up-to-date announcements, join us here at Dynamic Forces, www.dynamicforces.com/htmlfiles/, "LIKE" us on Facebook, www.facebook.com/dynamicforcesinc, and follow us on Twitter, www.twitter.com/dynamicforces.
CAPTAIN AMERICA #600 - SIGNED BY STAN LEE!
DEADPOOL #1 - SIGNED BY DEADPOOL CO-CREATOR FABIAN NICIEZA AND REMARKED WITH A DEADPOOL SKETCH BY KEN HAESER
DEADPOOL #13 ACTION FIGURE VARIANT!
CHEWBACCA #1 - AOD COLLECTABLES EXCLUSIVE BY DALE KEOWN
DEADPOOL #1 SIGNED IN BLOOD RED BY DEADPOOL CO-CREATOR FABIAN NICIEZA
CHEWBACCA #1 REMARKED BY KEN HAESER
DEADPOOL #27 WEDDING ISSUE - GOLD SIGNATURE ELITE SERIES - SIGNED BY CO-CREATOR FABIAN NICIEZA!
CAPTAIN AMERICA #1 SIGNED AND REMARKED BY KEN HAESER
CAPTAIN AMERICA #700 SIGNED BY MARK WAID
CAPTAIN AMERICA: REBORN #1 DF EXCLUSIVE COVER PLUS 1
---
NEW! 1. 11/25/2020 - STEVE SKROCE
4. 11/16/2020 - RYAN O'SULLIVAN
5. 11/16/2020 - RYAN O'SULLIVAN