BRIAN MICHAEL BENDIS

SEND THIS TO A FRIEND!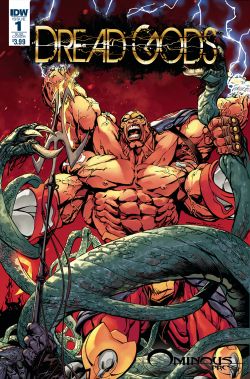 DF Interview: Brian Michael Bendis talks new Defenders comic, post-Civil War II landscape, Jessica Jones, more
By Byron Brewer
If any one man can claim the role of architect of the current Marvel Universe, it is certainly Brian Michael Bendis.
He came to the House of Ideas from the indy world and helped build the Ultimate Universe, launching Ultimate Spider-Man in 2000. He relaunched the Avengers franchise with New Avengers in 2004, and has also written multiple Marvel event storylines, including the recent Civil War II.
Arguably no one writer has done so much to change and alter the Lee/Kirby/Ditko landscape than he.
Brian Michael Bendis was kind enough to recently sit down with DF and answer some of our questions about the current Marvel U and much more.
Dynamic Forces: Brian, congratulations on the success of the Civil War II event. It certainly lived up to its hype and more. Looking back in summary, what would you say as an "architect" of the Marvel Universe and writer of the series were the paramount occurrences to come out of the books?
Brian Michael Bendis: Thank you. I think we were successful in making a story that was unique on its own without being a beat for beat sequel of its predecessor. Most sequels are just the same story told again but other than the fact that the story divided the heroes of the Marvel Universe, it was very different.
I was really happy with the amount of things that happened. Even the most jaded event fatigued reader found themselves peeking over people's shoulders to see what was going on.
But you're talking to me in my sweet spot with this project. Now that the event is over and complete, people are reading it in its entirety and for stories like this that's always fun for me.
DF: Which of these happenings was hardest for you to write, and for what reason?
Brian Michael Bendis: The trial of Hawkeye was difficult. But my enthusiasm for having a trial in the middle of a summer superhero event was so over-the-top. The amount of research that followed was crazy. And to find a way to show the trial without bogging down the story was a big challenge and a lot of fun.
It's difficult to write characters being pushed to the edge because every character is somebody's favorite. Carol and Tony are both a lot of people's favorite. But these characters have to be pushed to their limits to discover what it is that makes them who they are. I know some people don't ever want to see a character like Carol be anything but angelic but there is no such thing as a person that is just angelic. I think in the long run even people that get worried about what's going to happen in an event like this are relieved to find the character they love so much stronger for having gone through the story.
DF: I know that in the MU, one writer is always handing off to another so you never know what is going to remain "permanent" (at least as long as something does in comics). Going forward -- and this is just your personal opinion and not handcuffing the future -- what CWII occurrence would you like to see have some staying power in "our "universe?
Brian Michael Bendis: You know, I've had such good luck in this area -- so many things that me and my partners were involved in lasted for such a long time or are still going on -- that I try to get zen about such things. Let every writer have the positive experience that I have had telling stories. If I did my job the story will have legs past this summer expiration date. I still get mail about House of M and Secret Invasion almost every week so I know these things can hang in there.
DF: Fanboy concern query: Does your upcoming Defenders book spin out of your familiar work with the characters from your New Avengers run or is this more a street level team-up with a Netflix state of mind?
Brian Michael Bendis: It absolutely 100 percent comes out of my love of these characters and the work I had already started doing with them in their solo titles or in New Avengers. The success of the Defenders TV shows allows this project to move forward with gusto, but this is something that I was eager to do since my last issue of New Avengers. In fact, it is on the record, because my last page of New Avengers was actually a pitch for this book.
DF: Can you tell us what the relationship will be between Cage and Jess? Between Danny and Cage? Any plans for Wing or Knight? And will we see Danielle?
Brian Michael Bendis: Well, all of the relationships are in flux right now but the four of them will realize that the streets of the Marvel Universe actually need them to be united and to be very public in defending and protecting the streets. That doesn't mean everything's okay with everyone because it's not. These are very stressful times. Jessica just went through the biggest challenge of their marriage and we still don't know what the fallout will be.
And I'm happy to report that every single street level character or what you would call close to a street level character will be appearing in this book. Some as guest stars, some as rotating members of the squad, some as anti-heroes, some as real antagonists
DF: Surely you cannot do this book without just a "hello" from Dr. Strange, best leader of all incarnations of the Defenders, also a character from the New Avengers and original recruiter for Cage and DD to the "non-team" back in the day (wonderful Steve Gerber memories).
Brian Michael Bendis: As soon as the dust clears, Dr. Strange will be appearing. The Defenders and their street-level perspective lends itself to more than just gang warfare and crime fiction. There are also the dark mystical arts and the horror corners of Marvel.
DF: So, on the new Defenders, for you is this going to be a 6- or 12 issues-and-done, or is this going to be a return of BMB iron-clad long-range commitment (given all the books at Marvel that seldom make it past #12 before the new #1 come out, lol)?
Brian Michael Bendis: You never know, it's up to the readers. But our commitment, at the moment, is substantial. I tend to really fall in love with the characters and the characters end up showing me a lot of story that I didn't even know was there.
We are very dedicated to making the streets of the Marvel Universe a unique and special place for comic book fans. We will show you something you haven't seen before in a way you haven't seen it.
DF: Tell us about the Jessica Jones book. How has the return to the detective been for you, and how will what you are doing in Defenders be reflected in Jones, and vice versa?
Brian Michael Bendis: Yes, everything will be connected. It's one of the joys of writing books that have a connection, you get to play with the connection.
I just put a new issue of Jessica to bed last night so you're asking me at a very good time. Behind the scenes, the book is really coming together in such a beautiful way. The response from people has been enormous. It's always scary to return to something, especially something that people think well of. Sometimes with someone like me, who's got some years under their belts, the memory of earlier work could actually be deceptive. People remember it more fondly because it was new and surprising. We have grown as artists and we have fallen back in place together in a very honest way and it's being reflected in the work.
DF: Can you spend a moment or two telling us a little about what your involvement with TV and film is these days, present and near-future, please?
Brian Michael Bendis: We'll have some news about the Torso motion picture coming very soon. Some surprising news. We also have the Scarlet TV show in development. Jessica Jones Season 2 is forthcoming. And there are a couple of other projects that it would be in poor taste or in poor form to mention until they are more mature.
DF: I know you've dropped Guardians of the Galaxy, but will we ever see your rendition of Bug again? Maybe as a client in Jessica Jones? (smiles)
Brian Michael Bendis: Ha! I have learned never to say never. I love Bug. But if you end up in Jessica Jones's book, that means something pretty bad happened to you.
So if you're a fan of Bug, let's hope he ends up in Spider-Man.
Dynamic Forces would like to thank Brian Michael Bendis for taking time out of his busy schedule to answer our questions. The new Defenders comic from Marvel is slated to hit stores in June!
For more news and up-to-date announcements, join us here at Dynamic Forces, www.dynamicforces.com/htmlfiles/, "LIKE" us on Facebook, www.facebook.com/dynamicforcesinc, and follow us on Twitter, www.twitter.com/dynamicforces.
SPIDER-MAN #12 - SIGNED BY BRIAN MICHAEL BENDIS
INVINCIBLE IRON MAN #1 ULTRA-LIMITED GOLD SIGNATURE SERIES SIGNED BY BRIAN MICHAEL BENDIS
INVINCIBLE IRON MAN #1 SIGNED BY BRIAN MICHAEL BENDIS
CIVIL WAR II #3 ULTRA-LIMITED GOLD SIGNATURE SERIES SIGNED BY BRIAN MICHAL BENDIS
CIVIL WAR II #1 ULTRA-LIMITED GOLD SIGNATURE SERIES SIGNED BY BRIAN MICHAEL BENDIS
CIVIL WAR II #1 SIGNED BY BRIAN MICHAEL BENDIS
INVINCIBLE IRON MAN #1 GOLDEN AVENGER EDITION SIGNED BY BRIAN MICHAEL BENDIS
INVINCIBLE IRON MAN #1 SIGNED BY BRIAN MICHAEL BENDIS
THE AVENGERS - SIGNED BY BRIAN MICHAEL BENDIS
DARK AVENGERS #13 - SIGNED BY BRIAN MICHAEL BENDIS
NEW AVENGERS #61 - SIGNED BY BRIAN MICHAEL BENDIS
SEIGE THREE BOOK SIGNED SET - SIGNED BY BRIAN MICHAEL BENDIS
SIEGE #1 - SIGNED BY BRIAN MICHAEL BENDIS
SECRET INVASION: DARK REIGN ONE-SHOT - SIGNED BY WRITER BRIAN MICHAEL BENDIS
NEW AVENGERS #31 - SIGNED BY JOE QUESADA AND BRIAN MICHAEL BENDIS
JESSICA JONES #1 RARE HIP HOP VARIANT BY JEFF DEKAL!
---
NEW! 1. 05/24/2023 - DOUG WAGNER
3. 02/10/2022 - SIMON SPURRIER