TIM SEELEY & AARON CAMPBELL

SEND THIS TO A FRIEND!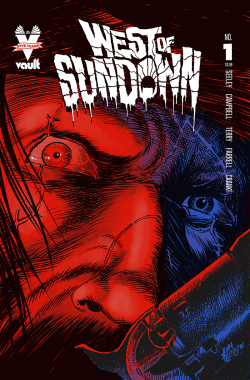 DF Interview: Tim Seeley & Aaron Campbell unveil a vampire western in 'West of Sundown'
By Byron Brewer
A beautiful vampire must flee monster slayers in New York City and reclaim the ancestral soil that restores her undead flesh. But the world has changed since she was reborn in the New Mexico desert, and now Constance der Abend and her loyal assistant Dooley must adapt to life in the rough frontier town of Sangre de Moro, where all sorts of monsters have settled.
From Vault Comics comes West of Sundown, a western tale of survival starring a cast of literary horrors from the diabolical minds of writers Tim Seeley & Aaron Campbell, and artist Jim Terry.
There is something about western and horror mashups that cues some feeling or memory in me. Whatever it is, it drove me straight to a discussion about this book with writers Tim Seeley and Aaron Campbell.
Byron Brewer: Tim and Aaron, I don't know what it is but I find the concept of a western horror comic extremely intriguing. The gothic graveyard meets Boot Hill, so to speak. Tell me the genesis for this book.
Tim Seeley: I've been looking to do a Western for years, but I struggled with characters or a concept to really inspire me. Last fall, I decided to do a big pandemic reread of as many classic horror literature as I could...everything from Camilla to The Invisible Man, and it got me to thinking about the era these were all set, and I wondered if any of these characters ever ended up in the American West. I wrote some stuff out, and then I called my old friend, Aaron, who happens to be an absolute expert in New Mexico history, and we somehow figure out a story over zooms and phone calls.
Aaron Campbell: Yeah, Tim reached out the core idea of a vampire/western and my brain went into hyperdrive. New Mexico, in my humble opinion, is the true heart of the old west. The high desert is unforgiving yet arrestingly beautiful, filled with centuries of myth and tales of grit and intrigue. It is the epicenter for the tumultuous intersection of Native, Spanish, and Anglo cultures. It is home to monumental figures, both heroic and villainous – Popé, Coronado, Oñate, Cuerno Verde, Billie the Kid, Pat Garrett, and of course the greatest hero of all, Neal Patrick Harris! Lol. West of Sundown is a chance to really get into what makes New Mexico such rich soil for story.
Byron: I understand this is Aaron's very first writing credit and congratulations! Now that you are already into the book, how has this worked out for both of you?
Aaron Campbell: It's been great. Working with Tim is a dream. We have this great synergy. I look forward all our planning sessions where we just play off each other so well. They're these rapid fire round robins of pure creativity. One of us will get an idea and the other will run with it immediately, taking it further, and then throwing it right back. Before we know it, we've got the whole issue figured out.
Byron: What can you tell readers about the world you are building in West of Sundown?
Tim Seeley: The story is set in 1870-something, a time after The Civil War, when the West is fairly well settled, but lawlessness still reigns. But we're going to see various eras and locations. This is a big lush world where characters from horror literatures and American mythology ALL exist so the places where they meet are bound to be interesting.
Aaron Campbell: Like I said before, we're in the heart of the Old West. Northern New Mexico where the Camino Real coming up from Mexico City, the Old Spanish Trail from California, and the Santa Fe Trail from Missouri all conspired to create one of the most unique cultures in America. We're in the fictional town of Sangre de Moro, nestled in the Rio Grande valley of the southern Rockies. It's a place with ancient Pueblo roots and old Catholic mysteries. To this day the Curandera still practices her healing arts and the skinwalker is only referred to with great wariness least it take a sinister interest in you. The state motto is "the land of enchantment" but locals always call it "the land of entrapment". I think that sums up West of Sundown pretty well.
Byron: Introduce us to Constance Der Abend and her assistant Dooley. What can you tell us about them, of course in a non-spoilery manner?
Tim Seeley: Constance is a famous opera singer in New York City...friend to the elites. She also happens to be a centuries-old vampire. Dooley is her assistant...a tortured Irish former mercenary.
Aaron Campbell: Constance isn't exactly who she says she is, though. And for her getting to Sangre de Moro isn't about escape, but a very, very long overdue homecoming and Dooley is likely to find his devotion tested out there in the frontier.
Byron: What other characters might we learn a bit about here?
Tim Seeley: Our first issue is chock full of interesting characters, from Thomas Nast to a would-be pulp writing Sheriff, an unusual lucky prostitute and a pair of pretty unusual vampire hunters.
Aaron Campbell: Later we'll meet a Buffalo Soldier trying to eek out a living and perhaps an unlikely confidant to Dooley and a Reverend who doesn't exactly preach from the Good Book. But Sangre de Moro is a living place and we're likely to meet all manner of colorful characters.
Byron: Can you give readers a summary, an extended elevator pitch for West of Sundown? What will we be seeing when we pick up issue #1?
Tim Seeley: It's the horrors of the Old World stumbling hard into the New World, and all the poor bastards stuck in-between.
Aaron Campbell: It's the European horror canon meets the myth and legend of Latin and Native America. It's Hammer meets Leone. At its core, though, it's a tale of homecoming.
Byron: Talk about the awesome artwork of Jim Terry and colorist Triona Farrell.
Tim Seeley: Jim Terry is an old buddy, and he's also an incredible cartoonist. Check out his award-winning autobiographical comic Come Home, Indio if you don't believe me. But he's a horror guy at heart, and when you throw in Westerns, you've found a comic only Jim can draw. Triona is a colorist I've been working with on some Hack/Slash shorts, and she's straight out of that Jordie Bellaire school...emotive, epic colors. She and Jim make an incredible team.
Aaron Campbell: What can I say? Jim's work is fantastic. It's expressive and packed with energy. He mixes the western and horror genres perfectly. Plus it's exciting to be on this side of the equation. I've never gotten to be the writer watching all of this amazing art come in. And Triona's colors are just stellar. I wasn't sure if Jim's work could actually be elevated any further, but boy do her colors make his inks sing!
Byron: Aaron and Tim, what other projects do you have coming out that you can tell our fans about?
Tim Seeley: Well, I've still got King Shark, Robins and Gwenverse coming out, plus some cool new stuff from Dark Horse, as well as the Disturbed comic from Incendium. So that's a lot.
Aaron Campbell: My next book from DC Black Label, Suicide Squad: Blaze with Si Spurrier writing, is coming out Feb 8. That's a three-part, 48 page, prestige plus format book. I've been doing a lot of covers for BOOM! Studios. And if you're into watching other people play Dungeons & Dragons, I write and run a game every other Sunday on Twitch called Dark Sun: Fire and Sand. Marc Andreyko plays with me in that. Plus we're working on bringing other comics pros on as guest players here and there. Mark Sable was our first guest, actually. And of course I have a ton of stuff brewing in the ol' comics stewpot.
Dynamic Forces would like to thank Tim Seeley & Aaron Campbell for taking time out of their busy schedules to answer our questions. West of Sundown #1 from Vault Comics is slated to be on sale on March 23rd!
For more news and up-to-date announcements, join us here at Dynamic Forces, www.dynamicforces.com/htmlfiles/, "LIKE" us on Facebook, www.facebook.com/dynamicforcesinc, and follow us on Twitter, www.twitter.com/dynamicforces.
SPIDER-GWEN: GWENVERSE #2 ELITE GWEN GOLD SIGNATURE SERIES SIGNED BY TIM SEELEY
SPIDER-GWEN: GWENVERSE #1 HOMAGE VARIANT BY GREG LAND WEBSHOOTER SILVER SIGNATURE SERIES SIGNED BY TIM SEELEY
ROBINS #1 SIGNED BY TIM SEELEY
SUPERMAN VS LOBO #1 SIMON BISLEY VARIANT SIGNED BY TIM SEELEY AND SARAH BEATTIE
SUICIDE SQUAD: KING SHARK #1 SIGNED BY TIM SEELEY
KISS: PHANTOM OBSESSION #1 TIM SEELEY LIMITED VIRGIN COVER
HEROES REBORN: MARVEL DOUBLE ACTION #1 ULTRA-LIMITED DOUBLE SIGNED EDITION SIGNED BY TIM SEELEY AND DAN JURGENS
HE-MAN AND THE MASTERS OF THE MULTIVERSE #1 SIGNED BY TIM SEELEY
SHERLOCK HOLMES HARDCOVER - SIGNED BY ARTIST AARON CAMPBELL
JAMES BOND: FELIX LEITER TRADE PAPERBACK
JAMES BOND: FELIX LEITER HARDCOVER
---
NEW! 1. 05/30/2023 - DAN ABNETT
4. 02/10/2022 - SIMON SPURRIER