ROB GUILLORY

SEND THIS TO A FRIEND!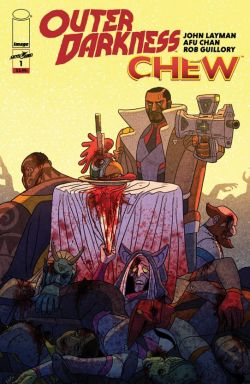 DF Interview: Rob Guillory helps bring readers a miniseries mashup in 'Outer Darkness/Chew'
By Byron Brewer
Tony Chu is a modern-day cop who gets psychic impressions from what he eats. Joshua Rigg is a 28th-century starship captain who flies through an outer space filled with demons, monsters and ghosts. Sounds like a perfect recipe for a comic book crossover, doesn't it?
Well, be careful what you wish for, because Outer Darkness/Chew is warping your way, bringing together the reunited multiple Eisner Award-winning Chew team, writer John Layman and artist Rob Guillory, with Outer Darkness' regular resident artistic genius, Afu Chan.
DF wanted the full 411 for this miniseries, so we chatted with Chew man Rob Guillory.
Dynamic Forces: Rob, let's do some straight talk. I've been missing Chew. The gang at my LCS has been missing Chew. In the name of Captain Obvious, why is now the best time to return to the world of Chew? (sarcastic smile)
Rob Guillory: It just felt right. John and I had always intended to return to it, even before the series ended. It was just a matter of finding the right story and the right opening in our schedules to get it done.
DF: Right out of the gate (as we say here in Kentucky horse country), how does it feel to be reunited with storyman supreme John Layman on this three-issue miniseries featuring Chew's mashup with other Layman-written franchise Outer Darkness? Oh, and since OD's Afu Chan is credited as artist for the mini, what will your role be?
Rob Guillory: Working with Layman is always a breeze. He's good at what he does, so it's always a pleasure to work with him on anything. I'm handling art for a few sections of the story and providing some covers, but Afu's definitely the star of this series. This was just the most realistic scenario since I'm juggling art and script on Farmhand.
DF: Can you give us capsule summaries of what both books separately are about, please? Just in case someone has been under a rock.
Rob Guillory: Chew is the story of Tony Chu, a cop who uses his gift/curse of cibopathy (the ability to see the history of whatever he eats) to solve assorted food-related cases. And Outer Darkness is a sci-fi horror story in the vein of Star Trek… if Star Trek was full of horrible space demons.
DF: If you would, can you set up how this mashup takes place and the overall storyline for Outer Darkness/Chew?
Rob Guillory: Again, I don't want to spoil anything. I'll just say, it's a very organic mashup that is true to both stories. Fans of Chew in particular will get a big chuckle out of it.
DF: Any chances this mini might blossom in spring into a new Chew-centric ongoing?
Rob Guillory: Layman has something Chew-related planned, but I'm full-bore on Farmhand at the moment. I could see us jumping into a Chew mini down the road, but again it's all about the right story and the right timing.
DF: Rob, what else do you have simmering on the Guillory backburner?
Rob Guillory: At the moment, I'm focused on wrapping issue #15 of Farmhand. It's the halfway point of the series, and I've been working up to it for a good two years. So that's sort of surreal to have that under my belt.
I'm also writing the pilot script for a Farmhand TV show for AMC Studios, which is a whole new experience for me. TV is a very different medium from comics, and I've had a blast adapting this story for a new audience.
Dynamic Forces would like to thank Rob Guillory for taking time out of his busy schedule to answer our questions. Outer Darkness/Chew #1 from Skybound/Image Comics hits stores on March 4th!
For more news and up-to-date announcements, join us here at Dynamic Forces, www.dynamicforces.com/htmlfiles/, "LIKE" us on Facebook, www.facebook.com/dynamicforcesinc, and follow us on Twitter, www.twitter.com/dynamicforces.
CHEW / REVIVAL #1 ULTRA-LIMITED BLOOD RED SIGNATURE EDITION SIGNED BY TIM SEELEY!
WWE #1 ULTRA-LIMITED SILVER SIGNATURE SERIES SETH ROLLINS ACTION FIGURE VARIANT EDITION SIGNED BY DENNIS HOPELESS!
WWE #1 RARE FIRST PRINTING ULTRA-LIMITED BIG GREEN EDITION SIGNED BY DENNIS HOPELESS!
---
NEW! 1. 12/04/2020 - JOSH BLAYLOCK
3. 11/30/2020 - SKYLAR PATRIDGE