STEVE ORLANDO

SEND THIS TO A FRIEND!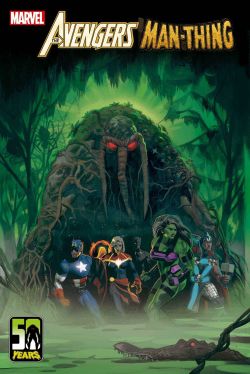 DF Interview: Steve Orlando celebrates 50 years of Marvel's muck monster in 'Avengers: Curse of the Man-Thing'
By Byron Brewer
For decades, the Man-Thing has haunted the Florida Everglades. Now a new enemy has hijacked his body on a quest to take his incendiary abilities global! We wake to fear as gargantuan monoliths menace cities worldwide, with only the Avengers standing between the population of Earth and a planetwide inferno. Can they save Man-Thing in time to douse the fires? And does the man inside the thing, Ted Sallis, even want to be saved?
Critically-acclaimed writer Steve Orlando (Martian Manhunter, Batman, Wonder Woman) makes his Marvel debut with a blockbuster celebration of Man-Thing's 50th anniversary! With artist Francesco Mobili, Marvel brings us Avengers: Curse of the Man-Thing! DF had no fear in sitting down with scribe Steve Orlando to chat about this very special book, his first for the House of Ideas.
Dynamic Forces: Steve, welcome to the House of Ideas as you write your first Marvel mag. And not just any book, but the start of a celebration of the Man-Thing's 50th! Hard to believe it was five decades ago, in 1971's Savage Tales #1, that we first encountered the misunderstood muck monster. How does it feel to be a part of such iconic celebration your first time out of the gate at Marvel?
Steve Orlando: It feels great! Man-Thing has always been iconic, going on fifty years now as you said. His emotionless eyes and elephantine trunk are instantly recognizable, and his gimmick of burning those who show fear is haunting. From his debut, to the subversiveness of Steve Gerber's run to the weird dimensional metaphysics of the 90s, to the wry horror of R.L. Stine, Man-Thing has had a great roster of creators guiding his story.
To not just be the next, but to help with the celebration of his 50th year? It's an incredible honor, and an incredible challenge. We're loving and nodding to everything that's happened before, and revealing new layers to what you thought you knew. It's a celebration of 50 years, and a stage-setting for the next 50 years.
DF: Before we get to your book proper, Avengers: Curse of the Man-Thing, tell us your take on the character. As a fan back then, it was hard for me to believe Man-Thing would ever last a series of issues. I have always credited the unique writing style of Steve Gerber and his approach to Man-Thing, which as you know first surfaced during Marvel's era of monster books (Tomb of Dracula, Werewolf by Night, etc.). Give us your take on the swamp monster.
Steve Orlando: I couldn't be a bigger fan of the run you mention. Gerber knew how to work pulp horror in a way that wasn't pretentious, but was contemporary and provocative. Gerber's work was genius that didn't talk down to the readership, working with Man-Thing's brutal and instinctual nature to tell bold, intense, topical stories.
My take will be revealed as the series plays out. But the key is a modern take on the above: Man-Thing is a monster horror book that plays off the fears of the day, whatever they may be. How does that play out in this series? Well, you'll see when you find out what can make the Marvel Universe afraid, and more so…what might make Man-Thing afraid as well.
DF: One of the purposes of Curse is, as I understand it, to redefine in some ways Man-Thing. Without spoilers, can you at all discuss what changes we might be seeing with the creature and/or Ted Sallis?
Steve Orlando: Can't spoil it, as you said! But I wouldn't say to expect changes, per se, because the character is already incredibly gripping. What I would say is that there'll be revelations about Man-Thing and Ted that do nothing to overwrite what's come, but certainly do cast their origin and their existence in a new, even more dramatic light that sets them up as an all-new kind of tragic hero…or is it heroes?
DF: What can you tell us of the overall storyline of issue #1? How does Manny become involved with the assembling Avengers? And what Avengers will we see in this adventure?
Steve Orlando: Our first chapter sees Man-Thing attacked by Harrower, a rebellious zealot who was trained by Hordeculture. But her views are even more extreme, too extreme for Hordeculture, leading to them disowning her. Rejected by science, she turns to the supernatural to achieve her ends…starting with Man-Thing. Her unique bio-fission and bio-fusion abilities allow her to hurt Man-Thing in a way few can, including hijacking his powers in a worldwide fear-based attack. When New York wakes up to a pillar of Man-Thing flesh that's lighting those who see it ablaze, well, it's time for the Avengers to step in.
DF: I am a regular reader of Jason Aaron's Avengers, so I have to ask: Will Blade's "sidekick" Boy-Thing play any role in this yarn?
Steve Orlando: You'll see quite soon! But regardless, our main love and focus here is on Man-Thing himself. This is his party, and he's the one popping out of the mossy cake to celebrate.
DF: Can you tell readers more about Harrower, the new villain designed by Carmen Carnero and their part in the book?
Steve Orlando: Hell yes! We covered it a bit above, but Harrower is raised by Hordeculture to think our population has to be thinned to a more reasonable size, so that balance can be restored to the ecosystem. The only problem is, Harrower doesn't think that goes far enough. Like many young idealists, she's angry, she's impatient, and she thinks righteousness is a fair substitute for experience. When her plan is rejected by Hordeculture, she goes even more off the rails, spiteful and ready to show them she's right. Her abilities to fuse animal and plants into horrific body-horror hybrids lets her do things to Man-Thing almost no one else can, bending his abilities and biology to her needs. Harrower believes we've had our chance, we being humans, and that her job is to take us off the table so that in another billion or so years, a different species can have a shot at the top of the food chain. And in this story, she's intent on using Man-Thing's fiery abilities to get the job done.
DF: Talk about the jaw-dropping art of Francesco Mobili.
Steve Orlando: Francesco is an asset! His visualization of Man-Thing is spectacular and inventive. But his skills go way being muck encrusted horror. This is a story that spans the Marvel Universe, and no matter what we put before Francesco to bring to life, his moody, emotive work didn't just raise to the challenge, it highjumped the challenge. There are whole dimensions inside Francesco's work, and I can't wait for you all to see them.
DF: Steve, again congrats on your arrival at Marvel. That said, can you tell readers what other projects you might be involved with in present or near-future?
Steve Orlando: I can! From Marvel, we're running this Curse of the Man-Thing series beyond just this Avengers-focused issue, it expands in April with Spider-Man: Curse of the Man-Thing, and you'll see soon where it goes after that! In March as well, I'll be bringing Toxin back to the Marvel Universe in Planet of he Symbiotes! As for what's going on at the House of Ideas besides that, well…watch the skies, my friends. You might be able to guess some of it, and you'll never guess the rest.
Dynamic Forces would like to thank Steve Orlando for taking time out of his busy schedule to answer our questions. Avengers: Curse of the Man-Thing #1 from Marvel Comics is slated to hit stores March 31st!
For more news and up-to-date announcements, join us here at Dynamic Forces, www.dynamicforces.com/htmlfiles/, "LIKE" us on Facebook, www.facebook.com/dynamicforcesinc, and follow us on Twitter, www.twitter.com/dynamicforces.
THE SHADOW/BATMAN HARDCOVER - SIGNED BY STEVE ORLANDO
TALES FROM THE DARK MULTIVERSE: CRISIS ON INFINITE EARTHS #1 SIGNED BY STEVE ORLANDO
MARTIAN MANHUNTER #1 SIGNED BY STEVE ORLANDO
WONDER WOMAN #51 STANLEY ARTGERM LAU COVER ELITE GOLD SIGNATURE SERIES EDITION SIGNED BY STEVE ORLANDO
THE SHADOW/BATMAN #1 DAVID FINCH CONVENTION FOIL EDITION - SIGNED BY STEVE ORLANDO
JLA/DOOM PATROL SPECIAL #1 SIGNED BY STEVE ORLANDO
SHADOW/BATMAN #1 - SIGNED BY STEVE ORLANDO
JUSTICE LEAGUE OF AMERICA #1 BLANK VARIANT ULTRA-LIMITED EDITION SIGNED BY STEVE ORLANDO AND REMARKED WITH A BATMAN SKETCH BY KEN HAESER!
BATMAN/SHADOW #1 ULTRA LIMITED SHADOW SILVER SIGNATURE EDITION SIGNED BY STEVE ORLANDO
MIGHTY MORPHIN POWER RANGERS #0 ULTRA-LIMITED RED RANGER SIGNATURE EDITION SIGNED BY STEVE ORLANDO
MIDNIGHTER AND APOLLO #1 SIGNED BY STEVE ORLANDO!
SUPERGIRL #1 SIGNED BY STEVE ORLANDO
---
NEW! 1. 03/04/2021 - HIROMI GOTO
4. 02/22/2021 - STEPHANIE PHILLIPS