ERIK BURNHAM

SEND THIS TO A FRIEND!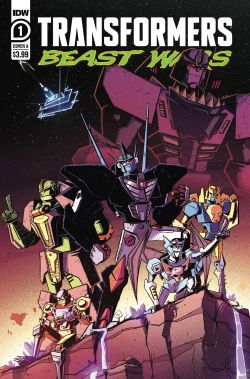 DF Interview: Erik Burnham celebrates storyline's 25th anniversary with return of 'Transformers: Beast Wars'
By Byron Brewer
For an entire generation of Transformers fans, their first experience with "Robots in Disguise" was through the Transformers: Beast Wars television show, debuting in 1996 as the cutting edge of computer generated children's entertainment. In 2021, IDW will honor the 25th anniversary of this monumental moment in Hasbro's storied Transformers franchise with the launch of an all-new Transformers: Beast Wars comic book series!
Written by Erik Burnham (Transformers/Ghostbusters) with art by longtime Transformers artist Josh Burcham (whose credits include IDW's ongoing series Galaxies, the Wreckers saga, and more), the new series will launch in February with a #1 issue containing 30 pages of story and bonus content.
The Transformers: Beast Wars comic series will welcome readers to a future Cybertron populated by scientific-minded Maximals and action-oriented Predacons. When the successor to the Megatron name steals a golden disk and a ship capable of traveling through time, only Optimus Primal and a team of Maximals — Rattrap, Rhinox, Cheetor, and new character Nyx — can stop them.
DF wanted to know more about this new storyline springing from a legendary one, so we sat down with scribe and old friend Erik Burnham.
Dynamic Forces: Erik, how does it feel to be part of such a gala celebration as the 25th anniversary of the iconic storyline for the Transformers franchise, Beast Wars? Were you a fan?
Erik Burnham: Actually – not at first, but that was just a quirk of timing. While I *was* (and am) a Transformers fan, Beast Wars came out when I was living in SO rural an area, I didn't get much in the way of a TV signal. (Oh, the days of yore.) So I missed its first go 'round. I came to the show later, when it was streaming and available, decades after it first aired, and I got a big kick out of how the show went a wildly different route while still feeling right.
After watching a chunk of episodes, I happened to be talking to Tom Waltz and mentioned that I'd been bingeing the show and that I got a kick out of it. His response was "funny you should mention that..." and then asked if I was interested in throwing a few ideas together for a new series.
Timing can be a funny thing.
DF: For the sake of the uninitiated, explain how important this multi-media event was to the Transformers in the day – serving as a brand new direction for the franchise, with the Beast Wars TV series as its centerpiece.
Erik Burnham: It was something completely new – and not just because of the CG animation... there was a shakeup to the world that fans knew (there had been peace, but the peace is straining...) the Cybertronians took on the form of animals, not machines... and of course, a big one revealed throughout the course of the series is that there were more consequences than your normally see in an animated show. There were long running threads, characters could change and might even straight up die.
That was a wild change to have on TV.
Fans, being fans, took a hot second to connect; once they did, the love strengthened and the esteem is high. For many, this is what comes to mind first when they hear "Transformers".
DF: So what do we have coming for 2021? Maximals vs. Predacons? If so, can you offer a little explanation to newcomers just what that means?
Erik Burnham: If you got a book called Beast Wars, you can bet on conflict. The short version of the universe is that the Autobots and Decepticons eventually made peace. To conserve resources, the two races converted to smaller bodies. Autobots became Maximals; Decepticons became Predacons. And so it went. But there were some Predacons who thought the peace was holding them back, that they still deserved to rule.
And so, under a Predacon who renamed himself Megatron, a rogue sect decided to see what they could do to shake things up.
The Predacons steal an artifact called the Golden Disk, hop in a time travel-capable ship, and flee to work on their plans. They're pursued by a Maximal ship, followed to another time, and after a little bit of a fight... crash on a primitive planet. This is how the show opens; this is also how the comic opens (more or less). We're starting at a place familiar to the longtime fans, but every little change we make diverges from the original storyline. A good example of what I'm talking about is Ultimate Spider-Man. The story starts with Peter Parker gaining spider powers and becoming Spider-Man, just as it did in the '60s – but it continues on to the point where he dies and his role is taken over by Miles Morales. That's a heck of a divergence, built out organically. We hope to do similar things.
DF: What else is new in this iteration of the Beast Wars?
Erik Burnham: One of the things we're going to be doing is adding in new characters... and we have some right up front in issue #1. Nyx, a new Maximal, was spotted on the cover to the first issue when the announcement was made and HOLY SMOKES, fans have theories, there's fan art, there are fan sculpts... she's no more than one image and she's already hooked a crazy amount of interest.
And there's more where she came from.
Anything else I mention might be a spoiler – and we're still months out from the first issue!
DF: Talk about the art of Josh Burchham. (Wait! Burnham and Burchham?! LOL!)
Erik Burnham: Yeah, we're a letter off! Josh is primarily known for his color work, but he's a hardcore fan of Beast Wars and his storytelling choices so far have just been dead on the money. His style is a little bit more angular than the classic Beast Wars look, but it's complementary and slightly reminiscent of recent Transformers animated adventures. The important thing is the fun he's having translates to the page!
DF: Erik, as is this celebratory series were not enough, what else do you have on the Burnham backburner in the way of projects?
Erik Burnham: I have a five-issue limited series coming out from Mad Cave Studios in early 2021; art by Stelladia. (As I write this, the title is still under wraps – but it's a story about families, magic, and finding your lane in life!) I also have another big miniseries that should be public knowledge by the time this runs, but I can't spill the beans yet!
Dynamic Forces would like to thank Erik Burnham for taking time out of his busy schedule to answer our questions. Transformers: Beast Wars #1 from IDW Publishing is slated to hit stores February 3rd!
For more news and up-to-date announcements, join us here at Dynamic Forces, www.dynamicforces.com/htmlfiles/, "LIKE" us on Facebook, www.facebook.com/dynamicforcesinc, and follow us on Twitter, www.twitter.com/dynamicforces.
TRANSFORMERS VS GI JOE #1 BLANK VARIANT EDITION SIGNED & REMARKED BY KEN HAESER WITH A WRAPAROUND HAND-DRAWN GRIMLOCK SKETCH!
TRANSFORMERS VS GI JOE #1 BLANK VARIANT EDITION SIGNED & REMARKED BY KEN HAESER WITH A HAND-DRAWN OPTIMUS PRIME SKETCH!
TRANSFORMERS VS GI JOE #1 BLANK VARIANT EDITION SIGNED & REMARKED BY KEN HAESER WITH A HAND-DRAWN SNAKE EYES SKETCH!
TRANSFORMERS SPOTLIGHT TRAILCUTTER #1 DF EXCLUSIVE COVER
RED SONJA: AGE OF CHAOS #1 - ATLAS EDITION SIGNED BY ERIK BURNHAM
RED SONJA VOL. 5: END OF THE ROAD TRADE PAPERBACK
CHASTITY: BLOOD & CONSEQUENCES TRADE PAPERBACK
RED SONJA: WORLDS AWAY VOL. 4 - THE BLADE OF SKATH TRADE PAPERBACK
VAMPIRELLA/DEJAH THORIS TRADE PAPERBACK
RED SONJA: WORLDS AWAY VOL. 2 TRADE PAPERBACK
KISS: THE ELDER VOL. 2 - ODYSSEY TRADE PAPERBACK
KISS: THE DEMON TRADE PAPERBACK
BACK TO THE FUTURE #1 DF EXCLUSIVE SIGNED & REMARKED BY KEN HAESER
---
NEW! 1. 08/28/2023 - TONY S. DANIEL