CHIP ZDARSKY

SEND THIS TO A FRIEND!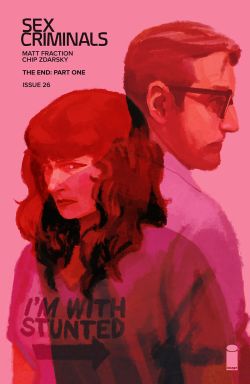 DF Interview: Chip Zdarsky tells us all about 'The Big Plan' in Sex Criminals...ish!
By Byron Brewer

Up is down and black is white and the sex isn't happening. Neither is the crime. Wassup with that?!
After the heartbreaking, albeit totally unsurprising, finale of Fourgy!, the leads of Sex Criminals find themselves in the arms of others while the fate of the whole universe hangs in the balance...ish!
It's the start of a brand new arc, "Five-Fingered Discount," in issue #21 from the creative team of Matt Fraction and Chip Zdarsky. DF wanted the full 411 on the storyline, so we sat down with artist Chip Zdarsky.
Dynamic Forces: Chip, fans all over are excited about Sex Criminals returning for a new storyline. I know we are approaching the fifth arc now with this great Image book, but for the uninitiated (you know who you are!) and for new readers, would you give us the elevator pitch for the series as a whole and kinda catch us up with what we need to know as issue #21 and a fine jump-on spot approacheth?
Chip Zdarsky: Oh man! Well, it's ostensibly about Suzie and Jon, who can stop time when they orgasm. At first they rob banks with the ability, but the book's more about relationships and sex now than anything else. We pick up after issue #20, y'know, instead of issue #18 or #19 (we're smart like that) and Suzie and Jon are navigating life (SPOILERS) post-breakup.
DF: Says the solicit of the new arc: "Up is down and black is white and the sex isn't happening and neither is the crime." You got some 'spainin' to do.
Chip Zdarsky: Suzie is DONE with this crime sh*t. Taking on the Sex Police just isn't her priority, but Jon is still obsessed with Kegelface and Badal. So while the crimes aren't happening yet, the itch is there for him.
There's still sex, though. Matt's crazy if he thinks I'm not going to draw some sex into this book.
DF: What can you tell us about the new storyline, non-spoilery of course?
Chip Zdarsky: It's about The Big Plan. It's about Badal and what he's really up to. It's about being in a relationship without actually being in it.
We're setting the stage for some big things and Matt's scripts are the best he's ever written. I just hope I don't f*ck it up.
DF: Any new characters upcoming in Arc 5 you can introduce us to?
Chip Zdarsky: Hmm, I don't want to spoil anything ... There are a couple of new characters I'm really enjoying, but we've got so many characters now in this world that the push for this arc is focusing on them and pushing things forward. We DO bring back Suzie's mom, who we haven't seen since issue #1, and she's GREAT.
DF: Your collaboration with writer Matt Fraction is one of the bright spots of our industry. Tell us how the two of you originally got together on this and how it has stayed so strong over the years.
Chip Zdarsky: We met on the Warren Ellis Forum! He also met his wife, Kelly Sue DeConnick, there, so I highly recommend going back in time to 2001 and frequenting that message board to really level up your life.
I think the secret to Sex Criminals is that Matt and I make the book for each other. I want to make him laugh with my doodles and he wants to make me cry with his stories. It's a VERY healthy relationship.
DF: This arc, are you truly living up to your back tattoo: "LUV 2 DRAW COMPLEX RELATIONSHIPS AND FLUIDS"?
Chip Zdarsky: Oh boy, am I ever. Matt's putting these guys through the wringer and I'm just trying to keep up. The emotional AND fluid wringer.
DF: Chip, what else do you have coming currently or in the near-future you can tell our readers about?
Oh! Well, I do some writing in my spare time. Currently working on the next two arcs of Spectacular Spider-Man with my old pals Joe-Joe Quinones and Adam Kubert! And Marvel Two-in-One is rounding out its first arc with Jim Cheung and Valerio Schiti! I've got another book brewing, but I can't talk about it yet so leave me alone.
DF: Okay … but [phenomenal Schwarzenegger impression] I'll be back!
Dynamic Forces would like to thank Chip Zdarsky for taking time out of his busy schedule to answer our questions. Sex Criminals #21 from Image Comics hits stores Jan. 24th!
For more news and up-to-date announcements, join us here at Dynamic Forces, www.dynamicforces.com/htmlfiles/, "LIKE" us on Facebook, www.facebook.com/dynamicforcesinc, and follow us on Twitter, www.twitter.com/dynamicforces.
SEX CRIMINALS #1 RARE FOURTH PRINTING PHOTO COVER GOLD SIGNATURE SERIES ELITE EDITION SIGNED BY MATT FRACTION!
SEX CRIMINALS #1 RARE FOURTH PRINTING PHOTO COVER!
STAR WARS: VADER DOWN #1 - 1:4999 JAXXON SPOTLIGHT VARIANT BY CHIP ZDARSKY - CGC GRADED 9.8!!!
SECRET WARS #1 PARTY RETAILER VARIANT BY CHIP ZDARSKY!
HOWARD THE DUCK #1 - ONE OF A KIND EVOLUTION OF HOWARD RETAILER VARIANT BY CHIP ZDARSKY!
---
NEW! 1. 11/25/2020 - STEVE SKROCE
4. 11/16/2020 - RYAN O'SULLIVAN
5. 11/16/2020 - RYAN O'SULLIVAN