MATT HAWKINS

SEND THIS TO A FRIEND!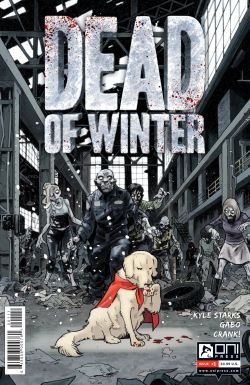 DF Interview: Matt Hawkins brings gritty, supernatural thriller in Dante one-shot
By Byron Brewer
Dante was a family man with a wife and a young daughter—and also a top assassin working for an international crime syndicate. For two decades, he worked hard to keep those two lives separate. Manipulated into thinking he could retire with the syndicate's blessing, Dante is betrayed. While fighting to save himself, he accidentally kills a young Asian boy—an act which changes him forever.
Writers Matt Hawkins and Jason Ning join with artist Darick Robertson to bring alive this tale of crime, redemption and the supernatural. To learn more about this one-shot from Top Cow Productions, DF talked to scribe and Top Cow COO Matt Hawkins.
Dynamic Forces: Matt, you always seem to have a deeply personal attachment to the books you write (Symmetry, Think Tank, et al). Tell us what drew you to this Dante one-shot.
Matt Hawkins: I'm fascinated by how people can be completely different based on situation (work versus personal, etc.). People who know me think of me as a relatively serious guy, but my wife knows my silly side. I don't show that to many people. This character Dante is a professional killer and he thinks his work is morally okay since he's killing people that, in his opinion, are scumbags anyway. That sort of compartmentalization and moral justification fascinates me.
DF: Tell us more about Dante? What makes him "tick," down deep?
Matt Hawkins: Ultimately he's a family man who cares about his wife and his daughter. They mean everything to him. He gained this family "life" after he was well entrenched as an assassin and those jobs are difficult to just leave. He doesn't have moral compunctions about what he's doing. This rationalization has allowed him to lead this nice double life and make a good living for his family. Since he's lied to his wife since day one about what he does, she isn't complicit and has no idea what he really does. Because he's so good at rationalizing, he never thinks about this until our story begins and he's forced to because of events. He starts to wonder what his wife would think of him if she knew the truth … but this is only after events go south for him.
DF: Publishers seem to be in the midst of a crime comics revival. David Lapham's Stray Bullets returned and Titan Comics has launched an entire new imprint. Does Dante fit into this trend at all?
Matt Hawkins: Hmm, not really. Dante is a supernatural story about redemption. Crime is certainly a part of it, but his arc and what the story will continue on about is him atoning for past sins.
DF: Are there any interesting supporting characters for whom readers should keep an eye out?
Matt Hawkins: The Asian woman who puts the curse on him is very important to the ongoing story. Dante's wife and daughter play central roles in his characters redemptive motivation. Aside from that, in this character's ongoing arc there will be new characters with every story as he's digging through his past to atone for past events.
DF: Can you tell us about the supernatural aspect of the book?
Matt Hawkins: It's centered in some Chinese black magic called "Gu" which you can Google. There are practitioners of it even today. This curse covers him in the tattoos, each one representing something that happened in his life that he needs to atone for. With each atonement, the tattoo vanishes.
DF: You and Jason Ning are collaborating on writing chores here. Can you tell us about the process?
Matt Hawkins: Jason wrote an initial outline from his core idea and then I wrote the book and the dialogue and he did a final edit on it.
DF: How does it feel to be working with artist Darick Robertson? This book seems right in his wheelhouse.
Matt Hawkins: It's pretty awesome! Darick is an amazing artist and I'm honored to have worked with him.
DF: Matt, are there any other projects current or near-future you'd like to mention, either for yourself as a creator or for Top Cow?
Matt Hawkins: I'm working on Think Tank V5 which hits in March, Tithe V3 which starts in May and have several other books in development with artists like Colleen Doran, Raffaele Ienco, Linda Sejic and Atilio Rojo.
Dynamic Forces would like to thank Matt Hawkins for taking time out of his busy schedule to answer our questions. The Dante one-shot from Top Cow hits stores Jan. 25th!
For more news and up-to-date announcements, join us here at Dynamic Forces, www.dynamicforces.com/htmlfiles/, "LIKE" us on Facebook, www.facebook.com/dynamicforcesinc, and follow us on Twitter, www.twitter.com/dynamicforces
DEAN KOONTZ'S NEVERMORE #1 DARICK ROBERTSON "VIRGIN ART" DF COVER
PUNISHER: BORN #1 - SIGNED BY ARTIST DARICK ROBERTSON
THE BOYS TPB - SIGNED BY GARTH ENNIS AND DARICK ROBERTSON
THE BOYS VOL. 1: THE NAME OF THE GAME LIMITED EDITION HARDCOVER Art by Darick Robertson
THE BOYS VOL. 2: GET SOME LIMITED EDITION HARDCOVER Art by Darick Robertson
THE BOYS VOL. 3: GOOD FOR THE SOUL LIMITED EDITION HARDCOVER Art by Darick Robertson
THE BOYS VOL. 4: WE GOTTA GO NOW LIMITED EDITION HARDCOVER Art by Darick Robertson
THE BOYS VOL. 5: HEROGASM LIMITED EDITION HARDCOVER Darick Robertson cover
THE BOYS VOL. 6: SELF PRESERVATION SOCIETY LIMITED EDITION HARDCOVER Art by Darick Robertson
THE BOYS DEFINITIVE EDITION VOL. 4 HC Art by Darick Robertson, more
THE BOYS DEFINITIVE EDITION VOL. 6 HC Art by Darick Robertson, more
---
NEW! 1. 01/21/2021 - RORY MCCONVILLE
5. 01/07/2021 - DARICK ROBERTSON