HE SAID HE'D BE BACK…
Dynamic Forces Produces Licensed T2 Collectible!
May 27, 2003, Runnemede, NJ – Starring Arnold Schwarzenegger as the Terminator, and released back in 1991, Director James Cameron brought the Terminators to life and re-defined the sci-fi blockbuster with Terminator 2! Now, as we prepare for T3 -- which invades theaters this summer -- Dynamic Forces is paying homage to that classic sequel with the first in a series of licensed collectible merchandise.
"The look, the effects and the action of T2 were amazing for its time," said Nick Barrucci, President of Dynamic Forces. "And one of the most iconic images from that film was the battle-damaged T-800 [played by Arnold Schwarzenegger] from the end battle with the T-1000 [played by Robert Patrick]. When we signed the deal for T2 Busts, that imagery was the first I wanted capture and get out there for the fans as a Bust. The Gore Group have done an awesome job beating Arnold up for this project."
The first Bust in a series of collectible merchandise planned by Dynamic Forces, The Terminator Bust is scheduled for August Shipping and is no available fro pre-order at your local retailer or directly from the Dynamic Forces website.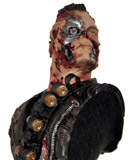 • TERMINATOR 2 BUST
http://www.dynamicforces.com/htmlfiles/p-C97717.html
Dynamic Forces and the Gore Group have once again created an incredible collectible, depicting the battle-ravaged T-800 and standing 5 1/2" tall!
$39.99 Suggested Retail Price
Strictly Limited!
Retailer note: Special Ordering incentives for the Terminator 2 Bust are available, please contact Dynamic Forces for more details.
For more information on Dynamic Forces specialty merchandise, product art, exclusive creator interviews and upcoming releases, please visit the Dynamic Forces website at www.dynamicforces.com
------------------------
Dynamic Forces is the comic book and collectible industry's top producer of limited edition comic books, lithographs, and more.
A licensee of DC Comics, Marvel Comics, Top Cow Comics, Dark Horse Comics, Universal Studios, Paramount Studios, Pressman Film's classic film "The Crow", T2, Sandy Frank Productions "Battle of the Planets (G-Force)" and many other industry giants, DF continues to set the pace in the comic collector and comic memorabilia markets. Recent product line expansions includes: action figures, vinyl and poly resin statues, lunchboxes, trading cards, lithographs, giclees, apparel and much more!