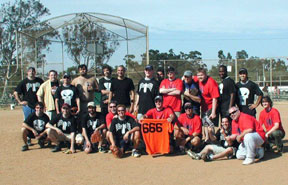 UPDATE 7/19/2007 - BONUS ADDDED - READ BELOW!
The San Diego Comic Convention is now the field of battle! The second annual MARVEL VS. DC SAN DIEGO SOFTBALL GAME will take place THURSDAY, JULY 26 at 3 PM at Morley Field at San Diego's historic Balboa Park, only a 10 minute drive from the convention center.
Attendance is FREE if ya wanna drive up, but for those looking to maximize convenience and air-conditioned comfort, The Hero Initiative is offering low-cost, luxury motorcoach transportation!
For a mere $15, you can get:

* Round-trip luxury motorcoach transportation
* A fun-filled and hassle-free trip, without having to pay a kajillion bucks for parking
* The comics social event of the season, with:
Dan DiDio, Mike Marts, Francis Manapul, Tony Bedard, Dan Jurgens, Adam Hughes, Billy Tucci, Randy Green, Ron Marz and more taking the field for DC!

Peter David, Paul Jenkins, Joe Quesada, Humberto Ramos, Esad Ribic, John Romita Jr., Mike Pasciullo and more carrying the honor of Mighty Marvel into battle!

You can buy your bus ticket at the con Wednesday night or Thursday morning at the Hero/GameTap booth, OR better yet, order RIGHT NOW through Dynamic Forces!
Buses load:

THURSDAY, JULY 26 at 2 PM (that's right; 2 PM!)
Location: Manchester Hyatt
(Corner of Market and Harbor)
One Market Place
San Diego, CA 92101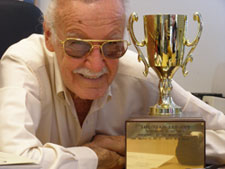 BONUS ADDED: And as a special double-bonus, THE FIRST 40 TICKET ORDERS ONLY will receive a copy of the New Avengers #31 Sketch Cover variant plus DC Nation Flash #13 and DC Nation Countdown #51! Pick it up at the Hero/GameTap booth at San Diego!
Come out and see Marvel and DC battle for the coveted Stan Lee Cup, the (second) most famous trophy in all of sports!