SIX SET TO RETURN!
Classic Moench/Gulacy Comic Re-Mastered, Released From Dynamic Forces.
May 25, 2003, Runnemede, NJ – Another Epic returns! Born in 1984, Six From Sirius featured the incredible pairing of writer/creator Doug Moench and artist/creator Paul Gulacy!
The pair, best known for their collaborative run on Marvel Comics The Master of Kung Fu, among other classics, created the series for Marvel's Epic imprint back in the mid-80s. The series, featuring the intergalactic adventures of a team of agents, combined action, intrigue and suspense, all against the backdrop of that final frontier –space!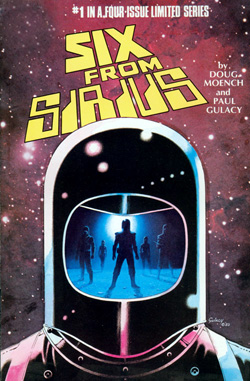 "Look at the list: Lee/Kirby, Byrne/Claremont and of course, Moench/Gulacy – comic book super-teams all!" exclaimed Nick Barrucci, President of Dynamic Forces. "I am so thrilled beyond words to be working with these two visionaries, and to be a part of putting their classic series back into print. This is a series that DF is fortunate enough to bring back represent for a new generation, and we are doubly fortunate to be working closely with Doug and Paul to also take Six From Sirius into other media and other merchandise categories. Much more info to come on this!"
"Back in the days when Paul Gulacy and I enjoyed total control, complete
freedom, and more fun than should be legal, one of the things we concocted was Six From Sirius, an old-school space-opera action-adventure with more than a few modern twists," said series co-creator and writer, Doug Moench. " It was Archie Goodwin at Epic who let us go wild and then own the results. Thanks to him, we're now able to share it again, this time through Dynamic Forces. I still remember the genuine excitement upon seeing Paul's first batch of gorgeously rendered pages, and I envy everyone soon to do the same."
"Six from Sirius was the first major series that launched Doug and I into the
Realm of Sci Fi It was the granddaddy that paved the way for other Sci-Fi/Fantasy titles that followed including Slash Maraud [For DC Comics] Cold Blood [For Marvel Comics Presents], Star Wars: Crimson Empire [For Dark Horse] and Sci-Spy for [DC/ Vertigo]," recalls series artist and co-creator Paul Gulacy. "Science fiction is the ultimate creative playground to really let it rip in my book. There are almost never any restraints and where in some cases the sky Is the limit, in Sci-Fi it's limitless. It's an honor for Dynamic Forces to bring the series back after all these years and I hope you have as much fun reading it as we did bringing it to life."
Long out-of-print, the original 4 issue series will be re-mastered by Dynamic Forces, who also holds the option to release the Six From Sirius sequel mini-series, and details on the release will be announced in the coming months.
For more information on Dynamic Forces specialty merchandise, product art, exclusive creator interviews and upcoming releases, please visit the Dynamic Forces website at www.dynamicforces.com
------------------------
Dynamic Forces is the comic book and collectible industry's top producer of limited edition comic books, lithographs, and more.
A licensee of DC Comics, Marvel Comics, Top Cow Comics, Dark Horse Comics, Universal Studios, Paramount Studios, Pressman Film's classic film "The Crow", Sony Pictures "Underworld", T2, Sandy Frank Productions "Battle of the Planets (G-Force)" and many other industry giants, DF continues to set the pace in the comic collector and comic memorabilia markets. Recent product line expansions includes: action figures, vinyl and poly resin statues, lunchboxes, trading cards, lithographs, giclees, apparel and much more!