TWO NEW MARVEL STATUES FROM DYNAMIC FORCES!
Classic X-Men And Future Heroes Revealed!
June 26, 2003, Runnemede, NJ – Two new additions from Dynamic Forces make their way into stores and collections across the country – Polaris: the Mistress of Magnetism and Earth X: Bloodstorm!
• POLARIS 8" BUST
http://www.dynamicforces.com/htmlfiles/p-C97921.html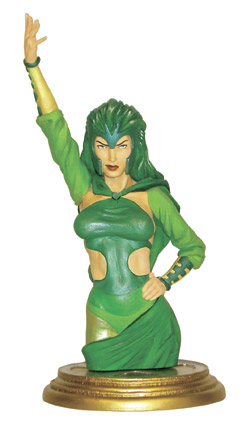 Ripped from the pages of the X-Men comes Polaris! The first in a series of X-Ladies Busts from Dynamic Forces!
A perfect piece to own by itself, or to go with the DF Havok Bust (Lorna Dane is Alex Summer's main squeeze after all). The first in the DF line of "X Ladies" Busts we're creating and here's your chance to get one of the most highly detailed and X-Citing women -- not only the X-Men Universe -- but in the entire comic's universe!
Standing over 9" tall (to the tip of her outstretched hand), this latest DF masterpiece was designed, sculpted and painted by the Gore Group! Extremely limited to only 1000 busts in the world -- Once these babies are gone they are gone forever.
$89.99 Suggested Retail Price.
Limited to 1,000 Production Units in the World!
• EARTH X: BLOODSTORM BUST
http://www.dynamicforces.com/htmlfiles/p-C97922.html
The twisted world of Earth X has yielded the most beautiful Storm Bust of all time as Dynamic Forces presents Bloodstorm!
Designed by Alex Ross and sculpted and painted by Gabriel Marquez, the Earth X: Bloodstorm Bust measures approximately 6 1/2" high with the base, and is seated atop the Earth X base to unify her with our previous Earth X releases.
This bust features Alex Ross' version of Storm with her Mohawk haircut and blood-red eyes. The detail is simply amazing as every deadly feature, from the wrinkles in her brown cloak to her fingertips and sharpened nails and her 3 earrings and those haunted blood red eyes, is unparalleled by any other previous Storm Bust. Strictly limited, this beautiful bust will be adored throughout eternity by those who claim Bloodstorm's seductive and deadly beauty as their own.
$39.99 Suggested Retail Price.
Limited to 600 Production Units in the World!
Retailer note: Special Ordering incentives for both Busts are available, please contact Dynamic Forces for more details.
For more information on Dynamic Forces specialty merchandise, product art, exclusive creator interviews and upcoming releases – including more X-Men, Earth X and Marvel Products, please visit the Dynamic Forces website at www.dynamicforces.com
------------------------
Dynamic Forces is the comic book and collectible industry's top producer of limited edition comic books, lithographs, and more.
A licensee of DC Comics, Marvel Comics, Top Cow Comics, Dark Horse Comics, Universal Studios, Paramount Studios, Pressman Film's classic film "The Crow", Sony Pictures "Underworld", T2, Sandy Frank Productions "Battle of the Planets (G-Force)" and many other industry giants, DF continues to set the pace in the comic collector and comic memorabilia markets. Recent product line expansions includes: action figures, vinyl and poly resin statues, lunchboxes, trading cards, lithographs, giclees, apparel and much more!