BATTLE ROYALE VOLUME 1 TPB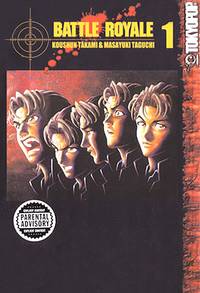 PRICE:


$7.99 MSRP: $9.99 YOU SAVE 20%
It's a lottery. But in this lottery there's no multimillion-dollar check to
turn your life around. No this is the worst thing that could happen to you
if you're a ninth grader in the economically and sociologically bankrupt
future that creators Koushun Takami and Masayuki Taguchi have dreamed up.
Their controversial series about The Program-a game that picks random
classes and puts them on an abandoned island for a televised fight to the
death-has drawn an incredible following in Japan. Is America ready for it?
Are you ready for it?

Tokyopop brings you this groundbreaking series featuring an English
adaptation by renowned writer Keith Giffen. Put aside your morals hold on
to your seats and prepare yourself for an unforgettable manga experience...
prepare yourself for Battle Royale!

Highly Recommended for mature readers.
Note: Please allow at least two weeks for processing (not including delivery time) from time of order.