FRANK MILLER'S WOLVERINE 8" "STATUE-ESQUE" BUST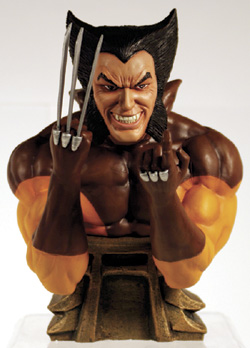 PRICE:


$89.99
Marvel's first Wolverine mini-series was handled by two of the greatest talents the comics industry has ever known: writer Chris Claremont and artist Frank Miller. This mini-series helped define Wolverine forever showing his flaws his humanity and his inhumanity.

Now inspired by the awe-striking image from Wolverine #1 by Frank Miller DF presents this exclusive bust sculpted by Rick Force and painted by Dan Lane with incredible detail! Standing 8" tall atop an inspired base the controlled arrogance of Logan - as he cockily extends his finger beckoning his next victim forth - is captured here as never before.

This is the first and only time this year DYNAMIC FORCES Inc. will be making a Wolverine Bust influenced by Frank Miller! Don't miss out!