LUCIFER VOLUME 1 TPB: DEVIL IN THE GATEWAY TPB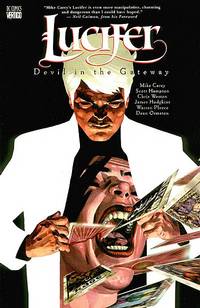 PRICE:


$11.96 MSRP: $14.95 YOU SAVE 20%
Cast out of Heaven thrown down to rule in Hell Lucifer Morningstar has
resigned his post and abandoned his kingdom for the mortal city of Los
Angeles. Emerging from the pages of writer Neil Gaiman's award-winning
series THE SANDMAN the former Lord of Hell is now enjoying a quiet
retirement as the proprietor of Lux L.A.'s most elite piano bar.

But now an assignment from the Creator Himself is going to change all that.

If Lucifer agrees to do Heaven's dirty work he can name his own price -
but both the task and the reward are more than they seem. Thrown into a
position of great threat and ultimate opportunity Lucifer knows that
treading a path through this maze will require the harshest of sacrifices.

Fortunately for the Devil it's only a question of who is going to make
them.

HIGHLY RECOMMENDED FOR MATURE READERS!
Note: Please allow at least two weeks for processing (not including delivery time) from time of order.