THE SANDMAN VOLUME 2 TPB: THE DOLL'S HOUSE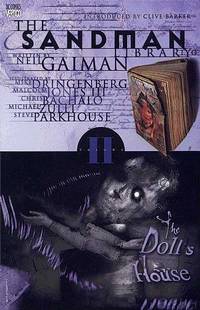 PRICE:


$15.96 MSRP: $19.95 YOU SAVE 20%
This trade paperback edition collects issues 9-16 from the
acclaimed and award-winning series by Neil Gaiman features an introduction
by Clive Barker and is now available for 20% OFF cover price!

Morpheus raises desire's ire. Rose goes on a quest to find her lost brother
and encounter's Fiddler on the Green and the Corinthian at a serial killer
convention. Brute and Glob commit treason against Morpheus with the
involvement of Sandman. And the Lord of Dream makes a friend.
Note: Please allow at least two weeks for processing (not including delivery time) from time of order.