RED SONJA VOL. 7 #1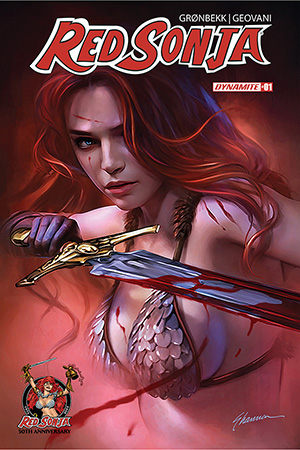 PRICE:
$3.99
Based on the Heroine created by Robert E. Howard
Rating: Teen+
Cover A: Shannon Maer
UPC: 72513033135901011
Cover B: Jim Cheung
UPC: 72513033135901021
Cover C: Alan Quah
UPC: 72513033135901031
Cover D: Bryan Hitch
UPC: 72513033135901041
Cover E: Cosplay / Joanie Brosas
UPC: 72513033135901051
Cover F: Mr Garcin Collage
UPC: 72513033135901061
Cover G: Jenny Frison
UPC: 72513033135901071
Cover H: Kevin Eastman
UPC: 72513033135901081
Cover I: Mike Mignola
UPC: 72513033135901091
Cover J: Blank Authentix
UPC: 72513033135901101
Writer: Torunn Gronbekk
Artist: Walter Geovani
Genre: Sword & Sorcery
Publication Date: July, 2023
Format: Comic Book
On Sale Date: 7/19/2023
Following directly from the pages of Red Sonja #0, the She-Devil finds herself on the run, framed for murder, and with an unseen force tugging at the back of her mind. Join Sonja as she races to unravel the mystery of "His Master's Voice!"
Written By Torunn Gronbekk and featuring art by Red Sonja superstar Walter Geovani (with colors by Omi Remalante, Jr.), this brand-new series dives deep into Sonja's world, exploring The Darkness of Hyboria like never before. And all this is wrapped up in an amazing series of Covers: Shannon Maer, Jimmy Cheung, Alan Quah, Bryan Hitch, Joanie Brosas (Cosplay), Jenny Frison, and MANY more - including the Dynamite Debut of Bjorn Barends!