VAMPIRELLA STRIKES! VOL. 2 #1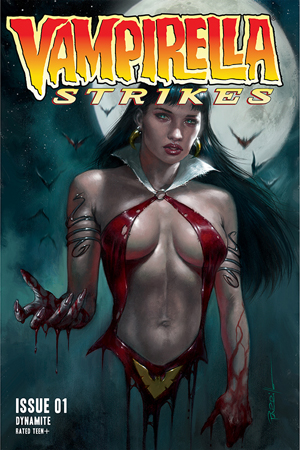 PRICE:
$3.99
Rating: Teen+
Cover A: Lucio Parrillo
UPC: 725130319500 01011
Cover B: Stephen Segovia
UPC: 725130319500 01021
Cover C: Junggeun Yoon
UPC: 725130319500 01031
Cover D: Ben Caldwell
UPC: 725130319500 01041
Cover E: Rachel Hollon Cosplay
UPC: 725130319500 01051
Cover F: Blank Authentix
UPC: 725130319500 01061
Writer: Tom Sniegoski
Artist: Jonathan Lau
Genre: Horror
Publication Date: May 2022
Format: Comic Book
Page Count: 32
On Sale Date: 05/11/2022
Having fulfilled her role of savior in Vengeance, Vampirella is now posed to Strike in an all-new series arising from the post-apocalyptic ashes of Dynamite's Vengeance of Vampirella series!
It has been 15 years since the death of Mistress Nyx and the world in slowly recovering, but this isn't a world that we've ever seen before. This is a world where the natural, and the supernatural have merged to create a dangerous new place-A world very much in need of Vampirella.
Sepulcher City has become a kind of microcosm of the world, humanity and the myriad monster races living in-not too perfect-harmony. It is a dark place, a violent place, one where a balance must be kept so order will remain.
Vampirella works as a special agent for the Danse Macabre on the most complex, and potentially violent of cases. Sepulcher City is where she spends most of her time, but often she is called out of the city, out into the world to deal with similar situations.
Enter the world of Vampirella Strikes under a series of amazing covers by returning superstars Lucio Parillo, Stephen Segovia, Junggeun Yoon, and more stunning cosplay models and photos!
"In his two-year run, Sniegoski laid the groundwork for Vampirella to become a fierce bloodthirsty warrior with a purpose. His work on the character should be used as the benchmark for all Vampirella stories, as his "The Mystery Walk" origin story arc is one of the best story-arcs ever written in the character's near 50-year history." Bloody-Disgusting.com
THOMAS E. SNIEGOSKI is the author of more than two dozen novels for adults, teens, and children. His teen fantasy YA series Fallen was adapted into a trilogy of monstrously successful TV movies by ABC Family Channel. His other books for teens include Sleeper Code, Sleeper Agenda, Legacy, and Force Majeure, as well as the series The Brimstone Network. The author's first adult novel, A Kiss Before the Apocalypse, developed into a series of novels about the character Remy Chandler.
As a comic book writer, Sniegoski's work includes Stupid, Stupid Rat Tails, a prequel miniseries to international hit Bone. Sniegoski has also written the Bone: Quest for the Spark novels. Sniegoski collaborated with Bone creator Jeff Smith on the prequel, making him the only writer Smith has ever asked to work on those characters. Sniegoski and Golden also wrote the graphic novel BPRD: Hollow Earth, a spinoff of Hellboy.