WOMEN OF DYNAMITE PURGATORI STATUE - BLACK & WHITE DIAMOND EYE ARTIST PROOF EDITION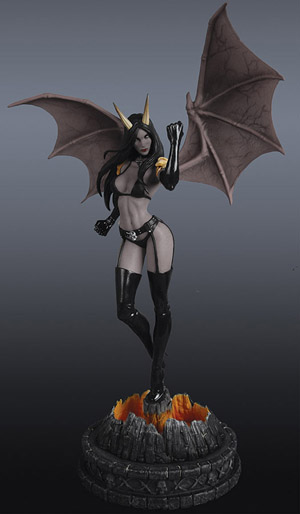 PRICE:
$275.00 MSRP: $349.99 YOU SAVE 21%
Rating: Teen +
Art: Jason Smith (sculpt), Michael Turner (art)
Genre: Collectible
UPC: 725130240170
ON SALE DATE: 1/15/2020
Only 24 of these beautiful "Black & White Diamond Eye Artist Proof Edition" statues exist in the whole world! An extremely Limited Edition Purgatori statue based on the work of comics sensation Michael Turner and sculpted by the ever-talented Jason Smith, featuring a sinister sparkle in the bloodthirsty villainess's eye, her body in the stark contrast of black and white. Hand-painted on cold-cast porcelain, the Purgatori statue stands approximately 12" in height (14" to the tip of her wings) with a 6" base. This rare "Diamond Eye Edition" of the Women of Dynamite: Purgatori statue comes packaged in a four-color box with a hand-numbered Certificate of Authenticity. This lady's killer contours make an alluring addition to every hardcore fiend's collection!