DF SPECIAL - MONSTER MAGNET MONDAY!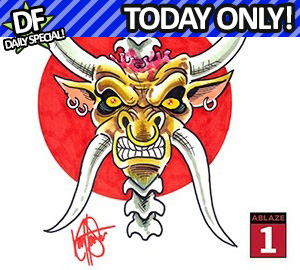 PRICE:


$25.00
It's MONDAY!!! Time for a MULTI-CELEBRATION EVENT DF DAILY SPECIAL!!! Today marks the 30th anniversary of MONSTER MAGNET'S debut full length album, SPINE OF GOD!!! Last week, ANIMAL CASTLE #1 hits shelves!!! On the Farm all animals were equal. In the Castle some are more equal than others. For fans of the bestselling Stray Dogs and the Eisner Award winning Beasts of Burden comes an animal fable at once familiar and surprising! You may think you know the story but set aside your assumptions, this animal uprising is unlike any you have read! Nestled in the heart of a farm forgotten by men, the Animal Castle is ruled with an iron hoof by President Silvio. The bull and its dog militia savor their power, while the other animals are exhausted by work, until the arrival of the mysterious Azelard, a traveling rat who will teach them the secrets of civil disobedience. Hardcore MONSTER MAGNET fans know the love that founder, guitarist and lead singer Dave Wyndorf has for comics. Take even a brief trip through their catalog and you'll find references to Jack Kirby, MODOK and EGO THE LIVING PLANET! The love goes both ways as GRANT MORRISON introduced NEGASONIC TEENAGE WARHEAD, named after the second track off their third album DOPES TO INFINITY, back in NEW X-Men #115. NTW later graduated to the silver screen appearing in the DEADPOOL films! When we saw the preview for ANIMAL CASTLE, it all clicked. We got together with DF superstar artist KEN HAESER and the two worlds collided. This one-of-a-kind hand-drawn sketch pays homage to the cover of MONSTER MAGNET'S debut album SPINE OF GOD featuring their iconic band mascot THE BULL GOD! Available for preorder today with a bonus reader copy of ANIMAL CASTLE #1!!! But that's not all!!! You know we can't have 2 without 5 so we're adding in 5 BONUS INDEPENDENT PUBLISHER COMICS!!! DF DAILY SPECIAL EVENT PRICED at $25 in honor of TAB aka TAB 25 aka 25 TAB, the EP released just prior to SPINE OF GOD back in 1991!!! This is one deal that can't be beat.

* ANIMAL CASTLE #1 BLANK VARIANT WITH A MONSTER MAGNET HOMAGE SKETCH BY KEN HAESER!!! (Regular MSRP $89.99)

* ANIMAL CASTLE #1 READER COPY!!! (COVER CHOSEN RANDOMLY)

* 5 BONUS INDEPENDENT PUBLISHER COMICS!!!