DARK NIGHTS DEATH METAL SOUNDTRACK LUNAR EXCLUSIVE!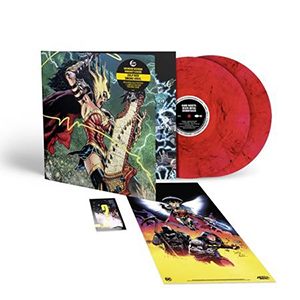 PRICE:
$69.99
To accompany the unrestrained awesomeness of DC's Dark Nights: Death Metal comic series, execute producer / composer Tyler Bates (Guardians of the Galaxy, John Wick) present the Dark Nights: Death Metal soundtrack. Directly inspired by the comic series' storyline, the diverse soundtrack illuminates the darkest corners of each DC character's psyche. This Wonder Woman cover is limited to the Direct Market. Allocations may occur. Limited to 2,000 units for comics shops.
Contents: Gatefold Jacket - Exclusive Wonder Woman Cover Variant 2xLP Red Smoke Vinyl 11x22 Poster Insert Comes with Mirror Board Character Trading Card - Randomly Inserted, 11 Total to Collect!
Track List:
01. Mastodon - Forged by Neron
02. Chelsea Wolfe - Diana
03. HEALTH, Tyler Bates - ANTI-LIFE (feat. Chino Moreno)
04. Maria Brink, Tyler Bates - Meet Me In Fire (feat. Andy Biersack)
05. Grey Daze - Anything, Anything
06. Rise Against - Broken Dreams, Inc.
07. Manchester Orchestra - Never Ending
08. Denzel Curry, PlayThatBoiZay - Bad Luck
09. Carach Angren - Skull With a Forked Tongue
10. Starcrawler - Good Time Girl
11. GUNSHIP, Tyler Bates - Berserker (feat. Dave Lombardo)
12. Greg Puciato, Tyler Bates, Gil Sharone - Now You've Really Done It
13. Show Me The Body - Stone Cold Earth
14. IDLES - Sodium
15. Soccer Mommy - Kissing in the Rain!