DF SPECIAL - ONE TWO FOR YOU SUNDAY!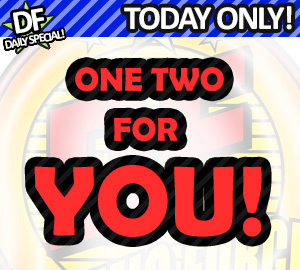 PRICE:


$124.00
Today's DF DAILY SPECIAL is a PERFECT LUCKY 7 pack of high-end comic goodness for the 24TH!!! First up, you'll receive one randomly chosen gem of the most limited collectible comics DF produces, the ELITE GOLD SIGNATURE SERIES!!! One Marvel or DC comic, SIGNED in GOLD and ULTRA-LIMITED, some as limited as 5 in the world!!! Next up, you'll receive TWO comics CGC GRADED at a high 9.8!!! Chosen from our CGC graded collection of Marvel and DC PREMIERE issues!!! Lastly, you'll receive an assortment of FOUR ULTRA-LIMITED-EDITION comics!!! Exclusives!!! Variants!!! Incentives!!! This is one unbelievable package of amazing collectibles!!! Don't miss it!!!

* ONE: ULTRA-LIMITED GOLD SIGNATURE SERIES SIGNED VARIANT EDITION Marvel COMIC!!! (Regular MSRP $89.99)

* TWO: PREMIERE ISSUE CGC 9.8 GRADED Marvel OR DC COMICS!!! (Regular MSRP $89.99 each or higher!)

* FOUR: ULTRA-LIMITED VARIANT EDITION COMICS!!! (Regular MSRP $29.99 each or higher!)

* Please note: Sets are picked at random. Multiple orders may receive duplicate books.