SPAWN #313 COVER A BY BJORN BARENDS, COVER B BY TODD MCFARLANE, AND COVER C BY GREG CAPULLO & TODD MCFARLANE EACH CGC GRADED!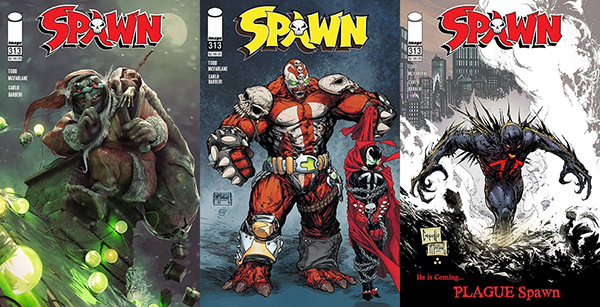 PRICE:
$92.00 MSRP: $199.20 YOU SAVE 53%
Offered at the dynamic price of $92.00 for a limited time!!! Returns to regular MSRP of $199.20 after November 30th!!!!! FIRST APPEARANCE ALERT!!! "CULT OF OMEGA," Conclusion! The FINAL confrontation: SPAWN vs. OMEGA SPAWN to the death! If this villain cannot be defeated, then the fabric of time will begin to tear and out will pour the savage Warriors of Heaven and Hell upon Earth. TODD McFARLANE and CARLO BARBERI conclude their gut-wrenching story of SPAWN vs. OMEGA SPAWN. FINAL COVER MAY VARY! ALLOCATIONS MAY OCCUR! CGC GRADED 9.6 OR HIGHER!