TALES TO ASTONISH #13 CGC GRADED 6.0!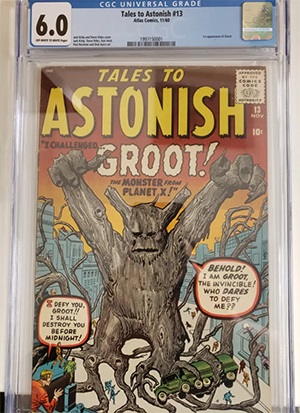 PRICE:
$6000.00
In the Autumn of 1960, scientist Leslie Evans and wife Alice witnessed a blinding object falling from the sky. When Evans went to investigate the next day, he not only found the object, but discovered it was alive. Evans looked on as the alien creature, Groot, grew larger by the minute as he absorbed wooden objects into his own body. There in the woods, Groot announced his presence to the nearby community. Claiming to be the Monarch of Planet X, Groot announced that he had come to Earth to take a small Terran town back to his homeworld for its scientists to study. While the humans resisted, no gunfire, or even conventional fire could penetrate Groot's hide. Seeing the futility of trying to fight Groot directly, Evans abandoned the townspeople and raced back to his laboratory, for which he was labeled a coward. Over the next three days, Groot used his ability to control trees and plants to turn the forest into a make-shift army. His announced intention was to use Earth's native vegetation to create a net of roots to allow him to lift the town into space whole. When Groot entered the town, Evans snuck up behind him and unleashed the fruits of his frantic work: a specially bred colony of termites. The insects voraciously ate through Groot's hide, and into his core. Groot collapsed in a a state of shock, and was believed dead by the townsfolk.

Notice: This item requires special payment arraignments. For details, please email us at customerservice\@dynamicforces.com or call 856-312-1040 Option 2.

Thank you.