DF SPECIAL - BALTIMORE COMIC CON WEEKEND!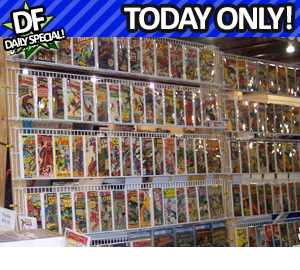 PRICE:
$51.50
Can't make it to Baltimore Comic Con this weekend? Well, for less than the cost of 3 day admission (and no standing in those long lines), we're offering something really special today!!! All from the comfort of your home!!! Delivered right to your door!!! For today's DF Daily Special, we're offering you the chance to own SIX awesome collectible comics for ONE low price!!! We're talking about ONE randomly chosen comic with a hand-drawn sketch!!! TWO comics SIGNED by one of the best in the business!!! And because everyone loves Batman, one of your signed comics will feature an appearance by or fully star Batman!!! THREE super cool and collectible out of print LIMITED EDITION comics, one of which will be a rare limited edition CONVENTION EXCLUSIVE variant!!! It's as easy as 1 2 3!!! Baltimore Comic Con stands as one of the fastest growing comic book shows. Since its inception, originally as a one day show in 2000, this convention has grown and now 19 years later, it's a full blown 3 day weekend show!!! In honor of this, we're presenting a 3 tiered DF Daily Special to celebrate one of the last comic cons that is actually still primarily about the medium and comic book driven. We're offering this BALTIMORE COMIC CON WEEKEND SUPER SATURDAY SET for a stunningly low price of $51.50 Don't delay, only 15 specially packaged sets will be available today exclusively from your friends here at DF and you know the rest... Once they are gone, they are GONE!!!

* 1 RANDOMLY CHOSEN COMIC WITH A HAND DRAWN SKETCH BY AN AWESOME ARTIST!!!

* 2 RANDOMLY CHOSEN COMICS EACH SIGNED BY AN AWESOME CREATOR, ONE OF WHICH WILL FEATURE OR STAR Batman!!!

* 3 RANDOMLY CHOSEN COOL AND COLLECTIBLE OUT OF PRINT LIMITED RETAILER EDITION COMICS, ONE OF WHICH WILL BE A CONVENTION EXCLUSIVE VARIANT!!!

* Please note, multiple orders may receive duplicate books.