JOSEPH MICHAEL LINSNER'S DAWN LIMITED EDITION PROMO CARDS - SIGNED BY JOSEPH MICHAEL LINSNER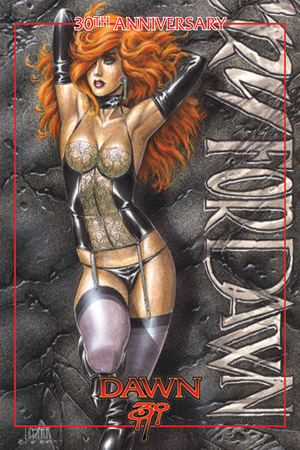 PRICE:


$60.00
Rating: Teen +
Art: Joseph Michael Linsner
Genre: Fantasy
Publication Date: November 2019
UPC: 725130286086
ON SALE DATE: 11/6/2019
Signed by artist and creator Joseph Michael Lisner!
Joseph Michael Linsner's Dawn celebrates her 30th Anniversary with a special, three-card Promo Trading Card Preview Set! First published in 1989, Linsner's "Cry for Dawn" #1 introduced the Earth goddess who would star in three fan-favorite miniseries. This exquisite set of cards captures Linsner's depiction of Dawn spanning over three decades. A must-have for art lovers and fans of this talented artist's work!