ONE-OF-A-KIND FINE ART FROM MARK BAGLEY!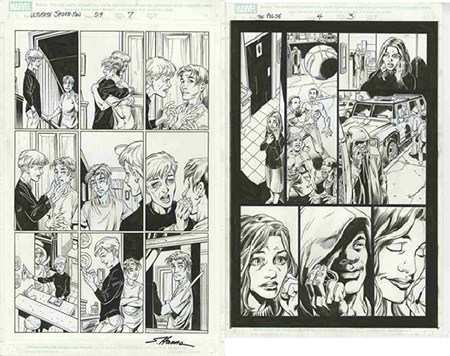 PRICE:


$75.00
DYNAMIC FORCES PRESENTS ORIGINAL ARTWORK FOR FANS AND FOR A GOOD CAUSE!

DYNAMIC FORCES CEO Nick Barrucci opens up part of his personal art collection to the public! Here, a one-of-a-kind, original piece of comic book art from one of the industry's top names: Mark Bagley! By adding this item to your cart, you will receive a random piece of original art from Mark Bagley. These pieces include pages from some of your favorite books, including The Outsiders, The Punisher, Uncanny X-Men, Ultimate Spider-Man, The Order, Robin, and more! Each page is completely unique and available for fans to own!

"Art collecting has been a passion of mine for years," says Nick Barrucci. "For the past 30 years, I have been picking up pieces from my favorite artists whenever I can. I look at my collection on a regular basis, as I love to appreciate the form, and I was looking at some of these pages by great artists including Mark Bagley, Patrick Zircher and one of my favorite contemporary art teams - Tom Raney and Scott Hanna, and thought that while I have a great collection, I couldn't possibly appreciate it all properly -I have over 400 pages of these fantastic artists and a few other incredible contemporary artists. I contemplated selling these via auction houses, but realized that many fans may not have access to original art, and thought it would be cool to offer to the comics fan base first. This is the ultimate one-of-a-kind comics collectible as there is only one of each piece of original art, which is why we need to fill each order randomly."

"I just felt like it was a good time to let more fans experience what I have and own a piece of the comics they love so much, " says Barrucci. "And we can help out a good cause in the process."

Part of all sales of these one-of-a-kind works of art goes to benefit the Comic Book Legal Defense Fund. The CBLDF is a non-profit organization who provides legal aid, education, and advocacy to protect the First Amendment rights of the readers, creators, retailers, publishers, and librarians of comics, manga, and graphic novels.

So, enough reading! Add this item to your cart and an original, one-of-a-kind piece of original comic art will be en route to your collection at this incredible price and limited offer!

In addition to his duties as CEO of DYNAMIC FORCES, Nick Barrucci is an avid art collector. If you have a collection of art to sell, drop him a line at nick@dynamicforces.com.