HIGHLANDER FEATURING A HAND-DRAWN HEAD SKETCH OF THE KURGAN BY ARTIST LEE MODER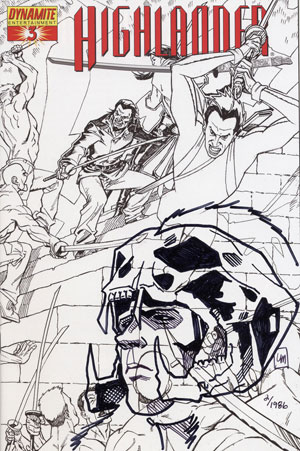 PRICE:


$10.00 MSRP: $69.99 YOU SAVE 85%
Each features an ORIGINAL WORK OF ART and is offered here at the introductory price of $10.00, regular MSRP is $69.99 after Dec 31st!) Each of these randomly selected issues of Highlander features an original inked drawing of the deadly Immortal, the Kurgan, by Highlander (and Red Sonja) cover artist, Lee Moder! For a limited time, you can add this ORIGINAL WORK OF ART to your Dynamite and comic collection!
The Highlander has returned! Writers Michael Avon (Red Sonja) Oeming with Brandon (BATTLESTAR Galactica: TOM ZAREK ) Jerwa are again joined by the incomparable Lee (Red Sonja) Moder as they tell a tale pitting the Immortal Highlander - Connor MacLeod - against the dread Kurgan in post-war Berlin! Issue #2 reveals more about the plans the Kurgan made with the USSR in the past, while in the present day, Connor and his friends race to destroy the legacy the Kurgan created!