ONSLAUGHT REBORN #1 - SIGNED BY WRITER JEPH LOEB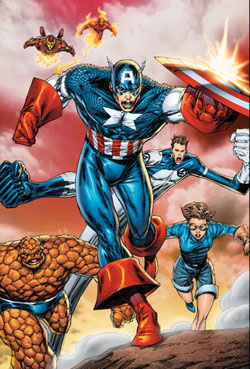 PRICE:


$29.99
Marvel's greatest heroes sacrificed themselves to save the world from the deadliest threat they had ever faced-Onslaught! The lives of the Fantastic Four and the Avengers were saved only when Franklin Richards created a parallel universe, where we found those Heroes Reborn! But this world has long since merged back into our own, and the evil Onslaught-forged from the most vile parts of Magneto's and Professor X's psyches-has been presumed long dead...But now he, himself, is reborn-and he's bringing fragments of the other universe with him! Join comics superstars Jeph Loeb and Rob Liefeld in this no-holds-barred, all-out action extravaganza-celebrating the 10th Anniversary of the event that changed Marvel history-as Onslaught, the Marvel Universe, and the Heroes Reborn Universe collide in this massive crossover!
And Jeph Loeb and DF are presenting a portion of each signing to the Sam Loeb Scholarship Fund! Each issue is hand numbered, features a DF Certificate of Authenticity and is sealed with a DF Holo-Foil Sticker!
ALSO AVAILABLE AS A CGC GRADED COMIC OF 9.6 OR BETTER AT THE MSRP OF $40.00! C105723