JOSEPH MICHAEL LINSNER'S DAWN COLLECTIBLE COIN - COIN B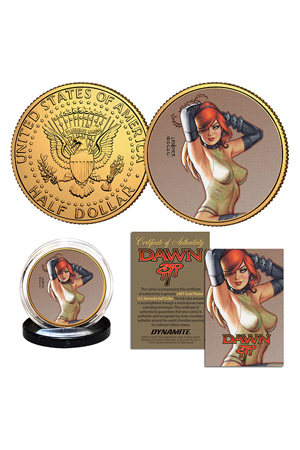 PRICE:
$19.89 MSRP: $29.99 YOU SAVE 33%
Rating: Teen +
Art: Joseph Michael Linsner
Genre: Fantasy, Collectibles
Publication Date: May 2020
UPC: 725130292339
ON SALE DATE: 5/6/2020
Featuring the classic art of Joseph Michael Linsner's Dawn as the character celebrates her 30th Anniversary with special Collectible Gold Coins! Produced using a revolutionary, highest-quality colorization technique on an authentic U.S. John F. Kennedy Half-Dollar, each coin is plated in genuine 24-karat gold. These commemorative coins each come with a full-color Certificate of Authenticity and a protective acrylic coin capsule.
First published in 1989, Linsner's "Cry for Dawn" #1 introduced the Earth goddess who would star in four fan-favorite miniseries. These exquisitely crafted coins capture the dynamic power and beauty of Linsner's Dawn. A must for art lovers and fans of this talented artist's work!