CLASSIC CHARACTERS AND CLASSIC CREATORS COLLECTOR'S SET!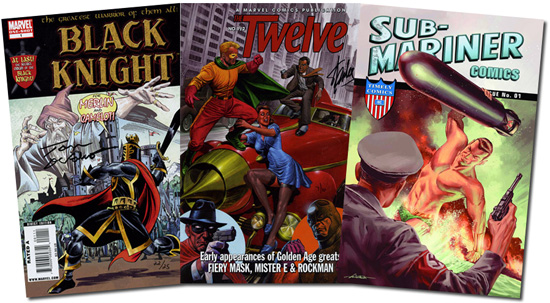 PRICE:
$449.99
A three-pack of comics featuring the Golden Age heroes and wach one is signed by a legendary creator! The Twelve #1 signed by Stan Lee! The Black Knight #1 signed by writer Tom DeFalco! Sub-Mariner Comics #1 signed by writer Roy Thomas!
THE TWELVE #1 SIGNED BY Stan Lee: This special edition features early appearances of Golden Age greats and collects material from DARING MYSTERY COMICS #1-2 (January-February 1940), HUMAN TORCH COMICS #2 (Fall 1940) and USA COMICS #2 (November 1941). THE BLACK KNIGHT #1 SIGNED BY Tom DeFalco: In this 40 page one-shot the secret origin of the original Black Knight is finally revealed as Vampires, Zombies, Werewolves and Demons from THE darkest realms confront Sir Percy of Scandia and his twin brother on their desperate quest to find Chaos, the dreaded Doombringer--the only weapon capable of defeating Excalibur, the legendary battle sword of King Arthur! SUB-MARINER COMICS #1 SIGNED BY WRITER ROY THOMAS: Commemorates Marvel's 70th Anniversary and its rich history and characters! It's the year 1940, and thanks to policewoman Betty Dean, the young Namor the Sub-Mariner has momentarily halted his jihad against the surface world. But now, an envoy from the Axis powers attempts to sway the undersea prince to the Nazi cause! Can the less worldly Sub-Mariner be tempted? Plus, a second never-before-seen Namor story by Mark Schultz and Al Williamson, and a reprint of Namor's first appearance from 1939!