NEW AVENGERS #1 LIMITED EDITION JOE QUESADA COVER - SIGNED BY JOE QUESADA!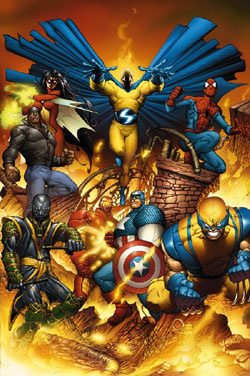 PRICE:


$29.99
Signed by the mighty Marvel Editor-In-Chief Joe Quesada! After the devastating destruction of the original Avenger's just what sort of threat to the world could persuade Captain America to assemble an all new team? And after the events of Avengers DISASSEMBLED who could possibly be on this team? The answer to the biggest secret in comics is only found right here.

Best of all available exclusively for our fans DF is bringing you a special Joe Quesada Signed Edition - Marvel's very own Editor-In-Chief - featuring his incredible variant cover - at an unbelievable price JUST FOR YOU!

Each copy is sealed (archival bag and board) features a numbered certificate of authenticity and sealed with a DF Holo-Foil Sticker!