NETFLIX CANCELS 'MYSTERY SCIENCE THEATER 3000' REBOOT AFTER TWO SEASONS
11/27/19 @ 9:59 am EST
Source:
Deadline
| Categories:
MIsc
|
Comments
(0) |
E-mail Article
|
Add a Comment
Deadline
reports that Netflix has decided not to move forward with
Mystery Science Theater 3000
.
Host Jonah Ray broke the news to fans Tuesday on Twitter, saying the reboot had been canceled after two seasons.
MST3K
originally ran from 1988-99 on Comedy Central and Syfy. Netflix announced the show's return, following a $5.7 million Kickstarter campaign.
ADULT SWIM REVEALS FIRST LOOK AT 'RICK AND MORTY' SEASON 5
08/04/20 @ 11:18 am EST
Source:
GameByte.com
| Categories:
Rick and Morty
|
Comments
(0) |
E-mail Article
|
Add a Comment
Working from home is still the norm for the majority of the creative industry, and though working on the likes of
Spider-Man: Into The Spider-Verse 2
from your bedroom might seem a little far-fetched, it's apparently something that the staff at
Rick and Morty
haven't been fazed by.
A first look at the next season of everyone's favourite duo has officially been revealed during the Adult Swim Con, an online Twitch livestream which replaced the channel's usual Comic Con panel appearances. (via
GameByte.com
)
The episode is pretty far from being complete, featuring just the character outlines, rough animations and the relevant voice over. However, even in its unpolished form, it's still looking as action-packed as ever.
Check it out:
https://youtu.be/sPAw95c_AOE
It is unknown as yet when
Rick and Morty
season five will air, but it's a safe bet to say it's not coming in 2020.
ROSEMARY MOSCO, BINGLIN HU'S NEW GRAPHIC NOVEL, 'EXPEDITION BACKYARD'
08/04/20 @ 11:07 am EST
Source:
Bleeding Cool
| Categories:
MIsc
|
Comments
(0) |
E-mail Article
|
Add a Comment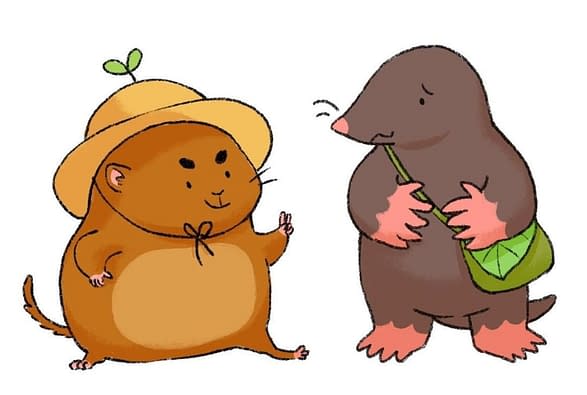 Expedition Backyard
is a new young chapter book graphic novel by Rosemary Mosco and Binglin Hu, the latest in a line of new publications picked up by Gina Gagliano, Publishing Director of Random House Graphic.
Expedition Backyard
tells the story of a gregarious Vole and more retiring Mole, who explore their suburban environment—until they accidentally move to the city and have to adjust to a new outdoor life. (via
Bleeding Cool
)
Rosemary Mosco also created the
Bird and Moon
nature comics, which were the subject of an award-winning museum exhibit and the 2019 ALA Great Graphic Novel for Teens. She co-wrote
The Atlas Obscura Explorer's Guide for the World's Most Adventurous Kid,
speaks at birding festivals and writes for Audubon and the PBS kids' show
Elinor Wonders Why.
Binglin Hu is a designer at the National Aquarium in Baltimore, Maryland, and an illustrator and cartoonist.
Expedition Backyard
will be published by Random House Graphic in 2022.
STEPHEN KING REVEALS NEW BOOK CALLED 'LATER'
08/03/20 @ 9:04 pm EST
Source:
ComicBook
| Categories:
MIsc
|
Comments
(0) |
E-mail Article
|
Add a Comment
Stephen King has become a genre-defining author, with works that transcend genre and audience expectations in so many ways. King's work has dominated the horror and sci-fi domains -- and it looks like his next book will head into the world of crime.
On Monday, King took to Twitter to announce that his next novel, titled
Later
, will be published this March. King also revealed the cover for the book, which channels the aesthetic of old pulp novels, and reveals that
Later
will be published among Titan Books' Hard Case Crime imprint. King previously contributed to the imprint with 2005's
The Colorado Kid
and 2013's
Joyland
. (via
ComicBook
)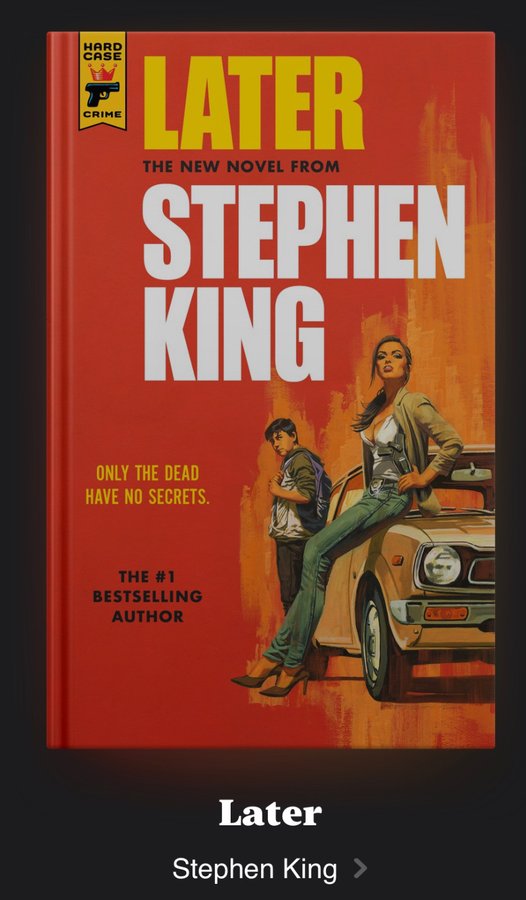 Later
will initially be published as a paperback original, with a cover painted by iconic artist Paul Mann. That will then be followed by a limited-edition hardcover, featuring two new paintings from Gregory Manchess -- one for the novel itself, and one for a fictional novel within the universe of the book.
This is King's latest novel in almost two years, after the 2019 release of
The Institute
.
MARVEL CANCELS 'GHOST RIDER'
08/03/20 @ 8:54 pm EST
Source:
ComicBook
| Categories:
Marvel
|
Comments
(0) |
E-mail Article
|
Add a Comment
Marvel has canceled
Ghost Rider
.
Writer Ed Brisson broke the news to fans via Twitter.
Ghost Rider
#7, which went on sale in July, is the final issue of the series. "As many have assumed, GHOST RIDER #7 was the last issue of the series," he tweeted. "I loved writing it; had a hell of a time telling Danny and Johnny's stories; & introducing the Spirit of Corruption. As far as their continued adventures, that will continue elsewhere in the Marvel Universe. I should have done this sooner, but I wanted to also thank @AaronKuder, @juanmfrigeri and @bam_jason. The book would have been nothing without them."
Ghost Rider
appears to be a victim of coronavirus pandemic. Marvel Comics solicited
Ghost Rider
through its ninth issue before Diamond Comic Distributors decided to stop shipping new products in April.
Also, Marvel had listed an Annual and an
Empyre
tie-in one-shot. Both now appear to have been canceled along with the ongoing series. (via
ComicBook
)
ARCHIE COMICS 80TH ANNIVERSARY PRESENTS 'SABRINA MANGA: COLOR COLLECTION VOL. 2'
08/03/20 @ 8:47 pm EST
Source:
Archie Comics
| Categories:
Archie
|
Comments
(0) |
E-mail Article
|
Add a Comment
The magic returns in this enchanting second FULL-COLOR manga-style collection of the SABRINA: THE MAGIC WITHIN series! Sabrina Spellman is your average teenager by day, attending Greendale High where her crush Harvey plays for the school basketball team. But by night, Sabrina enters the Magical Realm, where she hones her witchcraft and attends charm school with the handsome and mysterious Shinji. Pick up where Volume One left off as Sabrina deals with her two eccentric aunts and her conflicting lives in the Mortal and Magic Realms!
Script: Tania Del Rio
Art: Tania Del Rio, Jim Amash, Jason Jensen, and Teresa Davidson
Cover: Tania Del Rio
Digital Exclusive On Sale Date: 8/5
270-page, full-color comic
$5.99
JOHN BOYEGA, DARREN CRISS STAR IN SCRIPTED PODCAST 'THERE BE MONSTERS' FROM IHEARTPODCAST NETWORK
08/03/20 @ 8:43 pm EST
Source:
Deadline
| Categories:
MIsc
|
Comments
(0) |
E-mail Article
|
Add a Comment
Deadline
reports that iHeartRadio, FlynnPictureCo., Psychopia Pictures and UpperRoom Productions have defied the pandemic to complete production on
There Be Monsters
, a 10-part narrative sci-fi thriller podcast. Starring are
Star Wars: The Rise of Skywalker
's John Boyega and
American Crime: The Assassination of Gianni Versace
's Darren Criss.
There Be Monsters
is produced by Beau Flynn of FlynnPictureCo., Dan Bush of Psychopia Pictures and Boyega's UpperRoom Productions, and it will be available later this year on the iHeartPodcast Network.
Boyega plays Jack Locke, a mysterious hero with a vendetta who infiltrates a Silicon Valley body hacking startup run by an enigmatic CEO Max Fuller (Criss), whose highly secretive creations promise to enhance human biology in incredible ways. Of course, every drug has a side effect.
iHeartRadio began developing this with the producers in late 2019 as part of its expanding slate of immersive PodFiction audio dramas. As the creative team was getting ready to fly to London, Atlanta and L.A. to record the actors in early 2020, the pandemic hit and shut them down. Despite the challenges of executing a scripted fictional podcast thriller remotely with a full cast of actors, they harnessed a completely remote technological process. Each cast member was sent a "Studio in a Box," which included important materials from a professional studio microphone to tutorial videos – which allowed the cast to record studio-quality "scripted" audio from the safety of their own homes, while still performing together. They connected virtually via teleconference across multiple continents and time zones. The director, producers and actors connected virtually daily for six hours to record – and over the course of two weeks the production captured over 400 pages of material with 20 different actors.
YOUR FIRST LOOK AT 'WE ONLY FIND THEM WHEN THEY'RE DEAD' #1
08/03/20 @ 8:37 pm EST
Source:
BOOM! Studios
| Categories:
MIsc
|
Comments
(0) |
E-mail Article
|
Add a Comment
BOOM! Studios today revealed a first look at WE ONLY FIND THEM WHEN THEY'RE DEAD #1, a new sci-fi epic from Al Ewing (
Immortal Hulk
), Simone Di Meo (
Mighty Morphin Power Rangers
) with color assistance by Mariasara Miotti and letters by AndWorld Design, about one man's unrelenting quest throughout space to discover the truth—no matter where it takes him. Available in stores September 2, 2020.
Captain Malik and the crew of the Vihaan II harvest resources from the giant corpses of alien gods found on the edge of human space. While other autopsy ships race to salvage the meat, minerals, and metals that sustain the human race, Malik sees an opportunity to finally break free from this system by being the first to find a living god. But Malik's obsession with the gods will push his crew into danger at the darkest reaches of space—unless the rogue agent on their trail can stop them first...
WE ONLY FIND THEM WHEN THEY'RE DEAD #1 features main cover art by series artist Simone Di Meo (
Mighty Morphin Power Rangers
) and variant covers by fan favorite artists Toni Infante (
Mega Man: Fully Charged, The Red Mother
), Christian Ward (Invisible Kingdom), Matías Bergara (
Coda
), and Jenny Frison (
Something is Killing the Children
).
WE ONLY FIND THEM WHEN THEY'RE DEAD is the latest release from BOOM! Studios' eponymous imprint, home to critically acclaimed original series, including
Once & Future
by Kieron Gillen and Dan Mora;
Something is Killing the Children
by James Tynion IV and Werther Dell'Edera; Faithless by Brian Azzarello and Maria Llovet;
The Red Mother
by Jeremy Haun and Danny Luckert;
Alienated
by Simon Spurrier and Chris Wildgoose;
King of Nowhere
by W. Maxwell Prince and Tyler Jenkins;
Wynd
by James Tynion IV and Michael Dialynas; and
Seven Secrets
by Tom Taylor and Daniele Di Nicuolo. The imprint also publishes popular licensed properties including Joss Whedon's
Firefly
from Greg Pak and Dan McDaid;
Buffy the Vampire Slayer
from Jordie Bellaire and David López;
Angel
from Bryan Edward Hill and Gleb Melnikov; and
Mighty Morphin Power Rangers
from Ryan Parrott and Daniele Di Nicuolo.
Print copies of WE ONLY FIND THEM WHEN THEY'RE DEAD #1 will be available on September 2, 2020 exclusively at local comic book shops (use
comicshoplocator.com
to find the one nearest you) or at the BOOM! Studios webstore. Digital copies can be purchased from content providers like comiXology, iBooks, Google Play, and Madefire.
'STRANGERS IN PARADISE' CREATOR TO BYPASS SINGLE ISSUES AND PUBLISH HIS NEXT SERIES AS GRAPHIC NOVELS
08/03/20 @ 11:58 am EST
Source:
ComicBook
| Categories:
MIsc
|
Comments
(0) |
E-mail Article
|
Add a Comment
Trailblazing independent comics creator Terry Moore has announced that his next story,
Ever
, will bypass the single issue comics format and go straight to short graphic novels, beginning with its first installment in November. The first book, which runs 72 pages, is called
Ever: The Way Out
. The series will center on angels and demons, which means there's a decent chance it will have direct ties to
Rachel Rising
, Moore's horror comic from a few years back.
The main protagonist is a young girl named Ever, and when she turns 18 she becomes the the key to opening the Pit of Darkness where all the sinful angels are kept. Moore explained that Ever, a descendant of a "an angel/human interaction," doesn't want to be the key, because it means sacrificing herself to The Beast, a gruesome, multi-headed, four-dimensional being.
"When I finished
Five Years
, the question was what do you do next?" Moore said in a YouTube video. "Long story short, the new story incoming out in November and it's a trade paperback format; I'm not doing the single issues leading up to it."
Moore's
Strangers in Paradise
was a huge hit in the 1990s and has gone on to be an evergreen line of trade paperbacks for Moore. (via
ComicBook
)
KAREEM ABDUL-JABBAR TO WRITE FOREWORD FOR UPCOMING CHARLIE PARKER GRAPHIC NOVEL
08/03/20 @ 11:39 am EST
Source:
Z2 Comics
| Categories:
MIsc
|
Comments
(0) |
E-mail Article
|
Add a Comment
In honor of the 100th anniversary of Charlie "Bird" Parker's birth, the life of the jazz icon will be told in the pages of an upcoming graphic novel to be released by Z2 Comics in late September, now with an introduction by basketball and cultural icon Kareem Abdul-Jabbar.
During his short life, Bird changed the course of music. He was a pioneering composer and improviser who ushered in a new era of jazz and influenced subsequent generations of musicians, writers and artists. Music industry legend Quincy Jones once said, "I believe that a hundred years from now, when people look back at the 20th century, they will view Bird, Miles and Dizzy as our Mozart, Bach, Chopin and Tchaikovsky."
Similarly, Kareem Abdul-Jabbar's time in the NBA will remain one of the most celebrated eras in the history of the sport itself. Jabbar, a 6x world champion, holds the record as the NBA's All-Time Leading Scorer, boasting 38,387 points in his twenty-year career. Since retiring in 1989, he has gone on to become a celebrated New York Times-best-selling author, filmmaker, ambassador of education, columnist and cultural commentator. As a social justice activist, Kareem was awarded The Presidential Medal of Freedom, our nation's highest civilian honor by former President Barack Obama. As a student and Jazz historian, Kareem's voice is the perfect introduction to the world of Charlie Parker in California.
"
Chasin' the Bird
, a phenomenal graphic novel…becomes an archeological dig into the legend that was Bird—and the man that was Charlie Parker" says Kareem Abdul-Jabbar. "What is especially impressive is how Dave Chisholm and Peter Markowski capture in words and art, the spirit of Bird's music, rooted in the traditions of classic music but reshaped into his own—and their own—personal expression. It is the universal quest each person embarks on to find their unique voice."
This groundbreaking graphic novel tells the story of Bird's time in L.A. starting in December 1945, where Bird and Dizzy Gillespie brought frenetic sounds of bebop from the East Coast jazz underground to the West Coast for a two-month residency at Billy Berg's Hollywood jazz club. This marked the beginning of a tumultuous two year-stint for Bird bumming around L.A., showing up at jam sessions, crashing on people's couches, causing havoc in public places, and recording some of his most groundbreaking tracks, "A Night in Tunisia" and "Ornithology," as well as "Relaxin' At Camarillo," inspired by the end of his time in SoCal at the Camarillo State Hospital. The novel explores Bird's relationship with the characters and events he encountered during his time in L.A. including recording some of his signature songs with Dial Record founder Ross Russell, a brief but influential stay at the home of famed jazz photographer William Claxton, a party for the ages at the ranch home of artist Jirayr Zorthian, and others who found themselves in the orbit of the jazz genius.
"This is one of the greatest projects we have ever had the privilege to be a part of" says publisher Josh Frankel. "The passion that Dave and Peter put into this work is unparalleled, and to add the words of one of the most prolific cultural critics, let alone one of the greatest athletes in history is truly humbling for all of us. We are certain that this is destined to be one of the graphic novels of the year, if not a high watermark for the decade ahead."
Chasin' The Bird
is being released during the centennial of Bird, dubbed Bird 100, as one of the many initiatives celebrating the extraordinary career of the trailblazing jazz icon, including exciting new music releases, festivals and events, prestigious exhibitions, special partnerships, exclusive collectible art, and myriad of independent appreciations and concerts. This special graphic novel, named for Charlie Parker's 1947 standard, and adapts one of the sunnier, but darker chapters in the life of Bird, and is available for preorder now directly through the Z2 webstore. The deluxe limited edition includes a vinyl 45, and both are released in conjunction with a new album from Verve Records/UMG spanning Bird's L.A. period. The details of the tracks accompanying the graphic novel, and the upcoming album will be announced soon.
WONDER WOMAN'S PATTY JENKINS SAYS 'WONDER WOMAN 3' WILL
08/03/20 @ 11:35 am EST
Source:
IGN
| Categories:
DC
|
Comments
(0) |
E-mail Article
|
Add a Comment
Last month,
Wonder Woman/Wonder Woman 1984
director Patty Jenkins explained that she'd "hit the pause button" on development for a third Wonder Woman film so that she could make sure she was "absorbing whatever the result of this pandemic is."
"We're not starting to work on that movie right away," Jenkins had said. "I'm hoping to do this Amazon movie before we do the third Wonder Woman. And I may not do either of them. You never know what will happen in this world, you know?"
Now, in a recent interview with Geek (via
IGN
), a German publication (translated and tweeted out by
@DCMovieNews2
), Jenkins revealed that
Wonder Woman 3
will most likely be her final go at the character.
"[
Wonder Woman 1984
] gave me a chance to do a lot of things that I couldn't accommodate in the first movie." Jenkins shared. "I was so happy to tell the Wonder Woman origin story. It was almost her birth, but we really haven't seen what she is capable of. It is exciting for me to show her at the peak of her strength. But it is also very important that she fights an internal struggle: she is a goddess and tries to help humanity. She is not only someone who fights evil, she tries to show bad people how to improve. It's an interesting dilemma."
"The next one is probably my last
Wonder Woman
movie," Jenkins continued, "so I have to put everything I want to show there. We have to think carefully."