DYNAMIC FORCES COMMISSIONS NEW PIECE OF LARROCA ART!
Original To Be Reproduced As High-End Lithograph.
August 5, 2003, Runnemede, NJ – Dynamic Forces, the premiere supplier of high-end lithographs and other pop culture collectibles -- featuring all of your favorite artists and characters – announced today a newly commissioned piece of art by Salvador (Extreme X-Men, Namor) Larroca. The piece, created exclusively for DF, and featuring the X-Women, both new and classic, is set for an October release.
"We have been after Sal to put pencil and ink to paper for quite some time now," said Nick Barrucci, President of Dynamic Forces. "From his studio in Spain he's truly created a masterpiece featuring the fantastic X-Women!"
"X-Women United" marks the first Larroca Lithograph for DF, although Barrucci stated that, "We'll be working on other projects together, and fans should definitely sign-up for our inaugural release."
• SALVADOR LARROCA'S X-WOMEN UNITED LITHOGRAPH
http://www.dynamicforces.com/htmlfiles/p-C98499.html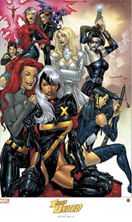 Dynamic Forces is extremely proud to present our first ever litho by X-Men artist Salvador Larroca who has created an amazing piece of art exclusively for DF!
And what a piece of art it is, featuring every X-Woman you can think of: Jean Grey, Storm, Psylocke, Sage, the White Queen, Rogue, Jubilee, Shadowcat (w/ Lockheed) and Rachel Summers in Phoenix mode! All illustrated in the trademark detail and Larroca style!
Measuring 18" by 24" and printed on archival 80lbs. Gallerie Silk Stock this masterpiece by Larroca will be a treasured addition to your collection!
$19.99 Suggested Retail Price!
ALSO AVAILABLE SIGNED BY SALVADOR LARROCA AT THE MSRP OF JUST $49.99!
Retailer Note: Special Ordering incentives are available, please contact Dynamic Forces for more details.
For more information on Dynamic Forces specialty merchandise, product art, exclusive creator interviews and upcoming releases - including more Marvel Comics Product, please visit the Dynamic Forces website at www.dynamicforces.com
------------------------
- Dynamic Forces is the comic book and collectible industry's top producer of limited edition comic books, lithographs, and more.
A licensee of DC Comics, Marvel Comics, Top Cow Comics, Dark Horse Comics, Universal Studios, Paramount Studios, Pressman Film's classic film "The Crow", Sony Pictures "Underworld", T2, Sandy Frank Productions "Battle of the Planets (G-Force)", Jim Starlin's "Dreadstar" and many other industry giants, DF continues to set the pace in the comic collector and comic memorabilia markets. Recent product line expansions includes: action figures, vinyl and poly resin statues, lunchboxes, trading cards, lithographs, giclees, apparel and much more!