JIM ZUB & ANDREW WHEELER

SEND THIS TO A FRIEND!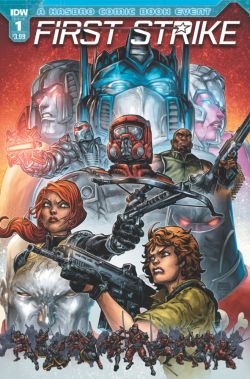 DF Interview: One of Canada's WWII heroes returns with a very modern twist in Jim Zub & Andrew Wheeler's Freelance
By Byron Brewer
Lance Valiant, John Cabot and Tasha Kolchak are fearless explorers who delve into hidden secrets of our world and protect us from threats beyond imagination, but the greatest secret of all may be Lance's own mysterious past.
Action, intrigue and globe-trotting romance are on tap in January as one of Canada's original heroes is reborn in Freelance from Chapterhouse Comics, courtesy of writers Andrew Wheeler (Another Castle) and Jim Zub (Thunderbolts), and artist Vineda Vireak (51Hundred).
To gather information on this new series, DF journeyed northward to Toronto, caught up with writers Zub and Wheeler, and asked the questions YOU want to know. Here's what they told us.
Dynamic Forces: Jim, it's been stated that Freelance is actually one of Canada's oldest original comic book characters. Tell us about that history and how the character and adventures have been brought up to speed for a modern readership.
Jim Zub: Freelance was one of several Canadian characters who premiered during World War II. There was a ban on American comics up north and so a bunch of original characters were created to fill the gap. Lance was a mystery man from the Antarctic who became an international guerilla fighter and spy traveling the world fighting Axis and other threats.
Our new version of Freelance takes that original concept and updates it for a modern audience. Lance and his crew are international adventurers and explorers in the here and now fighting to take down evil all over the world and uncovering mysteries along the way.
DF: What sorts of adventures will we be seeing in Freelance?
Jim Zub: Freelance will have action-packed adventure in the spirit of Raiders of the Lost Ark or Stargate with a bit of James Bond-worthy sexiness thrown in for good measure. Exciting set pieces in exotic locations and engaging characters.
DF: Jim and Andrew, Freelance features a gay hero. There are already gay superheroes popping up everywhere in this age of diversity. What sets this series, and this hero, apart?
Jim Zub: Thankfully, we are seeing a lot more diversity in comics, but I haven't seen anything quite like what we're putting together. There's a wonderful matter-of-fact quality to Lance's queer nature. It's part and parcel of the character and the series without deemphasizing the action-adventure core of the story. An action story can have a gay lead and can (and should) be for everyone, not a niche audience. It's a big deal because in the story it isn't a big deal. I like the simplicity of that.
Andrew Wheeler: While there are more gay superheroes, there still aren't many that are headlining their own books, so I'm very impressed that Chapterhouse wanted to make a gay hero such a prominent part of their superhero universe, and that they approached me as a gay writer to help put it together. For that reason, it's important to me that we do this well. This is the book I wish I could have read growing up, where the hero is tough, cool, sexy and absolutely gay. That's not what the story is about; that's who the character is.
DF: Andrew, can you introduce us to your protagonists and give us a few capsule summaries on them?
Andrew Wheeler: With Lance, we're playing with an archetype. He's the paragon, the superman, and there's something unreal about a character like that, so we're leaning into it. He's alien, he doesn't know where he fits in to this world that he's fighting to save.
John is the bad boy with a murky past and a lot of dubious connections. He's been inspired to try to be a better person thanks to Lance, but that doesn't come easily. John has been fighting his whole life, and he didn't survive by following the Boy Scout rule book.
Then there's Tasha, the most grounded member of the team. She's a brilliant scientific polymath with a background in Canadian intelligence, so she knows how things work, but she can also see what needs fixing. And it turns out the whole world needs fixing, so it's a good thing she's on the case.
The way we've come to think of them is that Lance is the idealist, Tasha is the pragmatist, and John is the opportunist. Their worldviews are out of sync, but they're saving the world together.
DF: Assembling a James Bond-style adventure calls for some heavy-duty, whacked-out big-bads. Can you hint at any of them to come?
Andrew Wheeler: What's great about playing in the new shared universe of the Chapterverse is that we're getting to populate a fairly fresh canvas. We can create a character that we hope will be this world's Lex Luthor or Doctor Doom.
That's the mindset that went into creating the main villain for this adventure, Apollyon, a brilliant archeologist who is using ancient forgotten knowledge to transform herself into something terrible. She's a grandly operatic villain, ruthless and implacable, and I love writing her.
DF: You and Jim will be co-writing Freelance. I know it is early, but could you tell us how those duties will fall? Involve readers a bit in the process?
Andrew Wheeler: Oh, we're well into the writing process; we're having too much fun to want to slow down!
What's great about this collaboration is that Jim and I both live in Toronto, so we actually get to meet up in person to map everything out and break down the story beats over beer and pasta. Then we pass the script back and forth via e-mail, making little refinements to the action and the dialogue. We have very similar approaches to pacing, to character, and to stress-testing every part of a story, so it's really been a painless process.
DF: Guys, do you have any other projects current or near-future you can tell us about?
Jim Zub: I'm extra-busy right now with comic projects and enjoying the ride. Along with Freelance from Chapterhouse, I'm working on Wayward and Glitterbomb at Image, Thunderbolts at Marvel, and Dungeons & Dragons for IDW.
Andrew Wheeler: You can pick up the collected edition of my first comic, Another Castle, on Feb. 15th, so if you forgot Valentine's Day you can buy that to make amends to your loved one. It's a kick-ass feminist princess story that reveals what the princess is doing when she's "waiting" for the prince to come save her. It turns out she's the real hero of the story. The art is by Paulina Ganucheau, so you know it looks amazing.
Dynamic Forces would like to thank Jim Zub and Andrew Wheeler for taking time out of their busy schedules to answer our questions. Freelance #1 from Chapterhouse Comics hits stores Jan. 25th!
For more news and up-to-date announcements, join us here at Dynamic Forces, www.dynamicforces.com/htmlfiles/, "LIKE" us on Facebook, www.facebook.com/dynamicforcesinc, and follow us on Twitter, www.twitter.com/dynamicforces
PATHFINDER VOL. 1: DARK WATERS RISING HC - SIGNED BY JIM ZUB
PATHFINDER: CITY OF SECRETS #6 (OF 6) ULTRA-LIMITED EDITION COVER Written by Jim Zub
PATHFINDER: CITY OF SECRETS #4 (OF 6) ULTRA-LIMITED EDITION COVER Written by Jim Zub
PATHFINDER: CITY OF SECRETS #3 (OF 6) ULTRA-LIMITED EDITION COVER Written by Jim Zub
PATHFINDER: CITY OF SECRETS #2 (OF 6) ULTRA-LIMITED EDITION COVER Written by Jim Zub
PATHFINDER: CITY OF SECRETS #1 (OF 6) ULTRA-LIMITED EDITION COVER Written by Jim Zub
PATHFINDER VOL. 3: CITY OF SECRETS HARDCOVER Written by Jim Zub
PATHFINDER VOL. 2: OF TOOTH AND CLAW HC Written by Jim Zub
---
NEW! 1. 11/25/2020 - STEVE SKROCE
4. 11/16/2020 - RYAN O'SULLIVAN
5. 11/16/2020 - RYAN O'SULLIVAN