CHARLES SOULE

SEND THIS TO A FRIEND!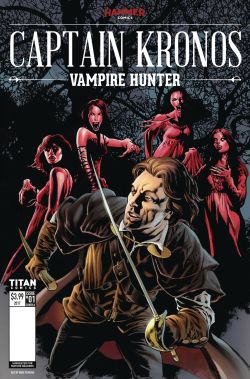 DF Interview: Charles Soule's Curse Words casts its spell
By Byron Brewer
A wizard has appeared in New York City, and he's casting wonderful spells, getting famous, getting rich -- it's great! But it's not. This wizard has everyone fooled. He is actually an evil wizard, and evil things are on the way. Curse Words is a gonzo modern fantasy, full of darkness, light ... and magic!
DF wanted to know more about the new ongoing series from Image Comics, courtesy of writer Charles Soule (Daredevil, Death of Wolverine, Star Wars) and artist Ryan Browne (Gods Hate Astronauts), so we caught up with the fan-favorite scribe while he was watching a rerun of Wheel of Fortune (we think Vanna was turning letter 44 at the time). Here is what Charles Soule told us.
Dynamic Forces: Charles, The Hollywood Reporter described your new ongoing comic Curse Words as like "Breaking Bad …about wizards instead of drug lords." Tell us a little about the series' concept and how it came to Image Comics.
Charles Soule: Curse Words is about a wizard who pops up in New York City one day, announces himself as the coolest, best, nicest wizard around, and then proceeds to start doing spells for cash. Everyone's very excited – I mean, wouldn't you be? The problem is that our new magical friend has been lying about everything – he's trying to outrun a very, very dark past, and when it catches up with him things just go completely to hell. It's sort of like when you go to college and completely reinvent yourself, but then your high school friends come to visit one weekend and tell everyone what you're really like. Just like that, but with deadly goddamn wizards.
DF: As a writer, I know how it feels to want to promote, promote, promote your work. But at NYCC this year, you not only appeared on panels with Curse Words ashcans and sunglasses, but you also dressed as a wizard and performed with your band at the Image Comics afterparty at Bowlmor Times Square. What is it about this book that makes you so fervent about it?
Charles Soule: Two things – (a) I love it. This is a book worthy of fervence. In particular, I'm just so happy to finally be doing something long-form with the incredible artist Ryan Browne. Ryan and I have been good friends for a while now, and I think he's one of the best in the biz, both from a technical and inventiveness standpoint. It's literally a joy. Then, (b) this is my first new creator-owned project in, essentially, five years. I want everyone to know about it, and to check it out. A lot of comics come out every month. I want to make sure Curse Words stands out. Wizard parties are just the start.
DF: Tell us a little about your protagonist, Wizord, and whatever background you can supply.
Charles Soule: Wizord is our wizard-for-hire. He's basically a super evil sorcerer who was sent here from a dark dimension called the Hole World – think Middle Earth if Sauron had won. He was originally supposed to destroy our world, but decided at the last minute not to do it – essentially for selfish reasons, since he just thought he could have more fun here than back in the Hole World. Now, though, he's in a position where he has to defend himself from magical assassins who keep showing up trying to kill him and finish the original job. Therefore, even though he's really just trying to save his own skin, he's also defending our world at the same time. He was a bad dude back in the Hole World, though – and eventually everyone here's going to find that out.
DF: … And a sarcastic talking koala??
Charles Soule: Yup! That's Margaret, Wizord's wonderful familiar. She acts as Wizord's guide to the modern world, since he doesn't know much about us and our ways. She's also, in many ways, his conscience. Margaret is amazing, and I believe she will definitely be the breakout star of the book.
DF: Everyone needs their Jiminy Cricket!
By the way, one of the scenes in #1 wherein our sorcerous protagonist turns a smart-ass singer/client into platinum – LITERALLY – only for the dude to be shocked he cannot feel ("I can't feel nothin'. It's like my foot's asleep …but I'm ALL FOOT!") is wicked funny. Is this how the wizard makes his living? And will we be seeing other such clients who are springboards to story in the book's future?
Charles Soule: Yes, for sure. Wizord's "business" is booming, and we'll see a number of the people he's worked with. It's not always the focus, but it's a useful continuing part of the story engine. It'll be fun.
DF: Do we have a handle on some big-bads for Wizord? Or will he suffer – as most of us do – with just the a-holes who show up seeking his mystic services? Any skeletons in the sorcerer's closet from his past? (For example, one image I have seen portrays a magical-looking chap named Cornwall …)
Charles Soule: Cornwall's one of the magical assassins who pops up here to take out Wizord – there are a good number more, though, each very unique and strange and fun, including Botchko the Hogtaur and Wizord's ex, Ruby Stitch. Standing above them all, though, we have Sizzajee, the evil demon-thing who sent Wizord here in the first place. As bad as Wizord, Cornwall and the others are, Sizzajee is much worse. He's awesome and terrible in the best way.
DF: How does it feel to be collaborating again with artist Ryan Browne? You guys have a proven chemistry!
Charles Soule: Ryan is the best best best. He takes my paltry, thin ideas and adds that special Browne Sauce that bulks them up and really makes them live. I hope he and I get to do books together forever. He has a particular brand of inventive humor that I just love, and works really well with the kind of gags I like to write. We're not the same, but we click – it's a very aggregative process, like we're both building a huge Lego sculpture together. He's all right, is what I'm saying.
DF: Speaking of Ryan, Wizord is certainly a modern-looking wizard, even moreso than Dr. Strange. Did Ryan do the designs for the book himself, or did you collaborate with him? Can you speak to the process there?
Charles Soule: Ryan's design for Wizord was the very first thing he drew for the book. I think at that point, I just had the idea of an asshole wizard. I told Ryan about it, and he showed me that sketch later at a con. It all spun out from there. Moving forward, I've been describing characters and locations with varying degrees of specificity, but then I just get out of his way. Ryan doesn't need my help to design awesome stuff.
DF: Charles, are there any other projects current or near-future you can tell us about?
Charles Soule: More fun Marvel stuff, wrapping up Letter 44 in the first half of 2017 (which is sad, but I'm so glad to have been able to tell the full story the way I wanted to), and some additional creator-owned projects that it's too early to talk about. All signals go, though – mostly, I just want folks to give Curse Words a spin. We won't let you down – it'll be magic!
Dynamic Forces would like to thank Charles Soule for taking time out of his busy schedule to answer our questions. Curse Words #1 from Image Comics hits stores Jan. 18th!
For more news and up-to-date announcements, join us here at Dynamic Forces, www.dynamicforces.com/htmlfiles/, "LIKE" us on Facebook, www.facebook.com/dynamicforcesinc, and follow us on Twitter, www.twitter.com/dynamicforces
OBI-WAN & ANAKIN #1 LIGHTSABER SILVER SIGNATURE SERIES SIGNED BY CHARLES SOULE
STAR WARS: POE DAMERON #1 GOLD SIGNATURE SERIES SIGNED BY CHARLES SOULE
WOLVERINE: DEATH OF WOLVERINE #1 DF EXCLUSIVE COVER - SIGNED BY WRITER CHARLES SOULE!
DEATH OF WOLVERINE #4 CANADA RETAILER INCENTIVE VARIANT CGC GRADED 9.8! Written by Charles Soule
DEATH OF WOLVERINE #3 CANADA RETAILER INCENTIVE VARIANT CGC GRADED 9.8!
Written by Charles Soule
WOLVERINE: DEATH OF WOLVERINE #1 DF EXCLUSIVE COVER - SIGNED BY WRITER CHARLES SOULE!
---
NEW! 1. 11/30/2020 - SKYLAR PATRIDGE
5. 11/16/2020 - RYAN O'SULLIVAN