MAGDALENE VISAGGIO

SEND THIS TO A FRIEND!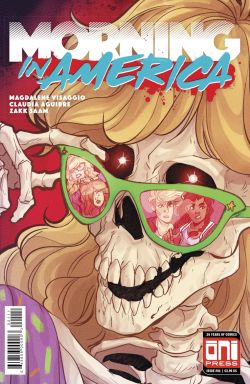 DF Interview: Magdalene Visaggio brings readers an '80s high school horror miniseries with 'Morning in America'
By Byron Brewer
The year is 1983. A series of disappearances afflicts Tucker, Ohio, following the opening of a mysterious new factory. But when the town finds itself under siege from strange monsters, it's up to an intrepid gang of no-account teen girl delinquents to try and figure out what's happening—and to save everyone's lives before it's too late.
Get ready for some high school horror nostalgia as the team of writer Magdalene Visaggio (Eternity Girl) and artist Claudia Aguirre (Kim & Kim) bring us the miniseries Morning in America. DF wanted to know the full 411, so we sat down and chatted up the new Oni Press book with scribe Magdalene Visaggio.
Dynamic Forces: Magdalene, in some of the press about Morning in America, you say this is a book "extremely close to my heart." Can you tell readers why that is, along with the general genesis of this series?
Magdalene Visaggio: It's a story that had a very lengthy gestation; Claudia and I have been discussing it since 2016, and the first couple of issues were actually written shortly after I finished scripting on Love is a Battlefield. It's a book that came out of a lot of things both of us love — queer kids figuring themselves out, cheesy eighties horror, The Goonies, Stephen King for me specifically — and it's part of kind of this ongoing fascination I have with being a teenager.
It's a truism among trans people that when you transition you kind of emotionally revert to being fourteen for a minute, and that got me thinking a lot about my own experiences as a teenager. I started exploring that a bit in Quantum Teens Are Go and I have another high school book in the works, but yeah; it's an emotionally really fraught time where you're discovering and even really inventing yourself while everything around you is changing. It's an age full of anxiety and worry and fear and struggle. So as I've been kind of exploring and discovering myself over the last few years, I think I've kind of turned to high school narratives to externalize that.
As for where the story came from? Claudia and I had worked together on Quantum Teens together, and that story had moved away from some of the kids' adventure movie origins it had had. So we started with "well, what's the stuff we didn't get to do in QTAG?" As we worked on it, the story found a lot of other dimensions and anxieties, but that's where it began.
DF: Before we discuss the book proper, how does it feel to be teamed with your Kim & Kim colorist, Claudia Aguirre, for this series?
Magdalene Visaggio: Claudia is my comics wife and I drag her to every project I can. I love her art, and I'm really glad she's getting the chance to shine here.
DF: The story takes place in 1983 Ohio. Will we be seeing some of the markers of the time (language, clothing, BIG HAIR, etc.)? What type of research, if any, did you and/or Claudia do to help establish the atmosphere of Middle America during the period?
Magdalene Visaggio: Claudia has done a ton of visual research. Most of mine is based on memory and media; I wasn't going for period accuracy as much as what the era feels like to me. Morning in America is about my own fear of annihilation, my own fear of a death that's outside my control, be it nuclear war, climate change, or whatever. So I wanted to tap into that Cold War era's sensibility; Morning in America is, in a real way, my response to "99 Luftballons;" it's all my worries about the way the world is going, brazenly and thoughtlessly, distilled into 110 comic pages.
As the protagonist is Mexican-American, I worked some with Mey Rude of Autostraddle to handle her portrayal and that of her family.
DF: Can you introduce readers to your cast of characters, maybe give us a brief intro description?
Magdalene Visaggio: The book revolves around a perpetually-in-trouble gang of teen girl delinquents, the Sick Sisters; they're just kinda troubled, angry latch-key kids with nothing to do in a failing factory town. The Sick Sisters are our protagonists: Nancy Salazar, alongside Veronica Hotchkiss, Ellen Mackie, and Ashley DiFiore, who is adorable and perfect. Ellen is their put-upon leader, the "cool girl" of the book, and mostly they hang out behind a convenience store and knock over mailboxes. They don't have a lot of drive.
Nancy is the center of the story; her dad lost his job a couple of years before the story opens, and hasn't gotten a new one because there's no union work in town. So the family is kind of falling apart, which is loosely based on my own family's collapse when I was around Nancy's age. So Nancy is just … never home, and made her family with the Sick Sisters, particularly Veronica, with whom she's a little too close for 1983.
DF: What is the storyline for Morning in America?
Magdalene Visaggio: Spoilers.
The quick and dirty of it is that, in the failing factory town of Tucker, Ohio, there's been a spate of child disappearances. Due to their delinquency, the Sick Sisters have enough contact with police to discover that they aren't investigating any of them, and so they take it upon themselves to do what nobody else is doing.
DF: Talk about the moody but somehow amusing art of Claudia Aguirre. Why is the artist right for this book?
Magdalene Visaggio: The book was built around Claudia's art; she's really good at balancing light and dark, grimness and humor. So she was perfect for it because it was designed to meet her strengths; her figures are good at subtle acting, and there's a lot of stuff happening in the panel you won't necessarily catch the first time around, nuances to character relationships. And she's good at portraying the right kind of mood and energy. And just to gush about her, Claudia is one of the easiest artists to work with; she's good on her deadlines, always game to improve the book. I think we have a mutual respect for each other in our working and personal relationships that really shows in the final product. We're a good team.
DF: Magdalene, what other projects current or near-future, are you involved in that you can tell our readers about?
Magdalene Visaggio: Sex Death Revolution and Oh S#!T It's Kim & Kim, both at Black Mask, and Teenage Wasteland at Comixology Originals, alongside a lot of stuff I'm not at liberty to discuss.
Dynamic Forces would like to thank Magdalene Visaggio for taking time out of her busy schedule to answer our questions. Morning in America #1 from Oni Press hits stores in March 2019!
For more news and up-to-date announcements, join us here at Dynamic Forces, www.dynamicforces.com/htmlfiles/, "LIKE" us on Facebook, www.facebook.com/dynamicforcesinc, and follow us on Twitter, www.twitter.com/dynamicforces.
---
NEW! 1. 11/25/2020 - STEVE SKROCE
4. 11/16/2020 - RYAN O'SULLIVAN
5. 11/16/2020 - RYAN O'SULLIVAN