DENNIS HALLUM

SEND THIS TO A FRIEND!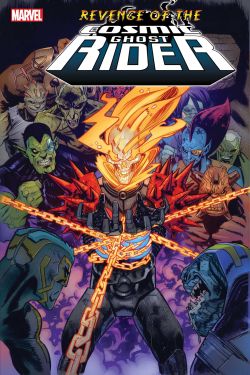 DF Interview: Dennis Hallum puts spacefaring spirit of vengeance in chains for 'Revenge of the Cosmic Ghost Rider'
By Byron Brewer
Cosmic Ghost Rider is back, baby! But with a reputation like his, it's only a matter of time before the law catches up to the future Frank Castle and tries to put him in chains – too bad for the law, chains are Castle's weapons of choice these days. Now in an intergalactic prison, the Rider is going to turn his cage into an all-out cage match!
Who's going to be the last alien standing? Find out in this all-new miniseries from Dennis "Hopeless" Hallum (Marvel's Spider-Man: City at War) and Scott Hepburn (Deadpool)! DF loves cage matches (even if there are no chainsaws), so we tagged in scribe Dennis Hallum to tell us wassup in this latest CGR romp.
Dynamic Forces: Dennis, how did you happen to get "chained", if you'll pardon the pun, to this five-issue limited series starring Cosmic Ghost Rider?
Dennis Hallum: Editor Darren Shan and I had a great time working on Jean Grey together a few years ago so when he called me about the book I was immediately interested. Donny Cates and I are pals so I called and got him talking about how cool Cosmic Ghost Rider is, which sort of solidified Frank in my mind. At that point it was a pretty easy job to take. I shot Darren a pitch and we were off to the races.
DF: As writer, what is your take on this fan-favorite cosmic character?
Dennis Hallum: He's Frank Castle in God Mode on an infinite timeline. The power set and cosmic mayhem potential is limitless… But at the end of the day, Frank is Frank. A very damaged, very obsessive, very tortured and dangerous man.
DF: Give us an extended elevator pitch for this new limited series.
Dennis Hallum: Cosmic Ghost Rider sold his soul thousands of years ago to extend his mission and go on punishing the guilty. He can't stop. He can't die. He can't rest. And because murdering things doesn't actually make the universe a better place, he can't win. There's a new evil player in the cosmic crime game who is big enough and bad enough to steal from Mephisto, and not in the mood to deal with Frank Castle. So after all these endless years, the Punisher's soul is back on the table.
Cosmic Ghost Rider versus The Cosmic King. Winner takes soul.
DF: Shades of Batman, it's awesome seeing the Rider serve justice from inside a prison. Can you tell us some of the cosmic baddies he might be encountering?
Dennis Hallum: We really wanted to lean into the Frank Castle of CGR for this series, without losing all of the gonzo Marvel Cosmic action. Having him battle his way into an impossibly impenetrable cosmic prison just made sense. I don't want to say too much about that battle, because it's a weird one, but Scott Hepburn's art in the Gladiator arresting Frank sequence is one of the best things I've seen all year.
DF: Any new characters about? If so, can you introduce some of the more important ones here for this limited series?
Dennis Hallum: The series villain is a big bad space gangster with a black hole full of skeletons called The Cosmic King. He's scary powerful, even for CGR, and smart enough to know exactly how to come at Frank.
The other not-new-but-new-to-Cosmic-Ghost-Rider character is everybody's favorite cosmic badass, Cammi Benally. Trained by Drax and forged in the fires of MurderWorld, Cammi is one of my favorite Marvel characters to write. She was my first request for the series and I'm so happy we got her.
DF: Talk about the stunning art of your collaborator, Scott Hepburn.
Dennis Hallum: I can't stop talking about Scott. His art on this series keeps blowing my mind page by page by page. Yesterday, he sent me a big splash of The Cosmic King and my mouth is still hanging open. There is no artist more perfect for this book. Scott is somehow more bombastic than Cosmic Ghost Rider and he just pushes it with every panel. Love.
DF: Dennis, what other projects are you involved in that you can tell our readers about?
Dennis Hallum: My Image series Sea of Stars just wrapped our first arc. I'm co-writing with Jason Aaron. Stunning art by Stephen Green and Rico Renzi with design and lettering by Jared K. Fletcher. It's a father and son separated in space story that's equal parts Finding Nemo and The Road. We're taking a few months off to get ahead on the second arc but the trade will be out in January and everyone should check it out.
I'm having a ton of fun fleshing out the Marvel Gamerverse in my Spider-Man PS4 books. Spider-Man: Velocity is just about to wrap up and Spider-Man: Black Cat Strikes launches soon. Brand new classic Spider-Man stories set in the world of the video game.
Then I'm launching a new XO Man-O-War over at Valiant next year. Art by Emilio Laiso. Can't talk too much about the book yet, but we're taking XO in a kickass new direction and the art is just gorgeous. Can't wait to show this one off.
Dynamic Forces would like to thank Dennis Hallum for taking time out of his busy schedule to answer our questions. Revenge of the Cosmic Ghost Rider #1 from Marvel Comics hits stores Dec. 18th!
For more news and up-to-date announcements, join us here at Dynamic Forces, www.dynamicforces.com/htmlfiles/, "LIKE" us on Facebook, www.facebook.com/dynamicforcesinc, and follow us on Twitter, www.twitter.com/dynamicforces.
REVENGE OF THE COSMIC GHOST RIDER #1 SIGNED BY DONNY CATES
SPIDER-WOMAN #1 SIGNED BY DENNIS HOPELESS!
SPIDER-MAN: THE BLACK CAT STRIKES #1 SIGNED BY DENNIS "HOPELESS" HALLUM
WWE #1 ULTRA-LIMITED SILVER SIGNATURE SERIES SETH ROLLINS ACTION FIGURE VARIANT EDITION SIGNED BY DENNIS HOPELESS!
WWE #1 RARE FIRST PRINTING ULTRA-LIMITED BIG GREEN EDITION SIGNED BY DENNIS HOPELESS!
AVENGERS ARENA #1 SIGNED BY DENNIS HOPELESS
AVENGERS ARENA #1 SIGNED IN BLOOD RED BY DENNIS HOPELESS!
CABLE & X-FORCE #1 SIGNED BY DENNIS HOPELESS
---
NEW! 1. 12/04/2020 - JOSH BLAYLOCK
3. 11/30/2020 - SKYLAR PATRIDGE