CULLEN BUNN, BRIAN HURTT

SEND THIS TO A FRIEND!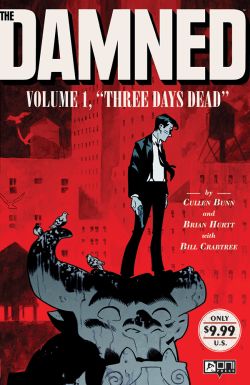 DF Interview: Cullen Bunn, Brian Hurtt & Bill Crabtree return to the Prohibition era with The Damned: Three Days Dead TPB
By Byron Brewer
During the Prohibition era, gangsters grew rich on our vices, and rivalries between criminal organizations resulted in open war. But unknown to the masses, a more sinister power controlled the crime cartels, using greed, gluttony, lust and other sins to fuel a much more lucrative trade: mortal souls!
A decade after its conception, the fan-favorite horror comic The Damned is returning. Plans are for an ongoing comic in the near-future from Oni Press, but first fans old and new will get to feast their eyes on The Damned: Three Days Dead, in trade paperback form and in color for the first time.
Dynamic Forces spoke with the entire creative team – writer Cullen Bunn, artist Brian Hurtt, and colorist Bill Crabtree – to get info on this project.
Dynamic Forces: Cullen and Brian, what does it feel like to see the world of The Damned return a decade after its inception?
Cullen Bunn: It's definitely a little strange to be working on something with Brian that doesn't involve horses and magical six-shooters! But we've known for years that we'd be returning to the world of The Damned. Toward the end of The Sixth Gun, I started to get really excited about writing stories about demons and gangsters again, and the gang at Oni Press have a great plan for re-introducing these stories to fans. Can't wait to see what the reaction will be to the book. I'm hoping we see a lot of Sixth Gun fans trying this series out!
Brian Hurtt: Honestly, it's a bit surreal still. This project was a labor of love for Cullen and I a decade again. We made little to no money but, in my case anyway, had saved enough to take the time "off" to work in it. We wanted to keep going on the book back then but the realities of the market, our profile, etc., forced us to move onto other projects with the promise to each other that if it were ever possible we would return.
The success of The Sixth Gun ended up being both a blessing and a curse. The response to the series brought us a whole new group of readers but it also meant we would have to put off The Damned until The Sixth Gun was finished. That ended up being over six years.
Another upside of the wait is that both Cullen and I have so much more experience that we can now bring back to this book. At this point, Cullen and I have done over a thousand pages of material together since we last worked on The Damned and are as in sync as we've ever been creatively. I really feel that our best work is still ahead of us!
DF: What do you think of the re-release of Three Days Dead by Oni Press in trade format?
Cullen Bunn: I love it! I think the first story arc works very well as a trade collection. While the original series was in black and white, it will now be collected in full color for the first time, and Bill's work on the book is elevating the whole project. I think the colors, the new collection format, and the price point are all great ways to remind longtime fans what they loved about the book (while giving them something new) and to get first-time readers excited about the series.
Brian Hurtt: I also love it! Obviously, Cullen and I were very involved with this decision. After it was decided to relaunch the series in color I think that we were all pretty much on the same page as in how this book would be presented. We all wanted this to sit up there on the bookshelf in the same size and format as The Sixth Gun trades. I love the idea that they will look as if they are of the same library—that they'll share a little bit of a visual continuity that carries through both series.
DF: Tell us a little how the original 2006 miniseries was conceived.
Cullen Bunn: I'm not sure I even remember anymore! Brian and I had been talking about working on a project together for some time. We had put together a Victorian era horror series called Penny Dreadful that we sent to Oni, but that didn't resonate with them. Still, they were interested in seeing something else from us. I do remember talking to Brian about the project on the phone while I was pacing around my kitchen. It all started, as I recall, with the protagonist, Eddie. We formed the rest of the series around him, as I recall. Anyhow, we put together a pretty detailed series synopsis, and Oni accepted it pretty quickly.
DF: The comics market has changed so drastically over the last year, much less the last 10. Cullen, for the uninitiated, can you give us a capsule view as to the storyline of Three Days Dead?
Cullen Bunn: The Damned is a prohibition era crime story with all the trappings you might expect. Tommy guns. Flappers. Fedoras. Double-and-triple-crossing. The twist is that the gangs are now controlled from behind the scenes by demons. These demons use the rackets to get mortals to sell their souls. But the demons are starting to find it all too easy to fall prey to the greed of the mortal world. This, as you might imagine, sets the demons to killing each other. This series follows three demon families as they struggle for supremacy.
DF: What more can you tell us about the three demon families (the Aligheris, the Roarkes, and the Verlochin) and how they interrelate?
Cullen Bunn: The Aligheri family is in charge, and they are controlled by Alphonse "Big Al" Aligheri. They are businessmen, very buttoned up. Their chief rivals are the Roarkes. The Roarkes are more like street thugs who play at being like the Aligheris. Bruno Roarke is their leader. Both of these families, though, are becoming far too "human" for the tastes of the third family, the Verlochin. The Verlochin are real bogeymen. They still value the old ways of demonic business. They've been run out of the city, but they are still powerful and scary. They are demons who make other demons look over their shoulders nervously.
DF: Tell us about the character, Eddie.
Cullen Bunn: Eddie is... not a nice guy. He's the kind of guy who always brings trouble with him, and that trouble is usually much worse for those around him than it is for Eddie himself. Eddie is useful to the crime families, though, because of a strange curse with which he is afflicted. Eddie cannot die. Well, he can die... and he does so a lot... but he doesn't stay dead. If anyone touches his dead body, that unlucky person will suddenly die, and Eddie will spring back to life. He bears a scar for every death he's suffered, and he has a lot of scars.
DF: Often a location, a time period becomes almost a character in a story. Brian, how much research did you do in putting together the Prohibition "stage" of this tale, and how important is that "atmosphere" to the overall story?
Brian Hurtt: I am a big believer in the "location as character" line of thinking. And it is in no way exclusive to working on period pieces either (though, that is what I've been known for with both The Sixth Gun and The Damned). Every story exists within time and space—the more you can get a reader invested in the "place," the deeper, I believe, that they are pulled into the story.
When I'm working on a new project I try and take in as much relevant visual information as I can early on. I scour the Internet, look through books, watch movies and TV, do sketches, and just overall try to absorb as much as I can. Then, as I begin working on the actual book, that reference material starts to fall away and I rely more on my memory and ability to fake verisimilitude.
DF: Which character among the dozens was the most fun to design, and which presented you with the most challenges? Do you have a favorite to illustrate?
Brian Hurtt: Honestly, we are in the early days of the new series so it's too soon to tell. What is going to be really interesting is that so many of the characters were designed by me 8-10 years ago. So I'm going to be taking old designs and learning to redraw them so that they both reflect the characters as first introduced as well as reflect how my style has evolved. I'm also super excited about the prospect of creating new characters that will live side-by-side with the characters Cullen and I created a decade ago.
DF: The detail in your demons and monsters is astounding! Is horror one of your favorite genres in which to work?
Brian Hurtt: Absolutely. I grew up on horror! My favorite book in first grade was one I found in my older brother's trunk. It was A Pictorial History of Horror Movies. It was amazing. A book just filled with black and white stills from movies like Nosferatu, early Universal Monsters, Godzilla, Hammer Horror, and on and on. I hadn't seen any of these films but found myself just bewitched with the images—I was drawn in through these windows to other strange worlds.
A year or so later and I was regularly staying up late with my dad on a school night to watch TV broadcasts of the Universal Monster movies and similar fare. One I saw during that time was the original Invasion of the Body Snatchers and it has been one of my favorite films ever since. It's one of those that some might call sci-fi but I think of it more as a horror film—it's scary as hell.
As a kid of the '80s, I got into junior high and was devouring everything the video store had. That meant every slasher film I could get my hands on as well as the John Carpenter classics. At this point, horror was well in my blood and my brain. The genre has had a big impact on how I view storytelling.
DF: Bill, this coming March Three Days Dead will be re-presented in a trade IN COLOR for the first time ever! How does it feel to be associated with an honor like that, and coming on the 10th anniversary of The Damned's conception?
Bill Crabtree: Working with Cullen and Brian is always an honor. I take it as a high compliment that they want to continue collaborating.
DF: I cannot believe it is easy to take something originally made for black and white and present it in color. (Look at the atrocious coloring of some movies directors meant to be in B&W!) How did you go about choosing a color palette for this TPB, and how did you use it to convey the highs and lows of the story?
Bill Crabtree: I didn't really find it more difficult than any other project I've worked on. This might be because Brian used gray tones to complete the art rather than adding heavier black areas throughout. I didn't use his gray tones, so I was starting from black and white line art, which is what I'm used to. As to the palette, I didn't think about it a ton beforehand; I just reacted to the vibe I got from looking at Brian's art. I did try to organize things thematically with color, so certain locales and characters had a color scheme associated with them.
DF: Bill, did you discuss the project at all with artist Brian Hurtt? If so, how did this add to your depth of understanding of the panels?
Bill Crabtree: I talked with him about the various "races" of demons, and we discussed the sort of color schemes we would associate with them. For instance, Big Al's world was going to be in masculine tones of red, sort of oxblood and leather. It helped that the comic already existed in printed form, so I could read the dialogue and see what Brian had done in areas I had questions about.
DF: Guys, are there any projects present or near-future you'd like to tell us about?
Cullen Bunn: For the near future, I think The Damned is going to be on the top of our radar. Brian and I are also co-writing some projects together, but those are a little ways off yet.
Brian Hurtt: In addition to working on The Damned with Cullen and Bill, I've also been writing and drawing the Table Titans webcomic for the past year or so. I've already wrapped my first season on the series and am well into my newest season. The exciting part of the newest season is that Bill is joining on colors—I'm really excited about the work we are doing and hope people will check it out!
Dynamic Forces would like to thank Cullen Bunn, Brian Hurtt and Bill Crabtree for taking time out of their busy schedules to answer our questions.
The Damned: Three Days Dead TPB from Oni Press hits stores March 8th!
For more news and up-to-date announcements, join us here at Dynamic Forces, www.dynamicforces.com/htmlfiles/, "LIKE" us on Facebook, www.facebook.com/dynamicforcesinc, and follow us on Twitter, www.twitter.com/dynamicforces
MONSTERS UNLEASHED #1 SIGNED BY WRITER EXTRAORDINARE CULLEN BUNN
DEADPOOL BACK IN BLACK #1 SIGNED IN BLOOD RED BY CULLEN BUNN
DEADPOOL BACK IN BLACK #1 SIGNED BY CULLEN BUNN
MICRONAUTS REVOLUTION #1 SIGNED BY CULLEN BUNN
IDW'S REVOLUTION #1 SIGNED BY CULLEN BUNN
CIVIL WAR II: X-MEN #1 SIGNED BY CULLEN BUNN
MICRONAUTS #1 CLASSIC ACTION FIGURE COVER SIGNED BY CULLEN BUNN
DEADPOOL AND THE MERCS FOR MONEY #1 BLOOD RED SIGNATURE EDITION SIGNED BY CULLEN BUNN
DEADPOOL'S SECRET SECRET WARS #1 ULTRA-LIMITED EDITION SIGNED IN BLOOD RED BY CULLEN BUNN!
HELLBREAK #1 - MASTER SET OF ALL FOUR COVERS SIGNED BY CULLEN BUNN!
SINESTRO: FUTURES END #1 3-D MOTION ULTRA-LIMITED GOLD SIGNATURE SERIES ELITE EDITION SIGNED BY CULLEN BUNN!
SUPERIOR CARNAGE ANNUAL #1 GOLD SIGNATURE SERIES SIGNED BY CULLEN BUNN!
ULTIMATE COMICS WOLVERINE #1 FIRST PRINTING SIGNED BY CULLEN BUNN!
DEADPOOL KILLS THE MARVEL UNIVERSE #1 SECOND PRINTING SKETCH VARIANT SILVER SIGNATURE SERIES - SIGNED BY CULLEN BUNN!
---
NEW! 1. 01/21/2021 - RORY MCCONVILLE
5. 01/07/2021 - DARICK ROBERTSON