JOHN K. SNYDER III

SEND THIS TO A FRIEND!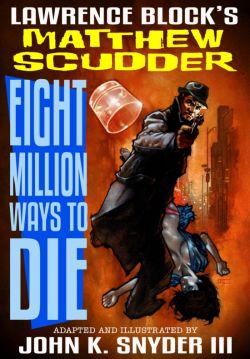 DF Interview: John K. Snyder III finds Eight Million Ways to Die in GN adaptation of noir crime novel
By Byron Brewer
In crime-ravaged 1980s New York City, troubled ex-cop-turned-unlicensed-detective Matthew Scudder takes on his most dangerous case, hunting down a serial killer/hitman and ultimately coming to face-to-face with his deadliest enemy—himself—in this graphic novel adaptation of best-selling crime novelist Lawrence Block's Eight Million Ways To Die.
Adapted in highly detailed noir fashion by Eisner-nominated writer/artist John K. Snyder III with letters by Frank Cvetkovic, this marks the first graphic novel adaptation of Block's work and his character Scudder, who has appeared in 17 novels since his debut over four decades ago and has remained popular ever since, inspiring two feature films.
To learn more, DF sat down for a chat with writer/artist John K. Snyder III.
Dynamic Forces: John, how did this very interesting and potentially entertaining project come about for you?
John K. Snyder III: I had been doing cover work for IDW and I was planning to work on a full-length painted series or graphic novel with a mystery/noir theme. After some discussions with Ted Adams, he suggested Lawrence Block's Matthew Scudder as a possible character to adapt. Looking over the series, Eight Million Ways To Die really stood out as the one to start with. And after further discussions with Ted and Chris Ryall, Tom Waltz came on board as my esteemed editor, and we began from there.
DF: How does it feel to bring Scudder, one of the truly great characters, to life in comic book form for the first time?
John K. Snyder III: It's an honor, and frankly, at first, it was somewhat intimidating too!
DF: Give us your take on Scudder. Who is he as a character in this graphic novel, and is there a part of his character herein reflective of you?
John K. Snyder III: Following up on your previous question, Matthew Scudder is a fairly enigmatic character, he's not easily defined – not a blunt force like Dirty Harry (Callahan) or Mike Hammer, but he's still pretty rough around the edges, and while he conveys a strong sense of morality he also is quick to point out, "I'm not an avenging angel." I tried to be very conscious of Block's depiction of his character, so I was focused on that in the adaptation process rather than relating to him too much personally. Though I do find there is a quiet resolve to the character that could be perceived as reclusive, but through his actions he is both simultaneously a spectator and participant in society; perhaps I relate to that a bit.
DF: For the uninitiated (you know who you are), can you run down the basic storyline for the book?
John K. Snyder III: The [source novel] was originally published in 1982 and depicts New York City as it was in that time, a very violent city with an astronomical crime rate. Ex-cop/now unlicensed detective Matthew Scudder has taken on a low-level assignment for his client, Kim Dakkinen, who is a high-class prostitute. Kim asks Scudder to confront her pimp, who is simply named Chance, and to allow her to quit the business. Scudder's search for Chance begins, and a seemingly simple assignment turns into a deep mystery and trail of bodies ending in a series of life-changing (and for some, life-ending) conclusions.
DF: Did you work/discuss the project at all with Block? Are you a fan of his novels?
John K. Snyder III: I read a number of interviews with Lawrence and he indicated that with adaptations of his work, he prefers to leave it to those doing the adaptation. I was familiar with Block's work, but had not read his novels until I began the project. I'm certainly a fan now! And now that the project is finished, I'm looking forward to finally discussing it with him, and was thrilled to see he spoke very well of the book in his most recent newsletter.
DF: Is being a one-man-band like you are on Eight Million Ways to Die something you prefer over collaboration? What were the advantages or disadvantages of being writer AND artist on this GN?
John K. Snyder III: Although I do enjoy collaboration, I felt going solo was really the only way to go in a case such as this. It's such a personal experience to adapt literary work to the comic page. It involves constant refinement and continues to evolve as the process goes along, taking out a line or adding it back in here and there, adding visual bits here and there, or cutting and adding sequences altogether, always shifting around elements to get the balance right. I'm already working with the original work of the writer, so I am actually collaborating in a sense. And I should note the lettering is essential in a project like this, with such an abundance of dialogue and prose, so the collaboration with my letterer, Frank Cvetkovic, is there too, and he's done a great job.
DF: Did the film performances of Jeff Bridges in the 1986 adaptation of Eight Million Ways to Die, and Liam Neeson in 2014's A Walk Among the Tombstones influence your iteration of the Scudder character at all?
John K. Snyder III: No, though I quite like both of their interpretations of the character. I had my own idea of how to visualize Scudder, you could say that plays into his enigmatic qualities, that he can be portrayed in a number of ways yet still stay true to the character from Lawrence's books.
DF: John, what projects current or near-future can you tell our readers about?
John K. Snyder III: Right now, all of my focus is on helping to get the word out and promoting this book. As for what will follow, I can't quite say yet, but perhaps soon!
Dynamic Forces would like to thank John K. Snyder III for taking time out of his busy schedule to answer our questions. The graphic novel adaptation of Eight Million Ways to Die from IDW Publishing hits stores in June 2018!
---
NEW! 1. 11/25/2020 - STEVE SKROCE
4. 11/16/2020 - RYAN O'SULLIVAN
5. 11/16/2020 - RYAN O'SULLIVAN