RON MARZ

SEND THIS TO A FRIEND!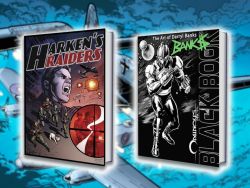 DF Interview: Ron Marz talks new OGN 'Harken's Raiders' and its road to Kickstarter
By Byron Brewer
Masterminded by Prime Minister Winston Churchill in 1940, the Special Operations Executive Branch conducted espionage, sabotage and reconnaissance missions in occupied Europe. Captain James Harken, on loan from the U.S. military, has assembled a team of American operatives to execute sensitive missions behind enemy lines.
This mission, retrieving a valuable German scientist in Finland and bringing him and his secrets to England, is supposed to be an easy in-and-out affair. But when their transport is attacked by German fighters and their airdrop is compromised, their milk run turns decidedly sour.
Famed for creating Green Lantern Kyle Rayner, writer Ron Marzand artist Darryl Banks again team for a tale of heroes facing long odds and implacable enemies. Harken's Raiders is a 64-page hardcover classic World War II adventure created by Army vetAllen Cordrey. DF wanted to learn more about this new project, now on Kickstarter, so we chatted it up with scribe Ron Marz.
Dynamic Forces: Ron, tell us a little about the genesis of this hardcover classic World War II tale you have up on Kickstarter, Harken's Raiders.
Ron Marz: It really began with Allen Cordrey, someone Darryl and I are both friends with, and who has dabbled in comics publishing with his own imprint, VanBreed Studios. Allen came to me and said he had an idea for a World War II story, but he didn't think he was experienced enough as a writer to pull it off. He told me the story, I liked it quite a bit, and then getting Darryl involved made it a no-brainer for me to sign on. So we got to working on the project, produced quite a few pages, and then started kicking around the idea of bringing it to Ominous Press, to give it a greater platform and bring us to the finish line.
DF: Before we go on, how does it feel to be re-teamed with your Green Lantern: Emerald Twilight co-creator, Darryl Banks, for this book? Speaking of co-creating, this is the team that brought into existence Green Lantern Kyle Rayner, no?
RM: Feels great! Darryl and I worked on Green Lantern together for seven years, and yes, co-created Kyle Rayner. Darryl and I are Kyle's parents, I guess. During that time, we developed not only a creative partnership, but a real friendship. We've always stayed in touch, but it's a real pleasure to be working together again. Obviously Darryl is a terrific artist, and I think he's just gotten better over the years. But we're also very much on the same page – no pun intended – in terms of how we approach storytelling. It's still a great partnership.
DF: OK, tell us the overall storyline of this book, as you can.
RM:Harken's Raiders is the kind of World War II adventure story you got in films like The Dirty Dozen or Kelly's Heroes, or comics like Sgt. Rock. Yes, it's war, and yes, people die. We're not shying away from that, but we also want to tell an entertaining adventure. The story is about Captain James Harken and his men, an American commando team working for Britain's Special Operations Executive. They're dropped behind enemy lines in Finland, tasked with grabbing up a scientist who is key to a secret Nazi war plan. The mission of bringing him back to England is supposed to be a milk run. But everything starts to go sideways, and the team has to improvise as soon as they hit the ground.
DF: Who is Captain James Harken, as a character, as a soldier, as a man?
RM: Harken is a career military man, from a military family that has served all the way back to the Revolutionary War. I think of Harken a little bit like the Tom Hanks character in Saving Private Ryan. He's the officer in charge, so he's one step removed from his men. He's supposed to get the mission done, and bring his team back alive. That's a heavy responsibility, so he's not a happy-go-lucky guy. But he's also a damn good soldier.
DF: What is the Special Operations Executive Branch?
RM: The Special Operations Executive was a real British organization, instigated by Winston Churchill. It was set up in 1940 to conduct espionage, sabotage and reconnaissance in occupied Europe. Their headquarters was eventually located on Baker Street in London, so they were nicknamed the Baker Street Irregulars, after the Sherlock Holmes stories. The real-life exploits of SOE operatives read like adventure tales, so our story of a team of Americans working with the SOE is not actually that far-fetched.
DF: Can you tell us about other characters in the book, especially Harken's team of American operatives?
RM: The team has four members besides Harken himself. Dinorio is a BAR gunner from Brooklyn, so obviously a Dodgers fan. Quinn is a gunner's assistant from the Bronx, and Dinorio's best friend despite being a Yankees fan. Bjorgen is the team's corporal, a giant of a man from Minnesota. And Chen, from San Francisco, is the medic and radio officer. And there's one more "honorary member" in Alfie, who is the bulldog mascot of the modified bomber that takes the Raiders on their missions.
DF: Harken's Raiders is currently on Kickstarter, correct? How far have you come to the book seeing reality [as of this writing] and where might would-be supporters/readers go to find out more and how they might jump on the Harken's Raiders bandwagon? What is the deadline?
RM: Kickstarter seemed like a great venue that would allow us to tell our story in exactly the way we want to tell it. Ominous Press has conducted a number of successful campaigns, so we're bringing that expertise to bear here. The campaign for Harken's will run until Dec. 21, so hopefully people can squeeze us in with their holiday shopping. We're more than halfway done with the book, so with a successful Kickstarter, we expect to start fulfilling the rewards in March of next year. We've got a pretty expansive set of rewards, everything from the hardcover graphic novel itself, to original art from the book, commissions by Darryl Banks, signed Green Lantern comics, and even military patches and challenge coins.
The Kickstarter is available here:
https://www.kickstarter.com/projects/1012967410/ron-marz-darryl-banks-team-for-ww2-harkens-raiders?ref=599831&token=a24eaae8
DF: Finally, doesn't this project include a collection of Darryl's artwork? What can you tell us about that?
RM: One of the things we're doing at Ominous Press is our Black Book series of art books. Each book is a career retrospective of an artist, more than 100 pages of material spanning their careers. Thus far we've done volumes with Bart Sears, Andy Smith, Jim Starlin and Graham Nolan. Darryl is up next, and with future volumes planned for Rick Leonardi and Tom Raney, among others. This is the first time Darryl's really had a collection of his stuff, so there's a bit of everything, from some of the classic images he's produced, to storytelling pages and commercial work, and a lot of his private commissions. It's been a pleasure seeing all of the art Darryl is pulling out for the collection.
Dynamic Forces would like to thank Ron Marz for taking time out of his busy schedule to answer our questions. Keep your eyes on DF NEWS for updates on Harken's Raiders!
For more news and up-to-date announcements, join us here at Dynamic Forces, www.dynamicforces.com/htmlfiles/, "LIKE" us on Facebook, www.facebook.com/dynamicforcesinc, and follow us on Twitter, www.twitter.com/dynamicforces.
MAGDALENA #1 DF EXCLUSIVE COVER! - SIGNED EDITION BY RON MARZ
TUROK VOL. 2 #1 - BART SEARS VIRGIN COVER
JOHN CARTER: WARLORD OF MARS #1 RARE J. SCOTT CAMPBELL "MARS RED" EDITION
JOHN CARTER: WARLORD OF MARS VOL. 2: MAN-MADE MONSTER TRADE PAPERBACK
JOHN CARTER: WARLORD OF MARS VOL. 1: INVADERS OF MARS TRADE PAPERBACK
SAMURAI: HEAVEN & EARTH VOLUME 2
RED SONJA VOLUME SIX HARDCOVER
---
NEW! 1. 11/25/2020 - STEVE SKROCE
4. 11/16/2020 - RYAN O'SULLIVAN
5. 11/16/2020 - RYAN O'SULLIVAN