GABRIEL RODRIGUEZ

SEND THIS TO A FRIEND!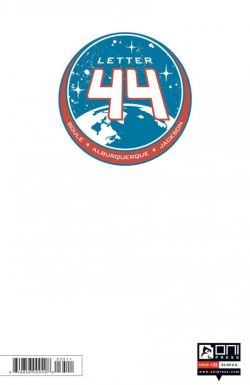 DF Interview: Gabriel Rodriguez helps unlock a tale from the past in Locke & Key: Small World one-shot
By Byron Brewer
An impossible birthday gift for two little girls unexpectedly throws open a door to a monster on eight legs!
Three years after wrapping up their award-winning, best-selling Locke & Key saga, the team that built Keyhouse returns to Lovecraft, Massachusetts, with an all-new tale of terror and suspense. Creators Joe Hill, Gabriel Rodriguez and Jay Fotos reunite, and DF got the lowdown from Gabriel Rodriguez himself.
Dynamic Forces: Right out of the gate, Gabe: Why the return of Locke & Key?
Gabriel Rodriguez: How could we not return to Locke & Key! We love this world, its mythology and characters, and luckily both Joe and I agree that there are still several stories worth telling in this universe. And we're starting with another visit to Chamberlin and Fiona Locke's family (we visited them previously in a couple of Locke & Key isolated one-shot stories, "Open The Moon" and "Grindhouse"), as we want to complete a set of 6 – 8 short stories that will be collected in a seventh volume in the Locke & Key series titled "Locke & Key: The Golden Age".
DF: Even though we are talking Eisner-award winning book here, there has been such a change in comics and its demographics of late, it seems. For the uninitiated, can you tell us the concept behind and details of the once-ongoing Locke & Key series?
Gabriel Rodriguez: Locke & Key basically tells the adventures and misadventures of the Locke family, whose past is rooted in the American Revolution, as they hold secret access to a magic metal substance that allow them to forge keys that can bend the reality and make the impossible happen. Set in their ancestral home, Keyhouse, an old and weirdly shaped mansion that has been growing and evolving as generations passed, we see how this access to magic has affected both history and the intimate stories of each of its family members, and also how it has set free evil forces that menacingly crawl out from the dark and take over everything we love the most.
DF: Tell us about the one-shot, Small World, if you would. This is a tale from the past, I take it?
Gabriel Rodriguez: Indeed, it's a return to Chamberlin Locke's time, at the very beginning of the 20th Century, and is basically a story that will let us see the way magic inhabited Keyhouse itself in a way we haven't seen before… and once again, how even tampering with magic forces in the most innocent way can lead to a potential nightmare.
DF: What if anything can you tell us about the monster de jour?
Gabriel Rodriguez: Trying not to spoil too much, I think I can safely say that we'll see how the familiar, once you change the scale and point of view, may literally crawl out from darkness to torment us with the creepiest experience ever. It certainly will affect people with some specific phobias.
I think it's a fun shout out to monster stories from the '50s comic books mixed with B-movie fun from the '80s, but combined with a character-driven story about characters we can not resist loving from the get-go.
DF: You are one of the creators of the Locke & Key series. What is it about this particular property that intrigues/challenges you as an artist? Any new designs for the one-shot you'd care to discuss?
Gabriel Rodriguez: When you have magic keys that can make anything impossible happen, combined with the insane imagination of a literary mad genius as Joe Hill, every single panel could be a challenge. On one hand, you are constantly forced to get to the next level in terms of design and storytelling, and one of the things I love from the series is that also constantly demands very subtle expression work to develop the intimate corners from the characters.
But in Small World, there's a tour de force visual exploration of one of the hardest elements to portray in this series: Keyhouse itself. This time, we'll explore its guts in a way we haven't seen before…
DF: How does it feel to be back in your old stomping grounds with L&K co-creator writer Joe Hill?
Gabriel Rodriguez: It's like getting back home on so many levels. Joe is not only the most talented and amazing collaborator anyone could wish for in a creative process, but also has become one of my dearest friends, a brother on its own merit. As great creators are, he's so unafraid to share and give room to his collaborator's creative ideas… his generosity truly fuels the work up into unexpected levels. So it's, as always, not only an amazingly pleasant experience, but also an opportunity to keep learning and improving in our craft, that always lead us to unexpected new opportunities and achievements. I've learned so much as a storyteller, improved so much as an artist, and become so wonderfully rewarded as a person, that I couldn't feel more grateful of calling Joe a colleague and a friend.
DF: Tell us about working with Jay Fotos.
Gabriel Rodriguez: Jay is a blessing for any comic artist who wants to work with a talented partner. He's not only an extraordinary colorist, but also a complete artist (he's an amazing illustrator) that understands the storytelling potential of the color work both for the narrative and the world building in a comic. He has a subtle, cinematic taste that allows not only to bring light to the panels, but truly a sense of mood, and even weather, through the images. The way in which he handles the tough balance between grounded in reality situations and insane magic that is such a Locke & Key trademark rests in great part in his tremendous talent and skills.
DF: So does this portend a return, perhaps, of a Locke & Key ongoing?
Gabriel Rodriguez: It's for sure, in the shortest possible term, a return to complete the stories of Chamberlin Locke and his kids for the seventh volume. And in the long run with Joe we have discussed concepts and ideas for a longer run of stories, a new saga we REALLY want to do, so for that to happen it's just a matter of time for both Joe and I to find the moment to be able to do it properly. We really care and love this world, so we want to bring our A-game to return to it, as it deserves.
DF: Gabe, are there any projects current or near-future you'd care to tell us about?
Gabriel Rodriguez: Indeed, there is… I don't want to give details yet as I don't like to spread news about things until they're 100% confirmed, but with Chris Ryall I've been discussing a couple ideas in the last few years, and one of them may actually come to happen next year. And if it does, it will be my first attempt to both write and draw an original, creator-owned project. So I have my fingers crossed right now, and promise I will share the news about it as soon as we know it will see the light.
Dynamic Forces would like to thank Gabriel Rodriguez for taking time out of his busy schedule to answer our questions. The Locke & Key: Small World one-shot from IDW hits stores Dec. 28th!
For more news and up-to-date announcements, join us here at Dynamic Forces, www.dynamicforces.com/htmlfiles/, "LIKE" us on Facebook, www.facebook.com/dynamicforcesinc, and follow us on Twitter, www.twitter.com/dynamicforces
LOCKE & KEY #1 DYNAMIC FORCES EXCLUSIVE VARIANT DELUXE DUAL PACK! By Joe Hill & Gabriel Rodriguez
---
NEW! 1. 12/04/2020 - JOSH BLAYLOCK
3. 11/30/2020 - SKYLAR PATRIDGE