VAN JENSEN & ERICA SCHULTZ

SEND THIS TO A FRIEND!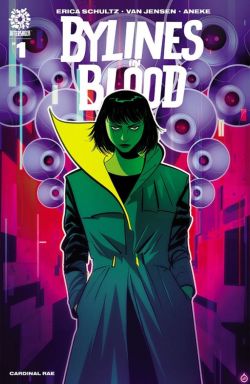 DF Interview: Van Jensen & Erica Schultz unleash a neo-noir murder mystery in 'Bylines in Blood'
By Byron Brewer
The future. The very concept of truth has died. Politicians invent their own facts, and independent newspapers no longer exist. In this world, private detectives serve as ronin, searching out the hard truths that people are desperate to keep hidden.
The best of these is Satya, known as Lady Dick, a former journalist turned gumshoe who runs every lead to ground. But Satya has just received her hardest case yet: her old editor has been murdered. Someone wanted him silenced, and the trail points toward the highest bastions of power. To find justice for her friend, she'll have to put everything – and everyone – she knows at risk.
A prophetic neo-noir thriller with unexpected twists at every turn, Bylines in Blood is co-created by Ringo Award nominated writer Erica Schultz (M3, Forgotten Home, Strange Tails) and comic writer and former newspaper crime reporter Van Jensen (Two Dead, Cryptocracy, Superman: Man of Tomorrow), aided and abetted by Spanish art sensation Aneke (DC Comics Bombshells, Legenderry: Red Sonja). I caught up with the scribes to get the 411 on the new comic.
Byron Brewer: Van and Erica, tell readers how this neo-noir thriller Bylines in Blood came to be. As a former newspaper reporter and editor AND a longtime fan of noir crime drama, I find the concept very appealing. Genesis?
Erica Schultz: As with most awesome things, this really started out as a joke on Twitter. After giving it some actual thought, both Van and I figured there was real meat to the idea. The post-fact world without any true source for objective news seems pretty realistic in this day and age.
Van Jensen: I started out working in newspapers, and reporters are these searchers of the truth. Which isn't that dissimilar from a private eye. So, I loved the idea of exploring a former reporter in this post-fact era who becomes a cynical detective. And Erica and I both love crime noir, so it's really all of our favorite stuff blended together.
Byron: Tell us about this futuristic world you two along with artist Aneke are building here. From its description in the solicits, it is seemingly not far away from tomorrow's headlines here in reality.
Erica Schultz: As you said, it's not far from tomorrow's headlines. The world of Bylines in Blood is in the near future where everyone more or less creates their own truth. There are some people who walk around with cameras mounted to their shoulders or helmets to record everything around them. While others believe whatever their favorite pundit says.
Van Jensen: This is the world we're heading toward if we don't do something. It takes place after a pandemic that causes traditional institutions to collapse. News organizations have turned into entertainment and opinion. And politicians use fear and anger to manipulate people however they want. It's a dangerous place, where everyone is out for themselves, as we're going to see.
Byron: What can you tell readers about Satya? Who is she, what challenges has she faced, and what will she face, especially acknowledging what private detectives have become in this world?
Van Jensen: Years ago, Satya was the top investigative reporter at the city's biggest newspaper. Lois Lane, essentially. But then an economic crash killed the paper, and she was left without a job. Her one skill is digging around to discover the truth, so she takes that and makes a big change to become a detective.
Erica Schultz: Satya is a cynic who seemingly has lost all hope now that she's a private investigator. It's the only way she can make a living using her skills. One of the things we follow through the story is whether Satya can learn how to break out of her cynicism, to care again. She's a little Dick Tracy, a little Sam Spade, and a little Lois Lane.
Byron: Is the relationship between Satya and her former – now murdered – editor instrumental to this story, or is it just a MacGuffin? I would think, given this world at present, it would be a very interesting sub-storyline.
Van Jensen: When Satya was a reporter, her closest friend and colleague was her editor, Denzin (Perry White, to continue the Daily Planet comparison). When the newspaper collapsed, Denzin started up a self-published pamphlet to get out the news. And this made him enemies, because at the start of the story we learn that Denzin has been murdered. Satya is hired to investigate, but this isn't just a paycheck. This is personal.
Erica Schultz: Satya's search for Denzin's murderer is the center of the entire story. Denzin was the one person Satya cared for outside of her family. He taught her the trade, as well as resilience. Now that he's gone, she's fallen even farther from whom she was.
Byron: What other characters might we need to know going forward? Can you spotlight a few of them here?
Van Jensen: There's a cult of people who document everything they do with drones, called the Truthers. The leader of the cult is Jenn, a strange figure who wants Denzin's killer found. Then there is the mayor, who is an authoritarian and an enemy of Denzin. The mayor has the police department in his pocket, which is bad news for Satya, because a couple of detectives will be standing squarely in her path.
Erica Schultz: One fun character is Tom, Satya's right-hand dude. He's an accountant in the next-door office who does research for her and helps her out. There's nothing romantic about their relationship, they're just neighbors who help each other out.
Byron: Erica and Van, talk about your collaboration on this book and how the process works.
Erica Schultz: Van does all the work. I just sit here looking pretty. Just kidding. We usually plot out each issue and break it down into scenes and page assignments. Then we split up the scenes amongst ourselves. Sometimes one will take the entire first half, and other times we'll take scenes from here and there. Then we do a pass on each other's work to make sure it's cohesive. Our editors at AfterShock then make sure it's as good as it can be.
Van Jensen: Well, we all know I can't be the pretty one! This has been some of the most fun I've had making comics. Erica and I have a similar ethos, and we both love genre fiction that has some thoughtful storytelling worked in. This is a fun, intense comic, but it's also a nuanced look at a complicated character.
Byron: Why is Aneke the right artist for Bylines in Blood?
Erica Schultz: Because she's amazing, that's why. In all seriousness, though, Aneke not only has a fantastic sense of storytelling, but her use of lights and darks is really spectacular. We wanted to work with someone who was collaborative, talented, and who could visualize the grittiness of the story. She's incredible.
Van Jensen: I've been a fan of Aneke's work for years. And I think this is the type of book she's always wanted to draw. I feel so fortunate to get to see her pages come into my inbox.
Byron: Would you both please tell readers what works you have coming out that readers can be watching for?
Van Jensen: I'm currently scripting a graphic novel with an amazing artist and publisher, I just can't say who they are yet. Then I'll be working on an unannounced new series at Dark Horse with my pal Jay Baruchel and the incredible artist Alessandro Micelli. A few more things coming after that. A busy year ahead!
Erica Schultz: Aside from Bylines In Blood, Dark Horse will be releasing Forgotten Home in print on April 6th. The Deadliest Bouquet was fully funded on Kickstarter, and the rewards are sent out to the backers. There's also some other stuff coming out that I can't talk about just yet.
Dynamic Forces would like to thank Erica Schultz & Van Jensen for taking time out of their busy schedules to answer our questions. Bylines in Blood #1 from AfterShock Comics is slated to be on sale January 5th!
For more news and up-to-date announcements, join us here at Dynamic Forces, www.dynamicforces.com/htmlfiles/, "LIKE" us on Facebook, www.facebook.com/dynamicforcesinc, and follow us on Twitter, www.twitter.com/dynamicforces.
JAMES BOND: LIVE AND LET DIE GRAPHIC NOVEL HARDCOVER - SIGNED BY VAN JENSEN
JAMES BOND: CASINO ROYALE HARDCOVER - SIGNED BY VAN JENSEN
SIX MILLION DOLLAR MAN: FALL OF MAN TRADE PAPERBACK
XENA VOL. 2: MINDGAMES TRADE PAPERBACK
CHARMED VOL. 1: ...A THOUSAND DEATHS TRADE PAPERBACK
SWORDS OF SORROW: THE COMPLETE SAGA TRADE PAPERBACK
---
NEW! 1. 01/18/2022 - JEREMY BASTIAN
2. 01/10/2022 - DAVID F. WALKER
3. 01/04/2022 - BENJAMIN PERCY