ED LAROCHE

SEND THIS TO A FRIEND!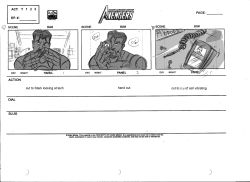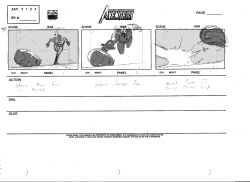 DF Interview: Ed Laroche talks the art of storyboarding
By Byron Brewer
Across many media, from advertising to live-action cinema, a storyboard is where a visual concept is born and is most often the glue that holds the diverse aspects of the whole together. It is the map all others follow.
In animation, projects are often pitched on the basis of storyboards alone (that is, a screenplay may not be written until later), and storyboard artists continue to work throughout the production to develop particular sequences. After a sequence is edited the director and/or storyboard artist and team may need to rework the sequence as it becomes evident that changes need to be made for timing and story.
The storyboard artist is key.
Ed Laroche wears many hats, including artist/writer of The Warning, a comic book upcoming from Image which hits stores Nov. 28th. But Laroche has also labored as a storyboard artist on dozens of projects throughout his career. He agreed to sit down with DF and discuss his works through the eyes of one who helps guide a concept from start to finish.
Dynamic Forces: Ed, tell us how you first became an artist. Did you have a mentor, someone who inspired you?
Ed Laroche: I'm an only child and my mother used to send me to stay with my extended family in Jamaica Queens, New York, for the summer. It was there that I was first exposed to comics by my older cousin, Serge Desvarieux, who was also an amazing artist in his own right. He was making comics with his friend, Eric Eaton. Those comics featured their friends as a superhero team called The Mystery Men, and they went around having adventures that were on par with what was going on in comics at the time. So I would go to New York every summer, read a bunch of comics and watch them being made DIY. Then I would come back to LA and work on my own stuff, with the hope that by the time I went back to New York, I would be a better artist.
DF: Do you remember your first professional art job, in any medium?
Ed Laroche: My first paid art job was a couple of pages in a Mortal Kombat comic, Rayden vs Kano, for Malibu Comics.
DF: How and when did you first begin doing storyboards?
Ed Laroche: After the comic crash of the 90's, I shifted into animation. Sony had just opened their doors to produce a bunch of shows and they were looking to take on artists with potential and train them up. So I started doing storyboard revisions on a show called Extreme Ghostbusters. As time went on, I made an effort to stay in animation, but that meant I would have to eventually move up into a storyboard artist position which, to be honest, I tried to avoid once I saw how hard those guys worked. But I couldn't stay a revisionist forever, so I made the jump, and in the course of time, I started doing boards for animation.
DF: Can you tell us some of the series you have boarded, and describe that process?
Ed Laroche: I've done boards for Avengers: Earth's Mightiest Heroes, Batman: Brave and the Bold and Teenage Mutant Ninja Turtles. The process is simple: you work as hard as you can, for as long as you can, until the show is over and they lay you off. Then you try to repeat that every year until you can't.
DF: You have storyboarded many of the most popular toons on TV. Can you address any chief differences between boarding an animated program as opposed to a live-action project?
Ed Laroche: Live-action is a better fit for me because I can earn more money doing way less work. This allows me time that I can reinvest in my graphic novels which, at the end of the day, is the big picture stuff. Work made for hire is great at paying the bills, but ownership of IP [Intellectual Property] is where every artist that is capable should be investing their time.
DF: You are also known as a comic book creator. How are the two processes – boarding and creating a comic -- similar (or dissimilar) for you creatively?
Ed Laroche: As much as I hesitated to get into boarding, it was an amazing education. I learned a lot and I was paid to become a better artist. Once I made the decision to start doing comics again, it took a while for me to realize how I wanted to approach the way I needed to tell the story. I threw away the notion of traditional comic book page layout and stuck with what I was trained in, which is panel to panel storytelling. My thought was that if I can't tell the story within the frame, then the story is not working. Furthermore, I wanted to appeal to people who may not have had the experience of learning how to read a comic.
DF: Ed, what projects currently or in the near future might you be able to tell readers about?
Ed Laroche: I would love to be able to bring my first two books, Almighty and Bad Summer, to market in an upgraded, remastered form. I'm currently working on that, along with several other projects that I have been developing over the past few years.
Dynamic Forces would like to thank Ed Laroche for taking time out of his busy schedule to answer our questions. Stay tuned to DF News for more on his future projects!
For more news and up-to-date announcements, join us here at Dynamic Forces, www.dynamicforces.com/htmlfiles/, "LIKE" us on Facebook, www.facebook.com/dynamicforcesinc, and follow us on Twitter, www.twitter.com/dynamicforces.
---
NEW! 1. 11/25/2020 - STEVE SKROCE
4. 11/16/2020 - RYAN O'SULLIVAN
5. 11/16/2020 - RYAN O'SULLIVAN