PHIL HESTER

SEND THIS TO A FRIEND!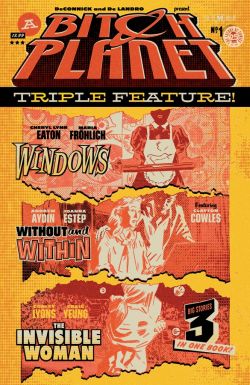 DF Interview: Pressure is on the rise in Phil Hester's Blood Blister
By Byron Brewer
Sin is a joke to Brandon Hull. Morality is only a crutch for the weak, laws mere tools to be abused. But when the corruption he scoffed at begins to manifest on his once-perfect body, Hull finds himself cast into a hidden world of unspeakable horror from which there is no escape. How can you be saved when the evil possessing you is your own soul?
From AfterShock Comics in June comes a new series, the opening of a jarring window onto a world of horror from Phil Hester, writer of The Coffin, Firebreather and Deathstroke, and Tony Harris, Eisner Award-winning artist of Ex-Machina and Starman.
To get you the absolute 411, DF sat down with Phil Hester for a very interesting chat.

Dynamic Forces: Phil, before you tell us about the great characters readers will find in Blood Blister, tell us your thoughts on the rise as a company of AfterShock and how you came to be writing this horror mag for them. Is this something you pitched?
Phil Hester: I couldn't be more enthusiastic about AfterShock. I think any reader who has looked at their output as a whole has to agree. Creators dream about a publisher who will come to them and simply ask, "What have you always wanted to do?" I've known Joe Pruett for decades, and this is the kind of publishing house he's always wanted to run. Mike Marts, my editor on this project, has been a joy to work with as well.
I pitched Blood Blister before AfterShock even fully existed, just while Joe was setting things up. It's been approved forever, but they wanted to wait until after Shipwreck came out to sort of give it a signal boost.
DF: To your writer's mind, who is Brandon Hull as a character?
Phil Hester: Haha. Well, he's everything wrong with America. He's ruthless, driven by greed, amoral, self-centered, vain and manipulative. In other words, a great success. He's a corner-cutting lawyer who does dirty work for some of the biggest corporations in America, heedless of the lives he destroys as long as he shields his clients from the just consequences of their actions. His lone redeeming quality is the love he has for his children. He convinces himself that all the crappy stuff he does is necessary to care for his young kids.
In Blood Blister, all the evil he buried, or rather never acknowledged in himself, comes boiling to the surface, manifesting itself as grotesque wounds that he cannot hide. Haunting visions of the path to Hell he has laid out for himself appear before him as he tries to go about his everyday life.
DF: Does his condition happen all at once, or come on slowly ala The Incredible Shrinking Man '50s film?
Phil Hester: It starts slowly, as a small, simple blood blister on his arm, then spreads to every aspect of his life ... and afterlife.
DF: Not a lot has been said on this, but is there a pandemic involved in this storyline? Or is Hull's condition unique to him? Can other folks see what he looks like?
Phil Hester: It's unique to him and other people can see it, but the demonic visions that torment him are his alone ... at first.
DF: Knowing that Hester penchant for undercurrent in a story, give us a little hint about the concepts you are subtly playing with here as regards human behavior.
Phil Hester: There's a toxic kind of competitiveness loose in our country that tells most adults it's okay to step on the neck of your rival to get ahead, to take advantage of anyone below you mentally, societally, etc.; that as long as you're hustling toward a future goal, sacrificing your morality is necessary. Blood Blister tells the story of a guy who comes face to face with those compromises and the toll they have taken on his eternal soul.
DF: It really makes you think, "man in the mirror" and all. What if some of our less redeeming qualities became visible outwardly? Was there any particular inspiration for this examination of moral corruption through a body horror lens?
Phil Hester: I liked the idea of a possession story where the possessed really kind of deserved it. He earned this. But the more I played with it, the more I wanted to take it to another level, to show that you can be possessed by a malignancy from within yourself, not an outside force. I wanted to show that you can gestate and give birth to the devil that consumes you.
DF: So, as far as Brandon Hull is concerned, how does he save himself … from himself? Are there any characters here acting as Hull's conscience, any Jiminy Crickets offering a road to redemption?
Phil Hester: All over the place, but he dismisses them pretty readily. It's an open question as to whether he will find that redemption before the demon inside him comes to term.
DF: What strengths does artist Tony Harris bring to Blood Blister? (I know one thing: his cover for issue #1 is KILLER!)
Phil Hester: Well, he's a legend. His pages are just so appealing. They're designed like the edifice of a great building. They draw you in, let you wander around, get lost, discover and, in the case of Blood Blister, lose yourself in some pretty dark places. His character design and acting are flawless. I couldn't be happier that he's seen fit to slum it and work with me!
DF: Phil, what other current or near-future projects can you tell us about?
Phil Hester: I'm still wrapping up Warren Ellis' Shipwreck as an artist, drawing the Gotham Radio back-ups for Mother Panic with Gerard Way, Jim Krueger, Ande Parks and Trish Mulvihill, writing a sci-fi horror book called Varuna for Oni that is probably a long way from hitting the shelves, writing and drawing a new Wretch story for an upcoming collection of every Wretch story ever, and getting close to finalizing another art gig that will keep me booked for another year or two.
Dynamic Forces would like to thank Phil Hester for taking time out of his busy schedule to answer our questions. Blood Blister #1 from AfterShock hits stores Jan. 4th!
For more news and up-to-date announcements, join us here at Dynamic Forces, www.dynamicforces.com/htmlfiles/, "LIKE" us on Facebook, www.facebook.com/dynamicforcesinc, and follow us on Twitter, www.twitter.com/dynamicforces
GREEN ARROW #2 - SIGNED VERSION Signed by artists Phil Hester & Andy Park
GOLD KEY ALLIANCE TRADE PAPERBACK Written by Phil Hester
DOCTOR SPEKTOR #4 HIGH-END PHIL HESTER "VIRGIN ART" ULTRA-LIMITED (DIGITAL COVER)
DOCTOR SPEKTOR #3 HIGH-END PHIL HESTER "VIRGIN ART" ULTRA-LIMITED
DOCTOR SPEKTOR #2 HIGH-END PHIL HESTER "VIRGIN ART" ULTRA-LIMITED
DOCTOR SPEKTOR #1 HIGH-END PHIL HESTER "VIRGIN ART" ULTRA-LIMITED
MAGNUS: ROBOT FIGHTER #4 HIGH-END PHIL HESTER "VIRGIN ART" ULTRA-LIMITED
GODZILLA: KINGDOM OF MONSTERS #1 DYNAMIC FORCES EXCLUSIVE - SIGNED BY ARTIST PHIL HESTER!
GREEN HORNET VOL. 6: LEGACY TPB Phil Hester cover!
BAD KARMA VOL. 1 HARDCOVER Art by Phil Hester & more!
VAMPIRELLA #1969 RARE ROBERT HACK "BLACK & WHITE" EDITION Written by Phil Hester & more!
---
NEW! 1. 11/30/2020 - SKYLAR PATRIDGE
5. 11/16/2020 - RYAN O'SULLIVAN